New Home. New Opportunities
Abdulaziz Yassin
Clarkston, Georgia (Senate District 41)
Samira and Ahmed Yassin have sacrificed much for their son, Abdulaziz, who was born with hydrocephalus, a condition of excess fluid in the brain that can impact mobility and cognition. Of Somaili origin, the Yassins were all born in Kuwait. Abdulaziz and his brother Yusuf are second-generation and only knew life in Kuwait, their grandparents having moved there in the 1960s. In spite of their history, people considered non-Kuwaiti can not become citizens or permanent residents. Says Samira, "There is big difference between citizens and residents and the delivery of health care, education, and social welfare – especially for those with special needs such as Abdulaziz. There was no health guarantee for him and we worried that as he grew up his suffering would increase." The one school for children with disabilities was too expensive, so Abdulaziz's parents, Ahmed and Samira, homeschooled their son. Given that there were no government supports for children with special needs in Kuwait, especially not for foreigners, Samira and Ahmed decided to apply for residency in the US.
Their application process began five years ago driven by Samira and Ahmed's hopes that their son would have more opportunities and supports in the US. After a three-year wait, they were approved, but Samira's mother was placed in Minnesota, with Samira's uncle. Samira, Ahmed, and their two sons, Yusuf and Abdulaziz, were sent to Georgia. The sudden loss of their extended family's love and support was hard for them, especially because their extended family had been their main source of support and connection – but the fact is that "life is easier here," says Ahmed. Abdulaziz receives more therapies and social interaction here in the US compared to Kuwait. They put their son's needs and future first, making the sacrifice of family connectedness and daring to leave their culture and friends behind. (Story continues below after slideshow.)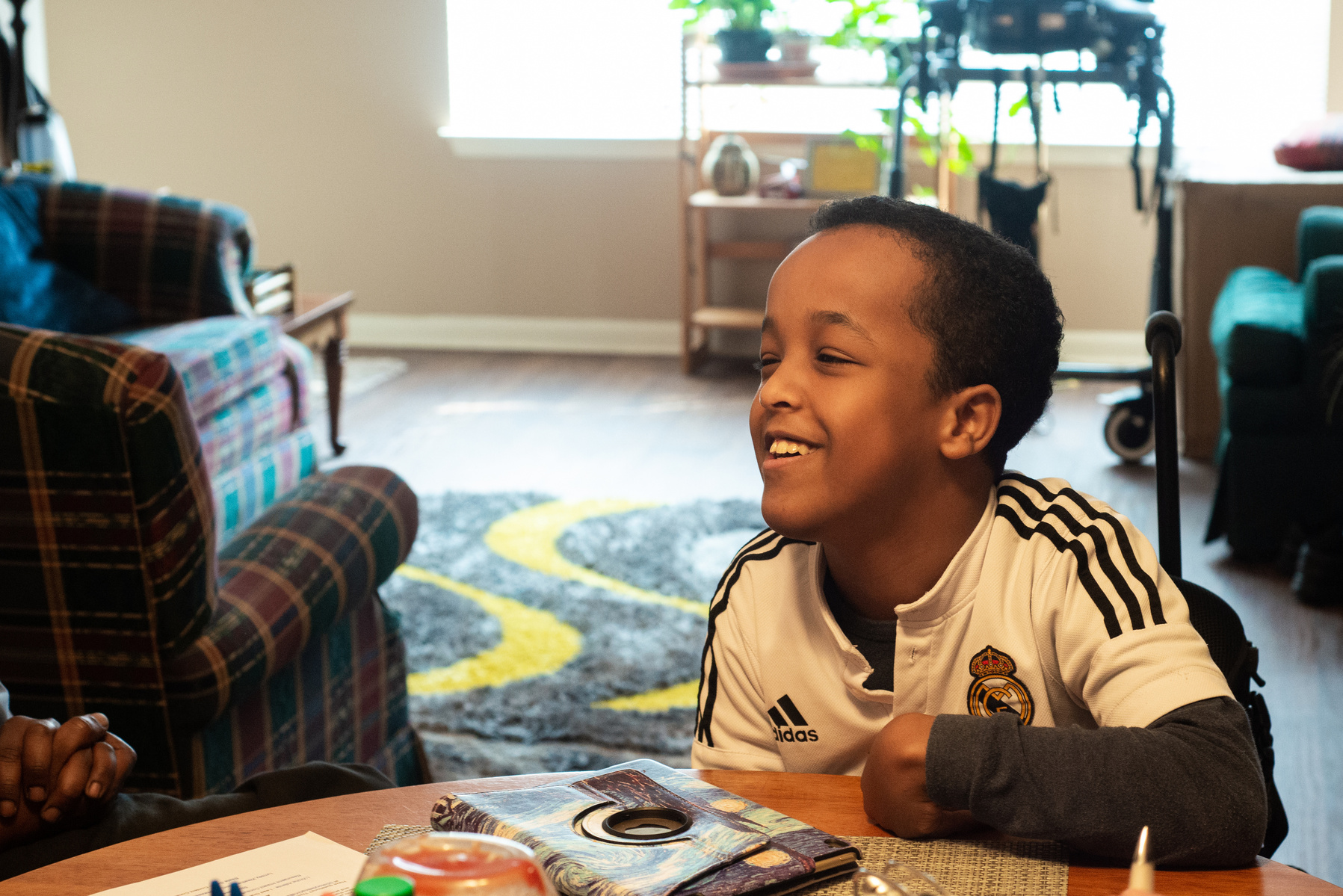 Now 12, for the first time in his life, Abdulaziz goes to school, where he enjoys having friends his age, going outside, and "Learning about World War I!" he says with a smile. After a day at school Abdulaziz likes to lie on the sofa and take a break after sitting in a wheelchair all day, and play a Nintendo game or watch soccer on TV. His parents say he is a happy kid, and that he likes to tell them about his entire day when he gets home from school.

The Yassin family lives in a simple and convenient first-floor apartment in Clarkston, with a handicapped parking space right outside their door. At 7 a.m. every morning, Abdulaziz wheels up the ramp of his school bus that stops just outside his home. Every Friday Abdulaziz has physical therapy at school where he learns, for example, how to transfer out of his chair. On Saturdays he goes to occupational therapy. "I learn how to throw things; how to use a zipper or button clothing. I also stretch my hands," says Abdulaziz. His mother Samira says, "His hands need training; he can not eat with a spoon, for example, but he can eat a sandwich by himself."

Three times a week after school, Samira takes him to another physical therapy office in Decatur. They are helping him recover from a recent knee surgery, his second since 2013. While Samira says he will never walk, she hopes that this recent surgery and practice in a gait-trainer will give him enough strength to gain more independence with his self-care. As a growing teenaged boy, it will only become harder for her to lift him out of his chair to take him to the bathroom or to bathe him.

Abdulaziz proudly shows us his scars on his knees from his surgery. His mother shows us a photograph of the x-ray, revealing the metal implants that should correct his muscle growth. Abdulaziz also points to the gait-trainer, a large black piece of equipment in their living room that looks like it belongs in a gym, and that helps him to walk. He likes to use it but is still recovering now and has to wait. Abdulaziz remembers how painful the surgery was and how it led him to wonder, "Why did I do this?"

To pay for his surgery and additional therapies, his parents rely on Supplemental Security Income (SSI), but that amount has fluctuated with a recent job change for Ahmed, who works in a medical lab. They used to receive $700 per month, now it is only $300. And due to a miscalculation by the government office, they received no benefits for two months. A visit to New American Pathways – an Atlanta nonprofit founded by Christian groups interested in helping refugees settle – helped correct the mistake. Ahmed and Samira say they would like SSI to be more fair for working parents; when Ahmed works overtime their SSI payment is reduced, but the need for funding to support Abdulaziz's needs is still there. The Yassins also recount how they were able to navigate the challenges of moving to a foreign country with a child with disabilities through the assistance of the United Nations.

The Yassin family is not aware of any waivers from the state of Georgia they are eligible for, but would like to know more about them. With additional financial support they could afford to buy a minivan and a ramp, which would help Samira move her son in and out with his wheelchair. They could drive to Stone Mountain, where they like to go for walks on the wheelchair-friendly paths. Or the Georgia Aquarium, where Abdulaziz remembers excitedly, "I saw dolphins for the first time!"

It is clear that Abdulaziz is happy here, and that the Yassins are grateful for all the significant conveniences that the Americans with Disabilities Act has created in the US. And while they are not connected to other parents of children with disabilities or to their extended family as they were – their positive and loving attitude towards each other and determination shines through. Abdulaziz finds none of his circumstances unusual or daunting. He smiles cheerfully, seated in his wheelchair, saying that he can do everything that he wants to do, asserting that he is normal. Asked what he wants to do when he grows up, he replies confidently: "I want to be a police officer, so I can help save people." With his plucky attitude, determined family, and a network of support, hopefully someday he will.
Writer: Moira Bucciarelli, Photographer: Haylee Fucini-Lenkey