GCDD is happy to announce that the
Treasure Maps: Macon Georgia Storytelling Roadshow 2022
cast is:
Treasure Maps
is a collection of short films showcasing 10 Georgia storytellers as they provide an up-close and personal viewpoint into what it's like navigating the complex webs of life in our communities as a person with a developmental disability.
Treasure Maps shows will be accessible to all. CART and ASL will be a part of the movie and announcement portions of the show, there will be no flashing lights, and a point person to assist with any accessibility issues that arise on-site. Register for the event today!
Stay tuned to gcdd.org for more details on this wonderful summer event.
2021 Treasure Maps Roadshow
Watch our roadshow movie trailer!
Read more about our featured storytellers below!
After the Roadshow:
Are you interested to get to know more about the Medicaid waiver and how you can stay involved?

Click here to learn more about our advocacy efforts.
Pre-Show Treasure Maps Special!
Please enjoy this immersive audio storytelling piece below by Ricardo Aranda 'Ricardo's Race.'
We're looking forward to seeing you at the Treasure Maps show! To view a transcript of the piece, click here.
This piece was written by Ricardo Aranda. Audio direction, recording, soundscape design, editing by Amanda Plumb.
Kathleen Artis is a clay artist in North Georgia. She spends her time working hard on her Etsy business. When she isn't working hard some of her favorite activities are playing Just Dance, singing, and spending time with her two cute doggies! She loves going for hikes and being in God's creation. The most important things to Kathleen are spending time with her family and Jesus. Life is a wonderful gift from God!
Ronald M. Bovell, from Stockbridge, GA, is a storyteller, artist, gamer, and organizer. Although he was diagnosed with autism in 2000, that hasn't stopped him. He's great with children --including his niece and nephews--and makes sure they're all right! Ronald also has a wonderful family who encourages him to never give up in the face of any obstacle that stands in his way. When a problem is a little difficult, Ronald finds a way around it.
Adnan Curry is an Elvis tribute artist, who also loves to make pottery, do podcasts, be in a production studio and go to work. He volunteers at an elementary school working with special needs children who absolutely adore him. He also enjoys attending Summer camp with his friends and takes cooking classes.

Gabriela "Gabby" Dollar is an amazing 31-year-old woman with an infectious smile. Gabby lives in Lawrenceville, GA in her own small house and has people that help her live her best life, 24 hours a day. Gabby loves to talk, type on her computer and eat out. She loves dogs, babies, and the color blue.
Faith Harris, 21, lives in Lawrenceville, GA. Her favorite hobbies include traveling, swimming, competing in Special Olympics, watching YouTube videos, and playing board games with her family. She loves loving on people! She loves to pray over everyone, listening when asking a person how they are doing, and making them laugh when they are feeling down. Next spring, she plans to work, play, and volunteer in her community.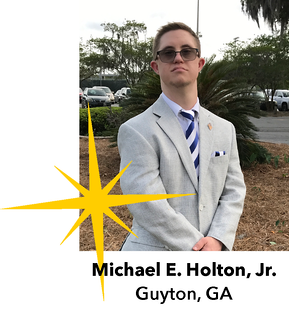 Michael E. Holton, Jr., 27, graduated from South Effingham High school in 2013 and from Effingham Project Search, a school-to-work program for special needs students in 2014. After Project Search, Michael went to work for Effingham County Hospital as a Laundry Technician for 7 years. He's currently pursuing other interests. Michael loves travel, movies, hanging out with friends, dancing, riding horses, and playing video games. Michael lives with his mom and dad and has an older sister who lives in Washington DC.
Ryan Lee is an autism advocate, as well as a writer, dreamer, and Disney Fan. He is also on the autism spectrum himself and when he learned to accept it, he started writing articles to inspire others. He even writes poetry. During his spare time, Ryan enjoys bowling, video games, and spending quality time with his friends.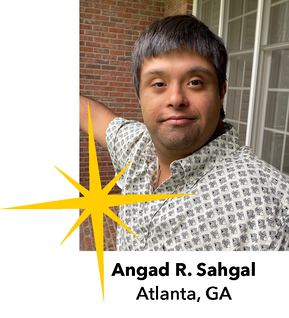 Angad Sahgal is a passionate young man with a great love for food, soccer, art, animals, and family & friends worldwide. He is naturally drawn to a good challenge and enjoys both the process and the outcome. One of his proudest accomplishments to date was earning a Black Belt in karate. And, now he is going to Georgia State University in fall of 2021!! Angad has Down Syndrome and is excited about creating a bright future for himself. He enjoys traveling with his family, meeting new people and exploring different cuisines. His artwork has become a major source of joy and a creative outlet for sharing his appreciation for all our world has to offer. To buy his art, visit www.synergieswork.org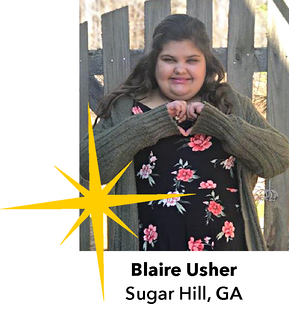 Blaire Usher, 14 years old, lives in Sugar Hill, GA with her parents, older sister and 3 chihuahuas. In the fall, she will be starting high school. Her favorite things to do are listen to music, play games, swim, and spend time with her Nana. When she grows up, she wants to either work with animals or be a teacher.
Jessica Winowich lives in Columbus, Georgia with her little dog Bogart. She studied Theatre Education at Columbus State University. Jess has worked in advocacy for people with Disabilities as well as being a caregiver for her mom. Currently she is active in multiple community organizations, especially New Hope Presbyterian Church where she serves on multiple committees, and has the true joy of working with children and youth. Jess feels deeply blessed to be a part of so many amazing communities. She has been an actor, poet, writer, and comedian. This is her first time calling herself a Storyteller. She loves it and is eager to see where this new journey may lead.
About Treasure Maps:
Treasure Maps: The Georgia Storytelling Roadshow 2021 is a series of drive-in performances held in six target cities across Georgia and showcasing the story performances of 10 people from across the state with developmental disabilities. Being responsive to the social activities and safety of the general public, this project aims to engage with people in an interactive and in-person way while upholding standard social distancing practices.
Shannon M. Turner, creative director of the project, says "We want to provide a virtual stage for the important stories of people with developmental disabilities, inviting their stories in from the margins to the center of our communities. But an equally important component is to provide education and advocacy to the general population and legislators around the Medicaid waiver, a vital funding structure which supports the lives of people with developmental disabilities so they can live independently."
Each show will be produced in collaboration with local community members and will be co-hosted by a storyteller (the "Show Marshal"); a local community member; and a Treasure Maps team member. The show will run approximately an hour and a half and will include interaction with the co-hosts and an invitation to direct advocacy action.
Local Teams: Involvement of local community members is integral to the success of the show. At project start, the Storytelling Team will conduct outreach activities to the six communities and identify/recruit individuals who will make up the local community members committee. These individuals will serve the purpose of locally legitimizing each show as well as providing knowledge of best local venues, potential partner organizations, and using their local networks for show promotion. They will also be responsible for securing match services including a photographer and headsets for the show. Additionally, one local community member will be a co-host at the show.