Hidden Voices Podcast Series
Season 2 Has Begun!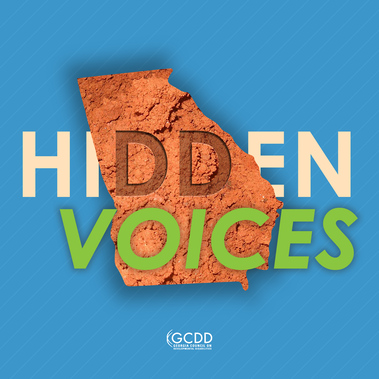 Hidden Voices is an initiative of the GCDD Storytelling Project. Two seasons of the podcast spotlight the stories of people with developmental disabilities and their families.
These are funny, heartwarming, challenging stories about people with developmental disabilities who are living, working, and advocating for their rights – and disability rights in Georgia. All want to be included in social circles, workplaces and communities of their choice. Just like all of us.
Season 1 of the podcast explores issues that impact their lives such as Medicaid waivers, employment, housing, transportation, advocacy, adaptive technology and service animals. Season 2 investigates the experience of isolation through the lens of the COVID 19 pandemic and how people with developmental disabilities navigate isolation and community.
Find GCDD's Hidden Voices on all streaming platforms, listen via this Megaphone show page: https://cms.megaphone.fm/channel/hidden-voices?selected=FRQNCY9798461836
or use the player below.
You can access word doc transcripts of the Season 1 podcasts and Season 2 as they go live at the bottom of the page.

Transcripts of Season 1
Hidden Voices Podcasts
Transcripts of Season 2
Hidden Voices Podcasts