Cameron and Madison Carter

Marietta, Georgia (Senate District 33)
It's summer. A Saturday morning at the Carter house in Marietta, Georgia, which means that the agenda is full. Cameron and Madison, Cam and Madi for short, are taking turns with Rashida, their Applied Behavioral Analysis (ABA) therapist who comes every other week. Rashida completed graduate school last year and is about to sit for the board exam to become a certified Behavior Analyst. She's been working with the siblings off and on for nearly two years.
"Surprise says..." Rashida prompts. "Surprise says the class," Madison reads, but then she stops again. "Madison, read." "Thank you. Miss says..." Madison's voice trails off into a whisper as she concentrates on the words, reading quickly, breathlessly. Rashida continues to encourage her, helping with harder words. "Yay, good job. High five! You can have a break!" she says when they're done.
(Story continues below after slideshow.)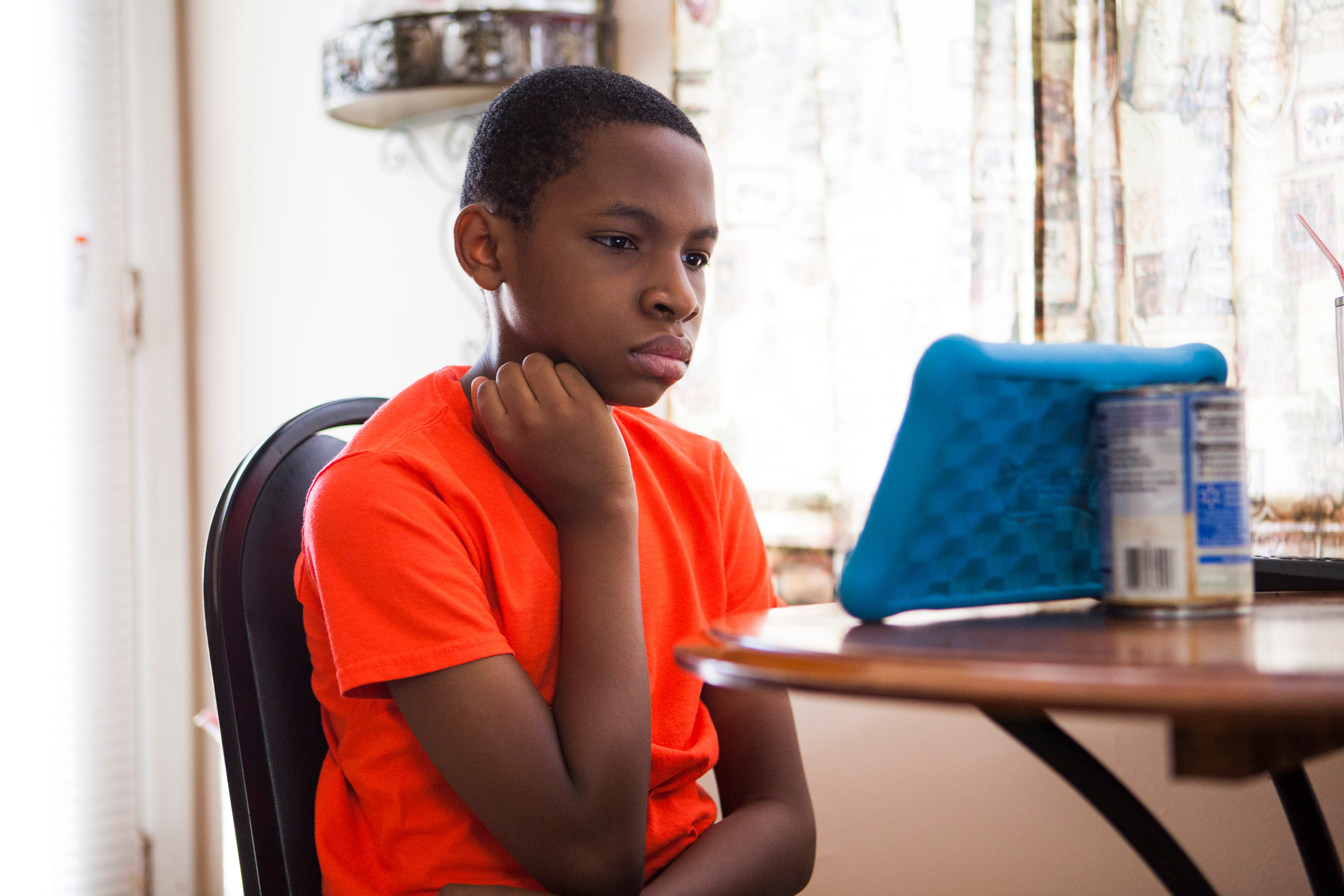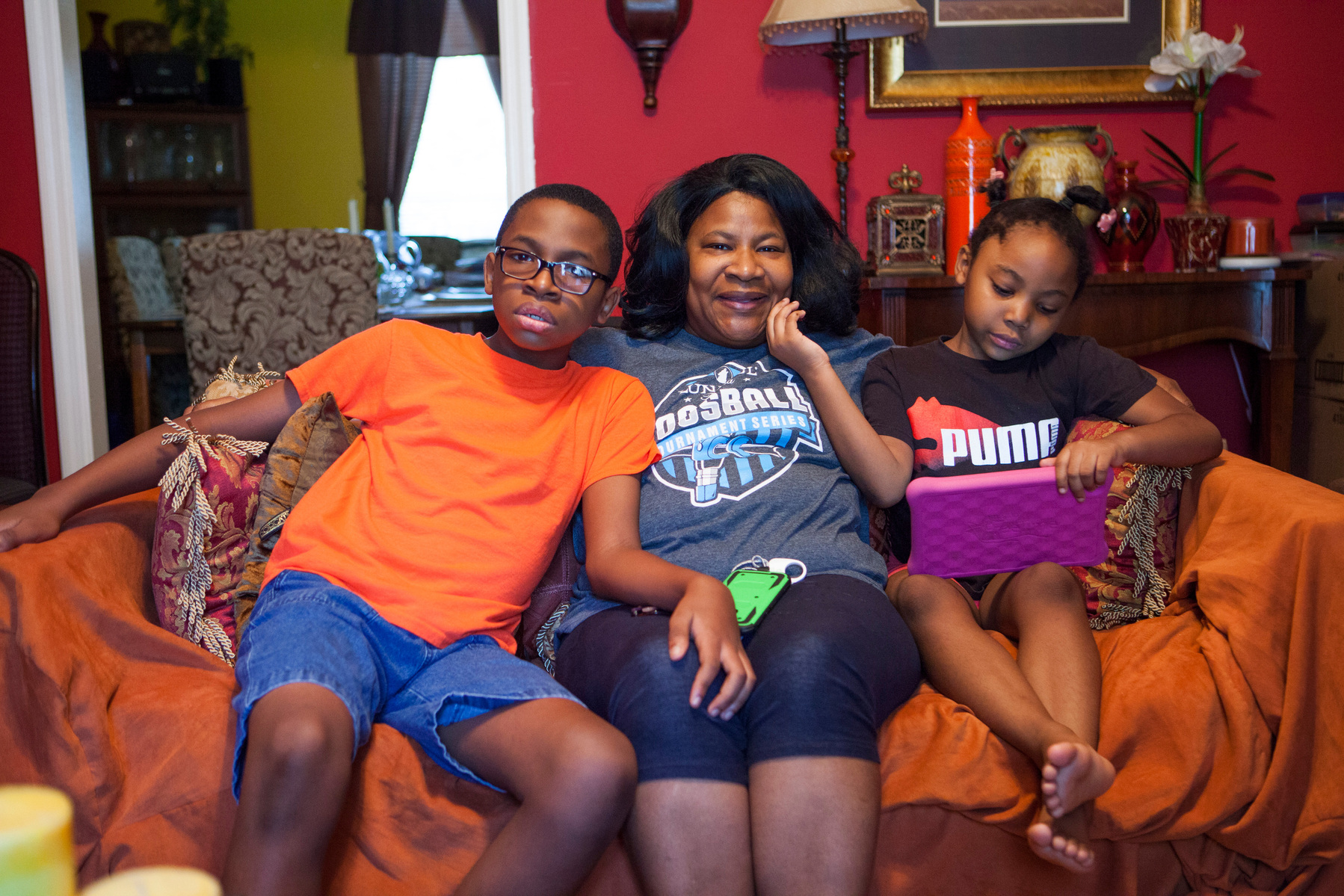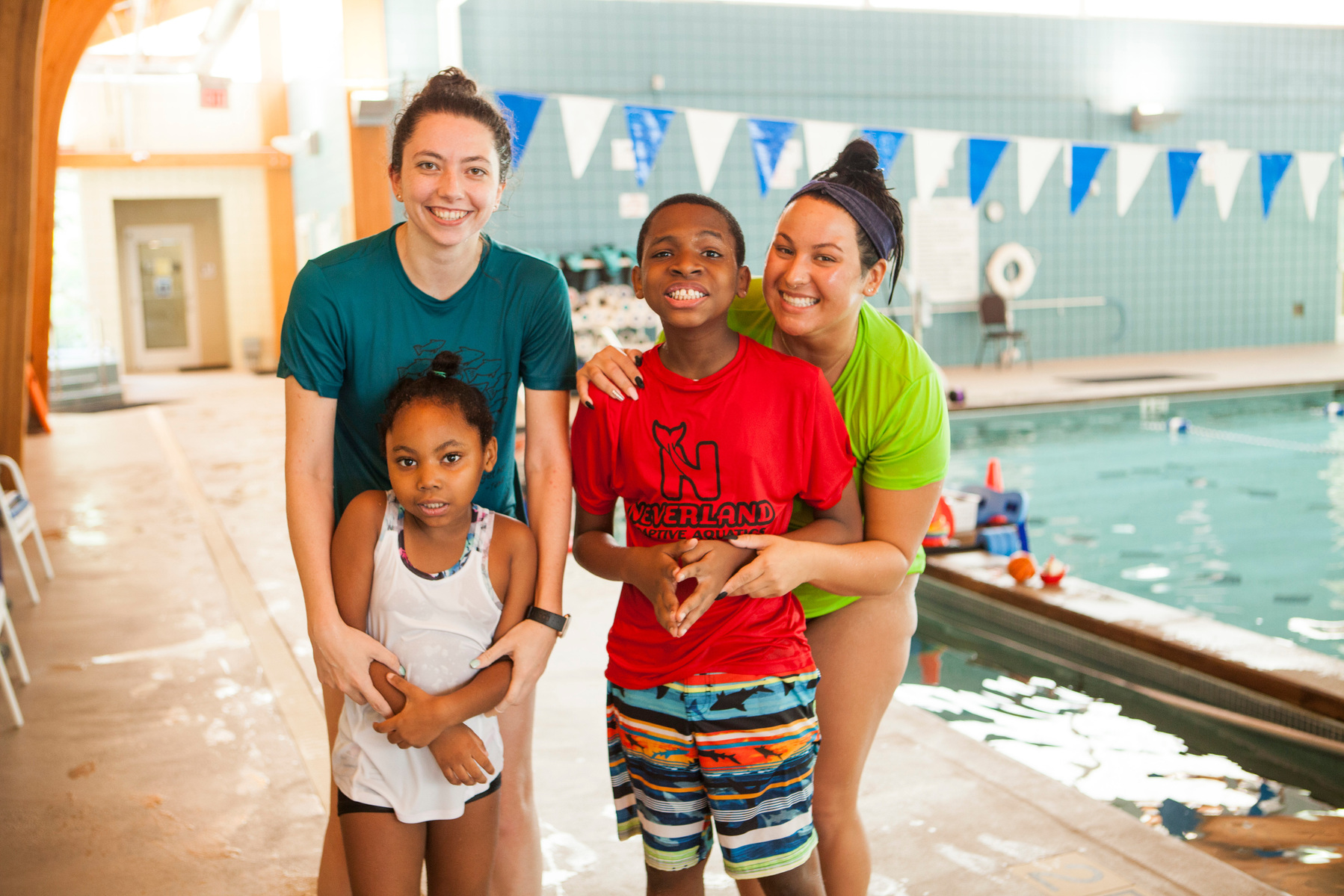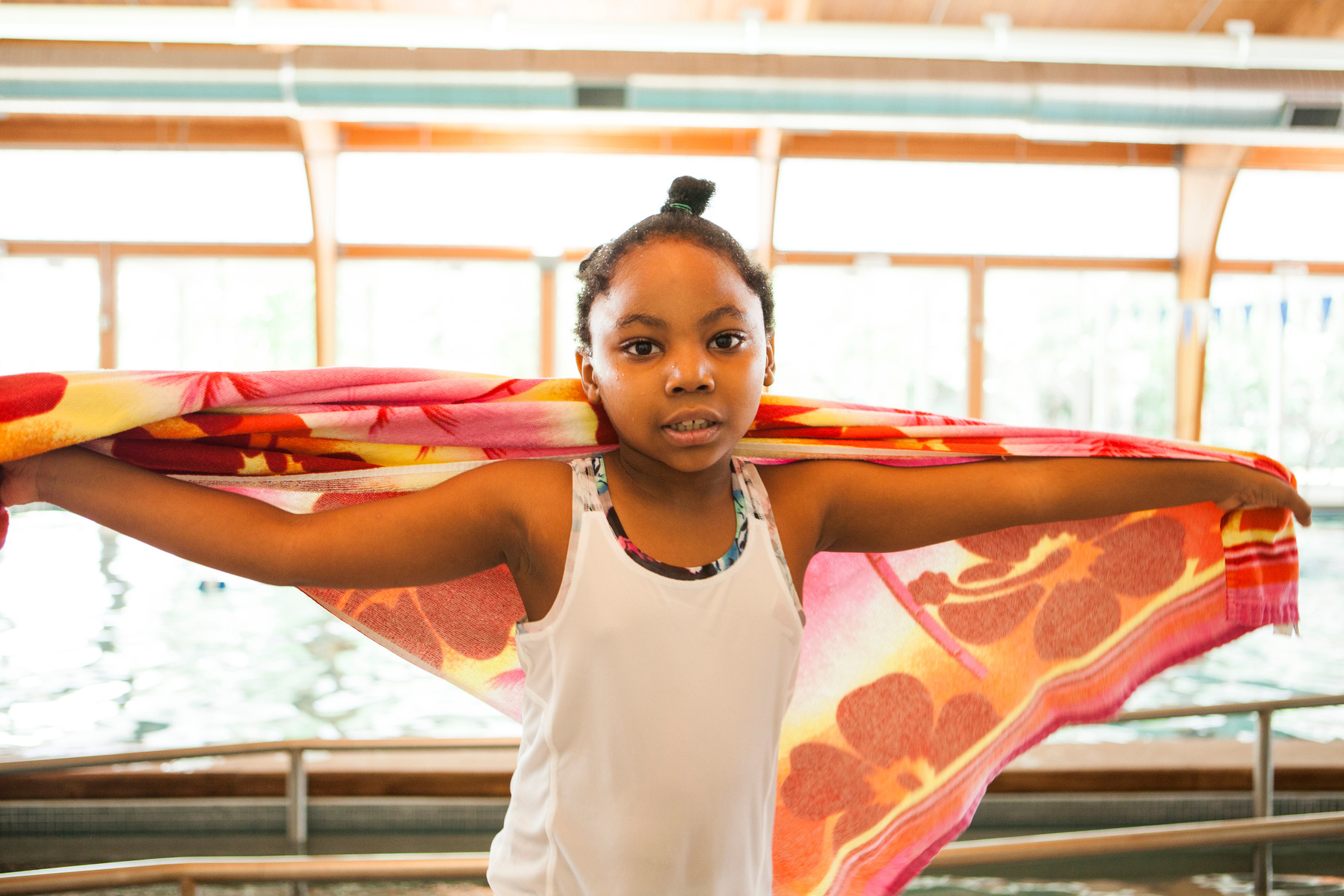 Madi and Rashida pass a ball back and forth, but as soon as the camera comes out, Madi gets distracted and starts posing. "Say cheese!" she yells. Madison is so taken by the camera, in fact, that she tries several times to pull it out of the photographer's hands, but it turns into a moment of kind exchange as the adult patiently and carefully coaches her at how to look into the lens and press the button, without letting go.
At the time of this writing, Cameron (12) and Madison (7) both have autism spectrum disorder (ASD), attention deficit hyperactivity disorder (ADHD) and sensory processing disorder (SPD). Cam also has obsessive compulsive disorder (OCD), while Madi has a genetic condition that causes her body to advance prematurely. According to the kids' mom, Madi sees an endocrinologist to monitor the genetic condition, as it often conflicts with her primary disability and can make the symptoms of autism more pronounced.
During Madison's therapy time with Rashida, Cameron eats his breakfast and enjoys some time in his room. Then the schedule flips. When Cameron is reading a book about the letters John and Abigail Adams wrote to each other, he says, "I need to take a break now," and goes over to sit on a ball for a few minutes. This is a huge accomplishment in self-regulation.
According to the Autism Speaks website, "ABA therapy applies our understanding of how behavior works to real situations. The goal is to increase behaviors that are helpful and decrease behaviors that are harmful or affect learning." ABA is a very important modality in the lives of many people with autism. ABA therapy programs can help increase language, social and communication skills; improve attention, focus, memory and academics; and decrease problem behaviors.
Upstairs, Saturday carries on in the Carter house. Cam and Madi's mom, Sheila, feels blessed to have her Aunt Flora living with them, as her husband travels a lot for his job as a research engineer and lab supervisor. Sheila says she doesn't know what she would do sometimes if she didn't have Flora as a second pair of hands and eyes. "Thank god for Auntie. Without her, we wouldn't be able to do half the stuff we're able to do. It's hard enough to raise one child without a disability. Imagine raising two with autism." Sheila describes times when one or the other of her children have broken away from her in Walmart or the grocery store, and how hard it is to figure out what to do in that moment. Do you stick with the one who stayed or run after the one who's running away? Both kids have histories of elopement, and the family relies on handicap placards in their cars so that they can get in and out of stores faster when running errands with the kids. These days, Sheila often puts Madi in the larger part of a shopping cart, both because she's happier there and because it helps her keep things more orderly in the store. They have alarms and signs on their doors that say "Stop!" as reminders to the kids that if they get to the doors in a moment of emotional outburst, they shouldn't keep going. Cam has had a few dangerous moments of elopement, particularly alarming everyone when he ran away at school. Fortunately, a helpful staff member intervened and brought him back, but it was still a very scary moment for his parents.
As if this morning wasn't busy enough, Rashida's supervisor, Mr. Adner, as the kids call him, stops by to check on things as well. He monitors Cameron's ABA session and then gives Rashida feedback for how to improve her coaching and therapy techniques as they wrap up. "Hi, Mr. Adner," Cameron greets him from the stairwell. "You're my friend."
Vocal interaction with people can sometimes get stuck in a loop for Cam. His favorite thing to ask is, "What's your favorite food?" His favorite, by the way, is his friend and neighbor Mr. Lee's BBQ, which is so good he considers the sauce a whole separate side. Sheila says the hard part comes in when Cameron is trying to interact with children his age. They'll ask him what's his favorite video game, but he always goes back to asking, "What's your favorite food?" She says it becomes confusing and discouraging for the young people to know how to keep having a conversation, but she's glad the kids around Cam care enough about him to try. Still, as a parent to a child with a disability, it pains her to see both Cam and Madi struggle to make friends.
Cameron attends a self-contained autism class at Smitha Middle School. He will have the same teacher for the entire three years he's there. Sheila says that they love his teacher; she does a great job, as is true with all of Cam's teachers. Cameron takes electives like cooking, gym, computer lab and band that are integrated in the rest of the school. Students in programs like Cam's do not have to take the same standardized Milestones testing as the general population, but rather take the GAA, Georgia Alternative Assessment. Sheila says it's very helpful because kids like her son can become very stressed out and are even known to become physically ill during standardized testing. Though he struggles a little bit in reading comprehension and speech, Cameron is a straight A student on the principal's list, and during his time at Hollydale Elementary School, he was the last fourth grader standing in a school-wide spelling bee contest. Sheila says, "It was the highlight of the entire school. Staff still talk about that moment."
Madison, on the other hand, is a very advanced reader who, like Cameron, still struggles with comprehension and speech. Madi has more behavioral issues, too. Madi will be returning to her self-contained autism class, newly named "Integrated Program," at Hollydale. She'll work on skills for students with autism who need a little extra help to get caught up on grade level. Madi will remain with her new teacher through third grade. Sheila is glad for opportunities for her kids to get out and participate with other children, like when guest speakers come to the school. She says they see things like kids raising hands, and they know that's how you get called on. At the same time, they very much benefit from the small structure and intentional environment of self-contained classroom time, especially because of their issues and speech and language deficits. Cameron, in particular, is a perfectionist and needs to be told he's doing things well often, which would not be possible in a general classroom. It's something that's not even possible in his self-contained class as teachers and therapists purposefully do not entertain, nor engage, this behavior in order to build confidence in his ability to make more independent academic and life decisions.
The Carter family started a nonprofit, Cam and Madi's Promise (or C.A.M.P.), which strives to ensure that families of individuals with disabilities are successful in securing the medical and therapeutic services their children require through Katie Beckett and other waiver programs, including the New Options Waiver (NOW) and Comprehensive Supports Waiver (COMP). In other words, Sheila walks other families through the onerous application process—for free. She's become a strong advocate for families as she's learned from their experiences, and she believes that "parents are the best, most effective advocates for their kids." She doesn't want parents to feel the way she did, crying the moment they heard the word autism as a diagnosis. "I tell parents that it's OK to have a mini-nervous breakdown. It's OK for you to cry, to mourn. But you've got to get out your self-pity because these kids need you. You're gonna be fighting and advocating for your kids for the rest of their lives."
Sheila spent a lot of time advocating for Ava's Law, which was originally passed in Georgia in 2015, and amended with increases in 2018, after almost a decade of advocacy by the autism community. The now amended bill requires insurance plans in Georgia to cover screening; diagnosis; various therapies, including ABA up to $35,000 a year for individuals ages 20 and under; and other care services for ASD. Sheila will continue to be an advocate because she's already looking forward into the future. By the time her kids are adults, she wants them to have all the supports they need. "My kids will have autism for the rest of their lives. It doesn't go away when they turn 18, and I need to make sure that the therapeutic services and opportunities that are available to them now as children will be there for them as adults. We need ABA. We need to take off the caps so that it's funded throughout the entirety of one's life," she says, fervently.
"They're gonna need access to other therapies. I see parents asking other families about where to take their adult children for speech therapy and occupational therapy because the clinics they used to go to don't service adults," Sheila said. "They're also gonna need jobs. Good jobs with good pay. I see all the time on the internet where companies in other states are purposefully seeking to hire individuals with autism and other disabilities in tech jobs. I want the same opportunities for my kids here in Georgia. What adult services are out there? I don't want my kids attending a day program where the most exciting thing that day is being transported around to Walmart and Target and that's their Community Based Instruction—and that's all you did?"
If given the chance to speak to a legislator, Sheila would say, "We need more money! We need more education, more teachers. We need funding for sensory rooms for our kids. We need more speech and occupational therapists. We need more money to give our kids and those that educate, treat, house and employ them to live more independent and functional lives" Sheila goes on to speak about her frustration with people giving excuses about the shortages of practitioners who can provide these sorts of services, as well as the lack of services through early intervention programs like Babies Can't Wait (BCW). "BCW is an excellent program," says Sheila. "Both our kids went through it. I just don't understand why they discharge kids at age 3 from the program. Some kids need to remain in the program as late as age 5 because, honestly, some aren't ready to go into the public school special needs pre-K programs yet." She also speaks about the differences between counties and regions and how some are just doing better than others. Sometimes there simply needs to be funding to hire more people to process the paperwork for Medicaid waiver applications because she's witnessed piles and piles of paperwork stacked up in offices. "We are not a special needs friendly state," she says. "We are just not. We need to do better in Georgia."
Describing the diagnosis process, Sheila says that Cameron was not meeting certain milestones when he was about a year old. Like so many parents, she was told by doctors that she shouldn't compare her child with other kids. Still, Sheila was seeing specific signs like walking on his toes, being unresponsive (even to his own name), lining up his toys and having meltdowns. All of her searches kept leading back to autism. Cameron was briefly diagnosed with Pervasive Developmental Disorder-Not Otherwise Specified (PDD-NOS). Sheila kept being told that she was crazy and was even accused of having Munchausen syndrome by proxy. Hearing that, along with the energy spent during the continual pursuit of a right diagnosis, frankly, did make her feel like she was losing her mind. Cameron was finally diagnosed at 22 months. They had to wait four months just to get the right appointment with a developmental pediatrician. His final diagnosis included three separate appointments involving a hair sample, stool sample and a behavioral assessment. By the time Madison was 18-months-old, her parents were noticing some of the same signs, so they knew right away what was happening and how to pursue a diagnosis.
Like most siblings, Cameron and Madison have very different personalities. Cam is more of a social butterfly and eager to please. Madi is very strong physically, a better eater and her senses are on full blast all the time. Madi is more prone to stimming, i.e., repetitive, stimulating behavior such as drumming fingers, rocking back and forth and playing or fiddling with objects. Almost as if on cue, as Sheila describes Madi's behaviors, she comes bounding through the room, repeating, "You were taking my picture! You were taking my picture!"
With ABA over and a quick break for lunch, everyone piles in the minivan to drive 45 minutes to Roswell for swim therapy. Led by Neverland Adaptive Aquatics, a therapeutic swimming program, Cam and Madi's participation is funded by the state's Family Support Services. This funding provides small grants for families who are on the Katie Beckett waiver so they can access community activities and programs like they would if they were on the NOW/COMP Medicaid waiver. Families use their funding to send their kids to adaptive therapies and camps of all kinds. Cam and Madi are able to go to swim therapy every Saturday for 12 weeks a year with their $1,200 award.
Swimming with their individual instructors, Lindsay and Sierra, Cam and Madi work on counting, swimming backwards, blowing bubbles and, most importantly, confidence. Before she even gets into the pool, Madi has to work up to it. She's also working on her patience with the other children who are around. Sheila says that drowning is a leading cause of death for children with autism, so she really wants her kids to become strong swimmers. As she watches and offers encouragement from the side of the pool, Sheila speaks with pride about the things she's seen improvement in, like how Madi would never be able to stick her face in the water before (even bath time was horrible) but now will blow bubbles with her instructor for 10 seconds or more. Cameron lays out his long limbs into a backstroke and glides across the pool. Though this activity might be considered therapy, clearly all three of them have been looking forward to it all week.
Writer: Shannon Turner, Photographer: Kelly Blackmon