Chris Hunnicutt
Atlanta, Georgia (Senate District 42)
On a bright, unseasonably warm Monday in January, Chris and his life coach, Eric, are preparing soup. They've cut up all the vegetables, measured out the ingredients and spices and pre-opened the cans. The crock pot is lined with plastic to protect it, making the eventual clean-up easier and faster. The two men make jokes together about how much they feel they are on a cooking show. Today's soup: an herbed chicken with carrots and other savory veggies.
Chris Hunnicutt is a 33 year-old man with Down syndrome and a hearing impairment who lives in the Lavista area of Northeast Atlanta. He's been in his own townhome, which is owned by his parents, since 2012. Chris lives with a roommate, Kevin, who is legally blind. The two plan and share meals together three days a week. Who's the better cook? "It's not a competition!" Chris says, with a sweet grin. (Story continues below after slideshow.)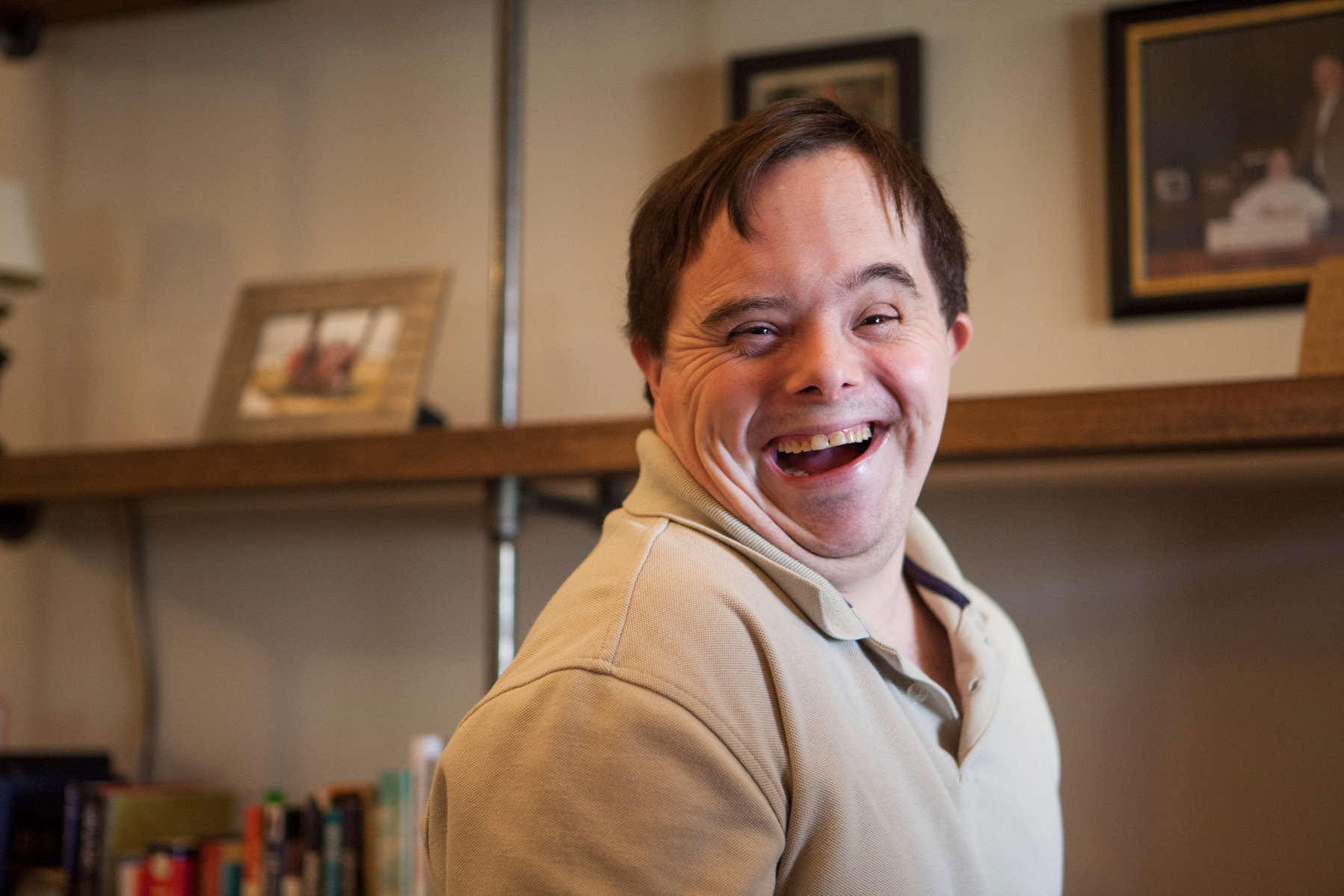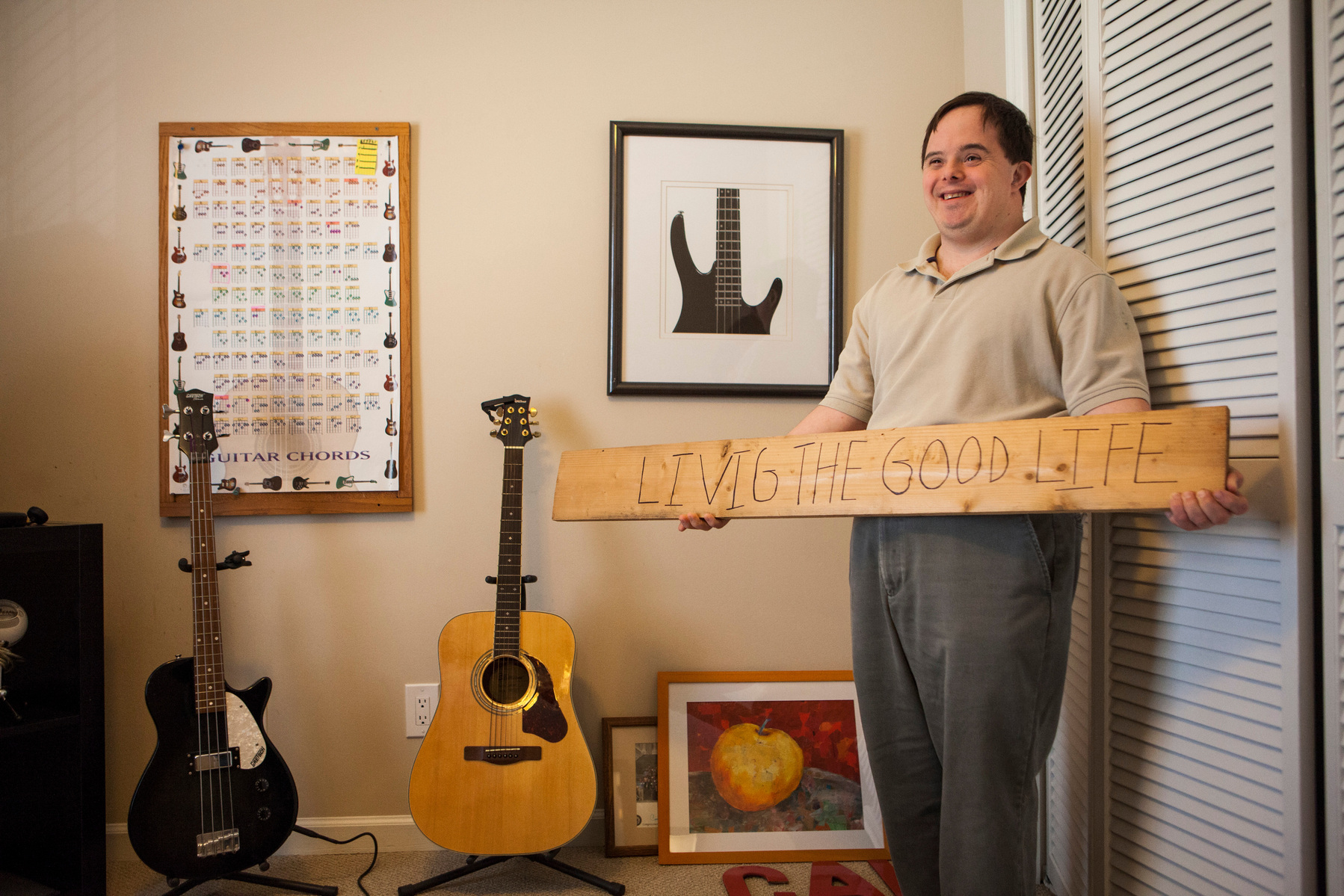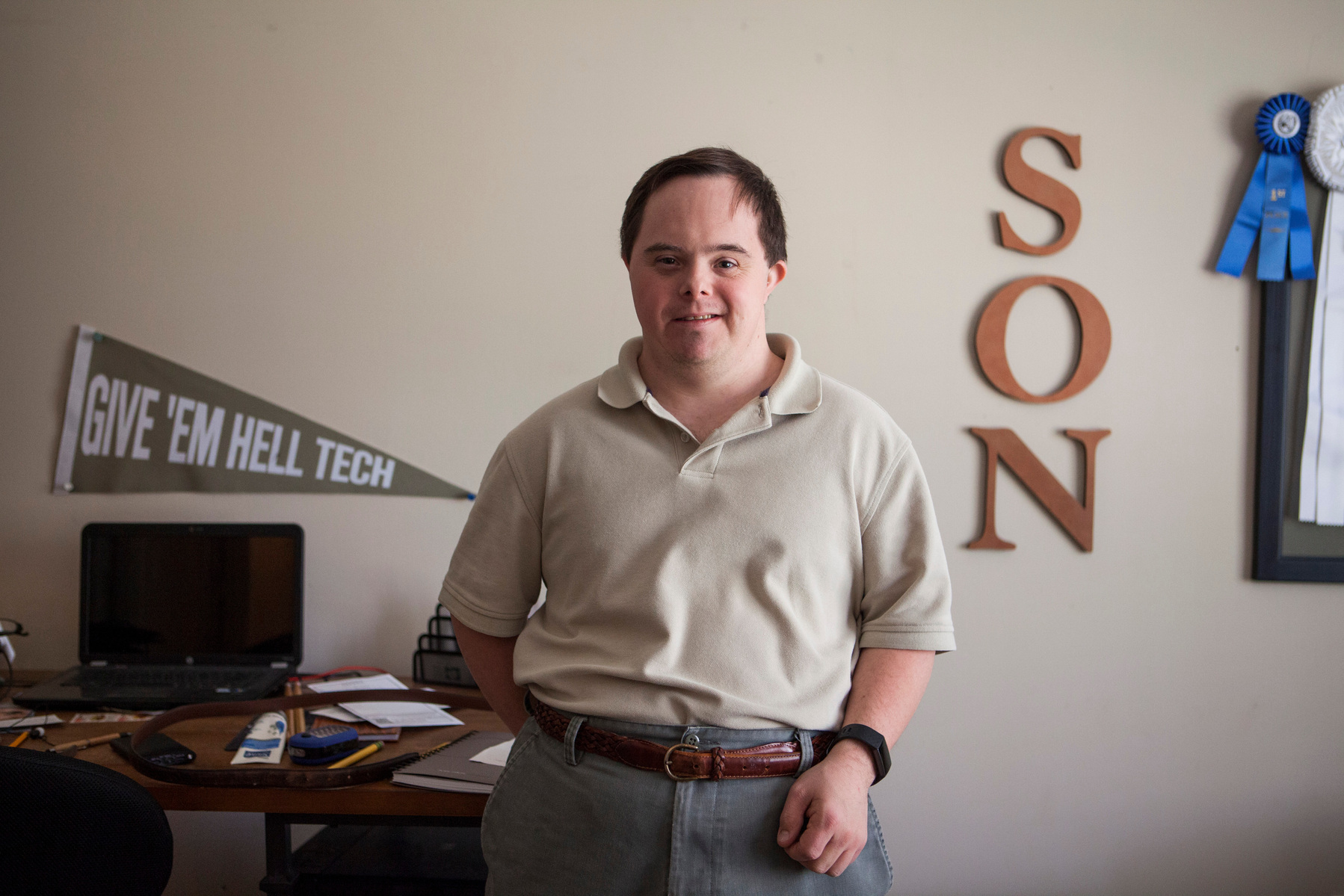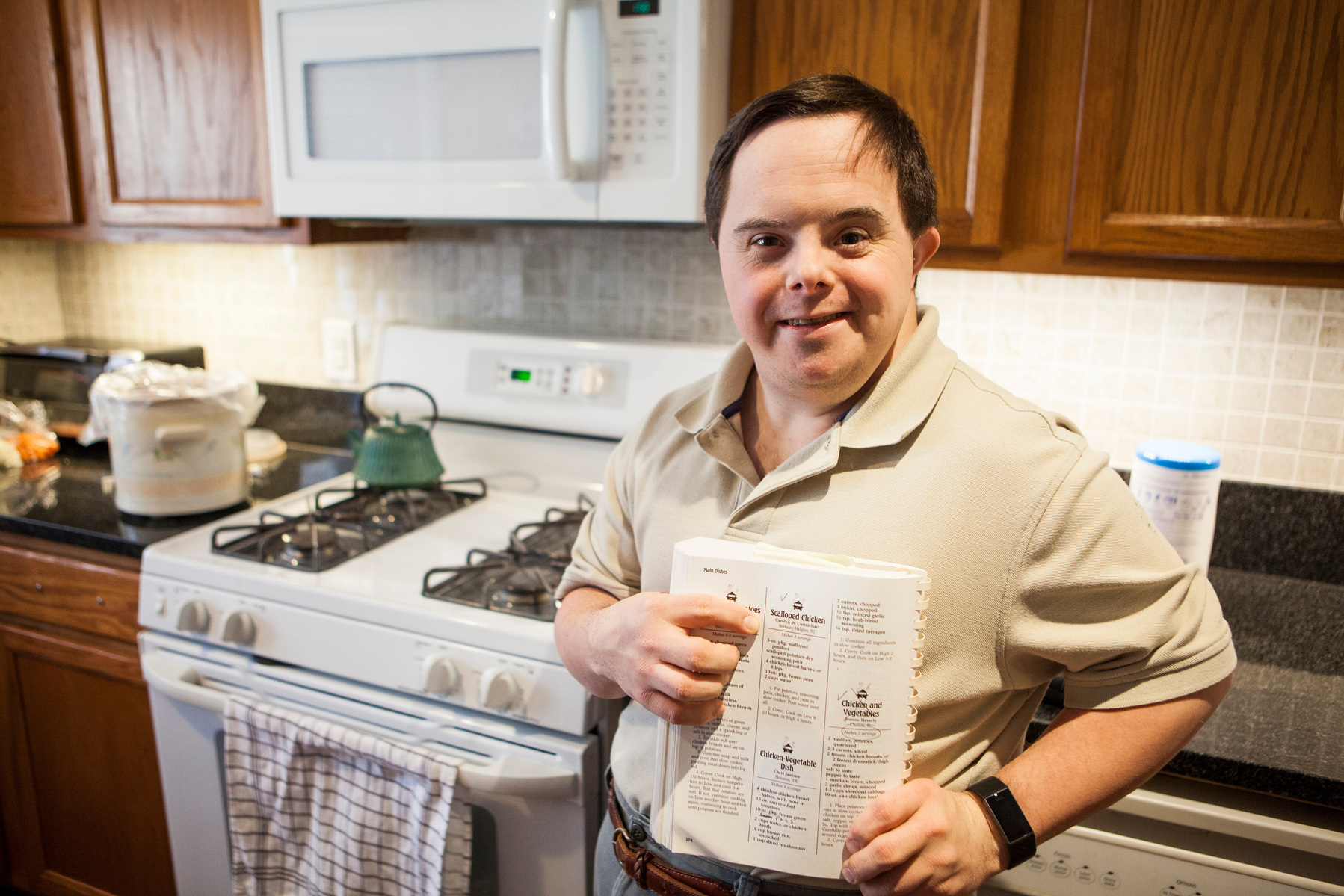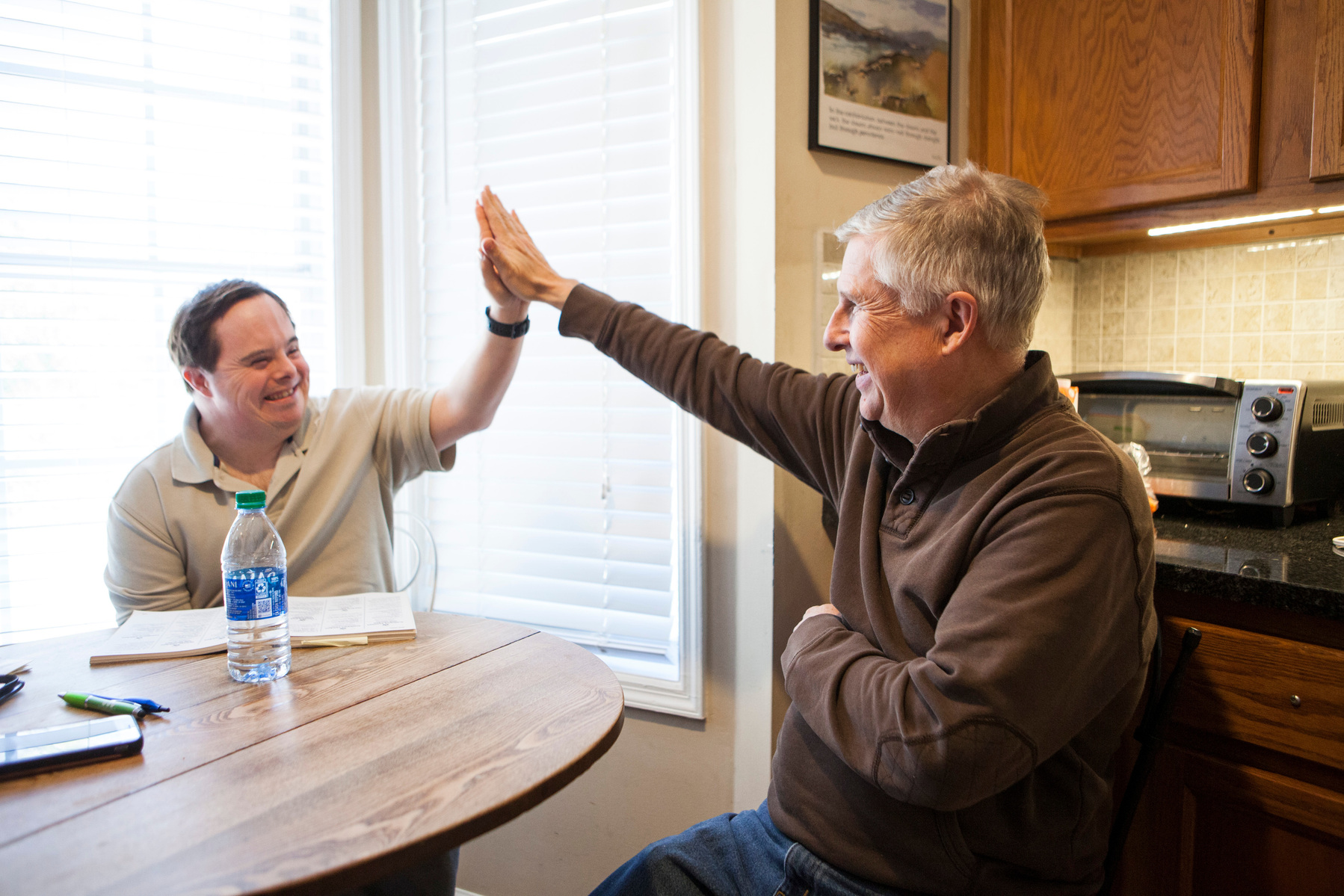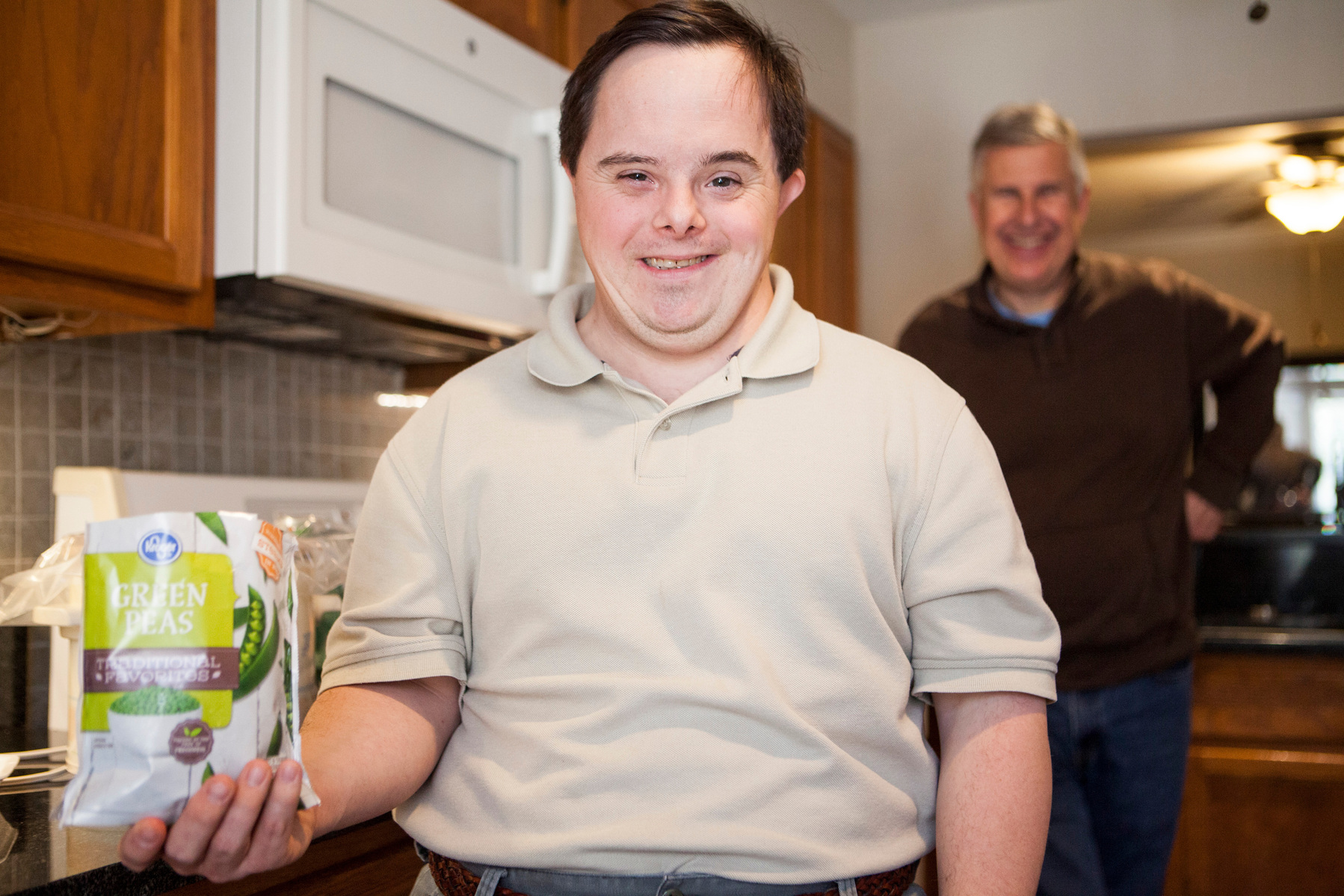 Their three-story townhome provides a lot of space for both young men to spread out and enjoy themselves as individuals. Chris particularly loves his porch, where he often sits outside to have a cup of coffee, a snack, or perhaps read for a while. He works for the homeowner's association by assisting with pool maintenance and picking up trash around the neighborhood. His parents, Martha and George, both retired from working in different capacities with the intellectual/developmental disability (I/DD) community. They live less than a mile away, which makes it easy for them to check in if needed. Martha says that they were glad to have found a townhome for Christopher's living situation, as opposed to a single-family home where he might have become isolated. They like that he's surrounded by friends and knows everyone in the development.
Christopher was nearly deaf when he was born due to a birth defect that caused both of his ear canals to be incredibly small. In two separate surgeries, one for each ear, doctors reconstructed his ear canals, a procedure called canalplasty. Today, he has moderate to severe hearing loss, but when he wears hearing aids, his hearing is corrected to normal function. Chris's newest set of hearing aids were paid for last year by his Medicaid waiver, the New Options Waiver (NOW), as Specialized Medical Equipment.
Eric Smith, Chris's life coach, has been working with Chris for almost three years. His service is also paid for by the NOW Waiver. Martha is profoundly grateful for Chris's admittance into the program, which provides resources to live and participate in his local community. Chris and Eric see each other about 10 hours per week: Mondays and Fridays for five hours per day. Eric has two other clients in Dunwoody, a pair of young men who are roommates and who are also Chris's friends. When Chris and Eric are working together, they do all kinds of things, including walking, hiking, swimming, meal planning and grocery shopping. Unfortunately, Chris's physical activities have been a bit curtailed recently because he tore the ACL ligament of his right knee during exercise with a friend. He says his recovery is going slowly. "The biggest challenge Eric has taught me is learning to swim," says Chris. "When I was a kid, I was really scared." Chris says he's gained confidence from working with Eric.
On this day, Chris and Eric are preparing the soup so that Chris and Kevin can eat it later in the evening. However, after a time where things have gone quite smoothly, they reach an important crossroads in the soup preparation. Eric is leaving soon. The soup needs to be turned down from high to low in two hours, and then it will be finished five hours after that. Chris looks at the clock and says, "Ok, that's seven hours. We can eat in seven hours."
"No," Eric says, "Remember? There's an important thing that needs to happen here. You've got to remember to turn it down in a little while, and I won't be here to help you remember." As he carefully coaches Chris through the crucial step of turning down the soup, Eric demonstrates remarkable patience and restraint. Many people would simply tell Chris exactly what he needs to do. "What are the things that are available to you here to help you? What tells time around here?" Chris is starting to feel a little overwhelmed; his brain is shutting down. Eric says again, "Let's see what are the things around you that tell time. There's the clock on the stove. One on the microwave. Or... there's one on your phone... What are you gonna do?" Again, Chris says, "I think I'll just wait seven hours, and then eat it." He gives a huge and winning smile, as though charming everyone will solve the problem.
Eventually, Eric helps Chris find the solution to create two alarms on his phone—one for turning down the soup in two hours, and one to know it's done this evening. It takes about 15 minutes of patient conversation to get to this conclusion. "I'm looking for you to use all your skills here," Eric says. As back-up, Eric says he will call to make sure the soup's been turned down.
These are the kinds of everyday life moments that a coach walks a person with I/DD through, especially when it comes to making decisions. It's such a great example of how a professional coach approaches the issue. When the responsibility falls to loved ones who have a lifelong relationship with the person, sometimes they might get impatient or jump to the final answer, rather than emphasizing independence and thinking through the process.
Chris was in the 2011 inaugural graduating class of Kennesaw State University's Inclusive Post-Secondary Education (IPSE) program; the class enrolled four that year. He and Eric recently went back for a graduation reception and were excited to see that the program has grown exponentially in the years since. It seemed there were 30 or 40 students in the program now. Chris is also a huge Georgia Tech fan and enjoys being able to go to football games whenever he can.
A long-time family friend, Dan, takes Chris to Tech football games and is also the treasurer of Chris's microboard. A microboard is "a person-centered non-profit entity formed by a small group of committed friends and family members who volunteer to help plan, develop, and maintain the ongoing services necessary to support one person with a disability" (Georgia Microboards Association website). "My mom and dad set it up for me in case something happens to them. It's all close friends. I have a president, treasurer, secretary," says Chris. "I'm the assistant to the president." Although he is Chris's staff member, Eric has also become a family friend, and as such, he is also the convener of Chris's microboard. They meet 2-3 times a year to discuss business such as Chris's daily routines, his financial position, and his interest in exploring the coffee business. Though the board is helping Chris consider his interest in potentially starting his own coffee stand, Eric says they're all holding the idea in question: "There's nothing wrong with just working and serving."
Given his substantial experience working with people with I/DD, Eric points to how very proactive and organized Chris's parents have been in establishing their son with an independent-living situation and microboard. "From very early on," Eric says, "they were on it. His dad actually changed careers to work with individuals with developmental disabilities after he learned more about it. He's just very blessed that they had the insight to learn what they did." He says it's quite remarkable the level of care, attention, and foresight they've dedicated to planning for Chris's future.
Along with the many activities that Eric helps him do, Chris also uses his waiver to participate in therapeutic horsemanship with Stride Ahead at Little Creek Farm in Decatur. When he was younger, he also used the waiver to learn martial arts, eventually achieving his junior-level black belt. He is an active and vibrant member of his church, Briarcliff Church, and also attends a weekly men's Bible study in the community. Martha says that they love their church and especially appreciate that Chris is welcomed as a contributing member of the congregation. Chris loves music of all kinds, especially Christian music, and he very much enjoys playing his multiple guitars in the music room at his home. He sits and makes up a song in the moment, "My friend is Eric/He taught me to swim/No, he never did!" He and Eric laugh hysterically at the teasing.
Chris was invited to participate in and graduated from the Summer 2019 class of the "My Voice, My Participation, My Board" program offered by Georgia State University's Center for Leadership in Disability and sponsored by the Georgia Department of Behavioral Health and Developmental Disabilities (DBHDD). Chris has become a public speaker and is frequently asked to speak at events and on webinars as a self-advocate. Christopher has also worked at his local Kroger for 12 years; he feels it's important to find time to work, even with his busy schedule.
* * * * * *
A few weeks later, another Monday, it's Martin Luther King Jr. Day. The weather has taken a drastic turn toward the... seasonally appropriate. "It's the coldest day in the last 365," says Eric. He, Chris and Mark, one of the other young men Eric coaches, are bundled up in multiple layers, including hats, scarves, gloves and ski pants. They have returned for the second year in a row to Brook Run Park for the Day of Service project hosted by the City of Dunwoody. Eric and Mark are huddled around the coffee station to warm up, but where's Chris? He's over dancing with a small group of participants who have decided to make their own kind of musical warm-up. Following the leader, Chris throws his hands in the air and waves them around like he just doesn't care! The group slides to the left and right, dancing to popular music under the leadership of a local dance troupe, Stretch, whilst most other participants stand around in the park, drinking coffee, eating donuts and stamping their feet to keep warm.
There are many different projects happening in the park. By day's end, the many residents who've turned out will plant 500 trees and 5,000 daffodil bulbs. Chris's small group is there to plant daffodil bulbs along a path, which will contribute to The Daffodil Project. The reasons this team wanted to join the City of Dunwoody's festivities are many and varied. Mark and his roommate, Robby, live nearby here in Dunwoody. Chris often comes up to visit, and Eric takes them on adventures in the local community, including to walk and run on the two-mile trail in this park. They love that they get to enjoy the benefits of their own labor themselves in the springtime. On a more spiritual level, though, The Daffodil Project, is something with which they deeply resonate. According to a plaque along the pathway, the project "aspires to plant 1.5 million daffodils in memory of the 1.5 million children who perished in the Holocaust and for children who suffer in humanitarian crises around the world today." Eric remarks, "It doesn't make up for the loss of human life, but at least it's saying something, doing something."
They walk from the initial rally point about a quarter of a mile along the path to their worksite, and then they wait for the full group to assemble and receive instructions, gloves and shovels. As they stand there, Chris, Eric and Mark reminisce about what it was like out here last year. Even though today is cold, the previous MLK Day felt even colder because there was little sun, more wind. They worked together with a woman last year who knew a lot about daffodils and showed them how to dig large holes and dump lots of bulbs in together. This reminds Chris that his mom is a master gardener. She maintains a butterfly garden at a school nearby where milkweed and nectar plants attract monarch butterflies, which Chris loves to sit and watch. He mostly just loves helping his mom with her garden, even the raking part.
As the guys work, Eric, the consummate coach, helps them remember the leader's instructions about how deep and how far apart to plant. Chris really wants still to be able to see parts of his bulb sticking out of the ground, so it'll find its way up to grow. Eric coaches him to dig deeper so that the bulb will be completely covered, protected, through the rest of winter. Getting the hang of it, Chris starts to dig deeper on his own. "I like the way Chris is digging deeper now," Eric says, with his gentle, clear way of giving praise. Chris holds up his hand to Eric for a high five, his favorite form of affirmation and connection.
When the project is over, Chris will head back home to his warm, quiet home, where he's created a sign for his music room that says, "Living the good life." Indeed, he really, really is.
Writer: Shannon Turner, Photographer: Kelly Blackmon