New Life, in So Many Ways
Claudine Musamalilo
Clarkston, Georgia (Senate District 41)
It's the week of Thanksgiving. All the kids are out of school. They've just gotten home from their adventures out and about, enjoying their freedom this week. As all come piling in the door in various groupings, sisters and cousins carrying candy and snacks from their trips to the store, Claudine waits. She's sitting patiently on the floor, body folded forward like a checkmark, as she sits in the hallway toward the back of the apartment with her baby doll. She's very happy to have her family back around her. It's been a long day without them.
(Story continues below after slideshow.)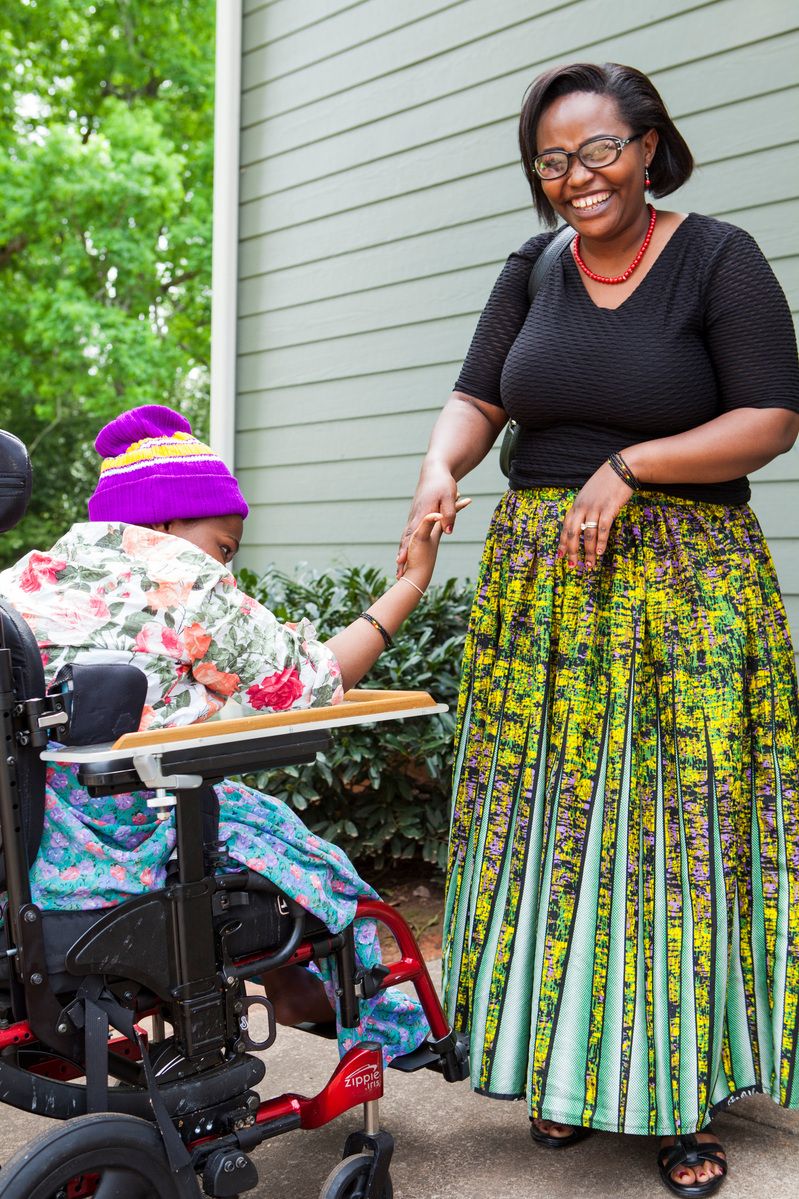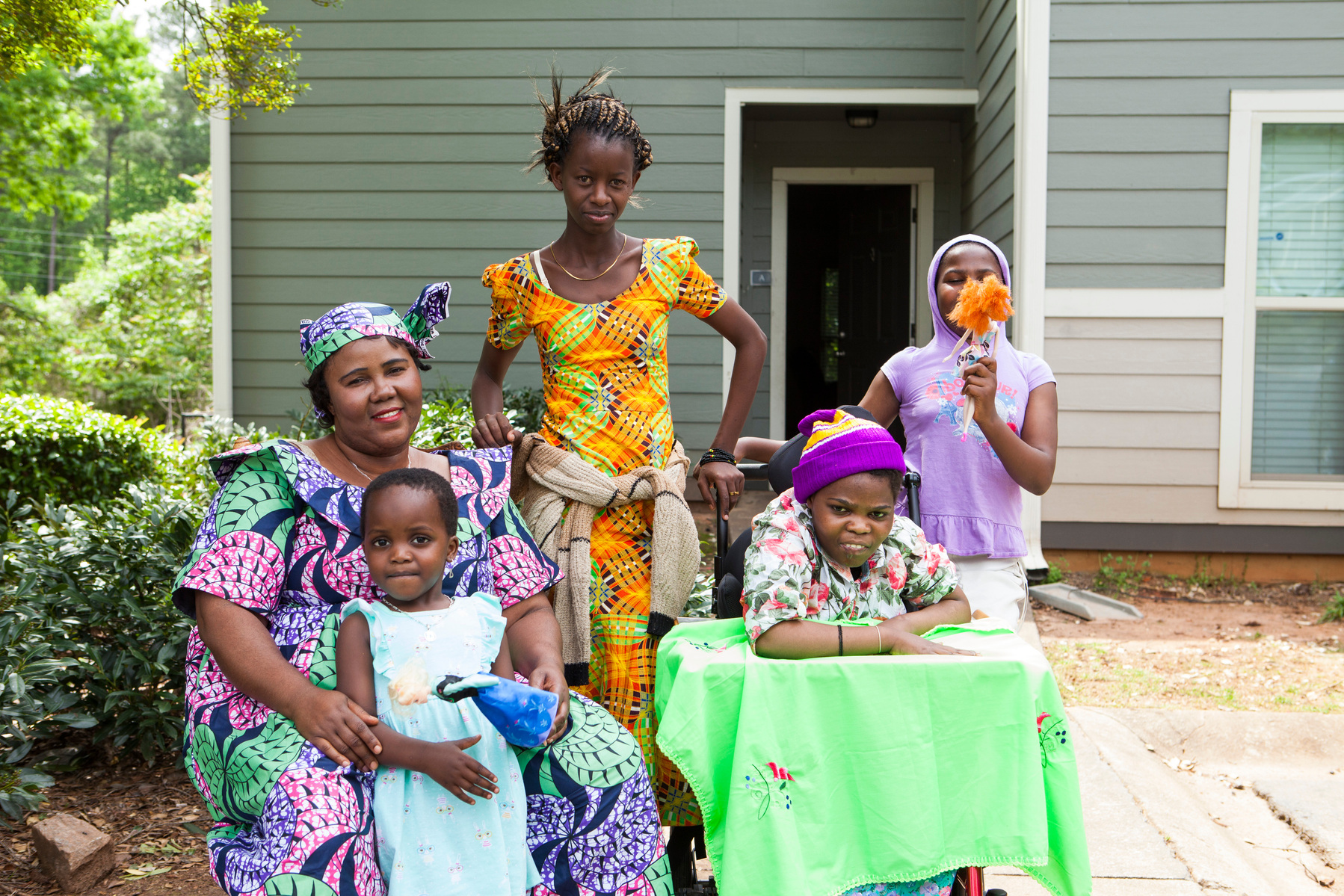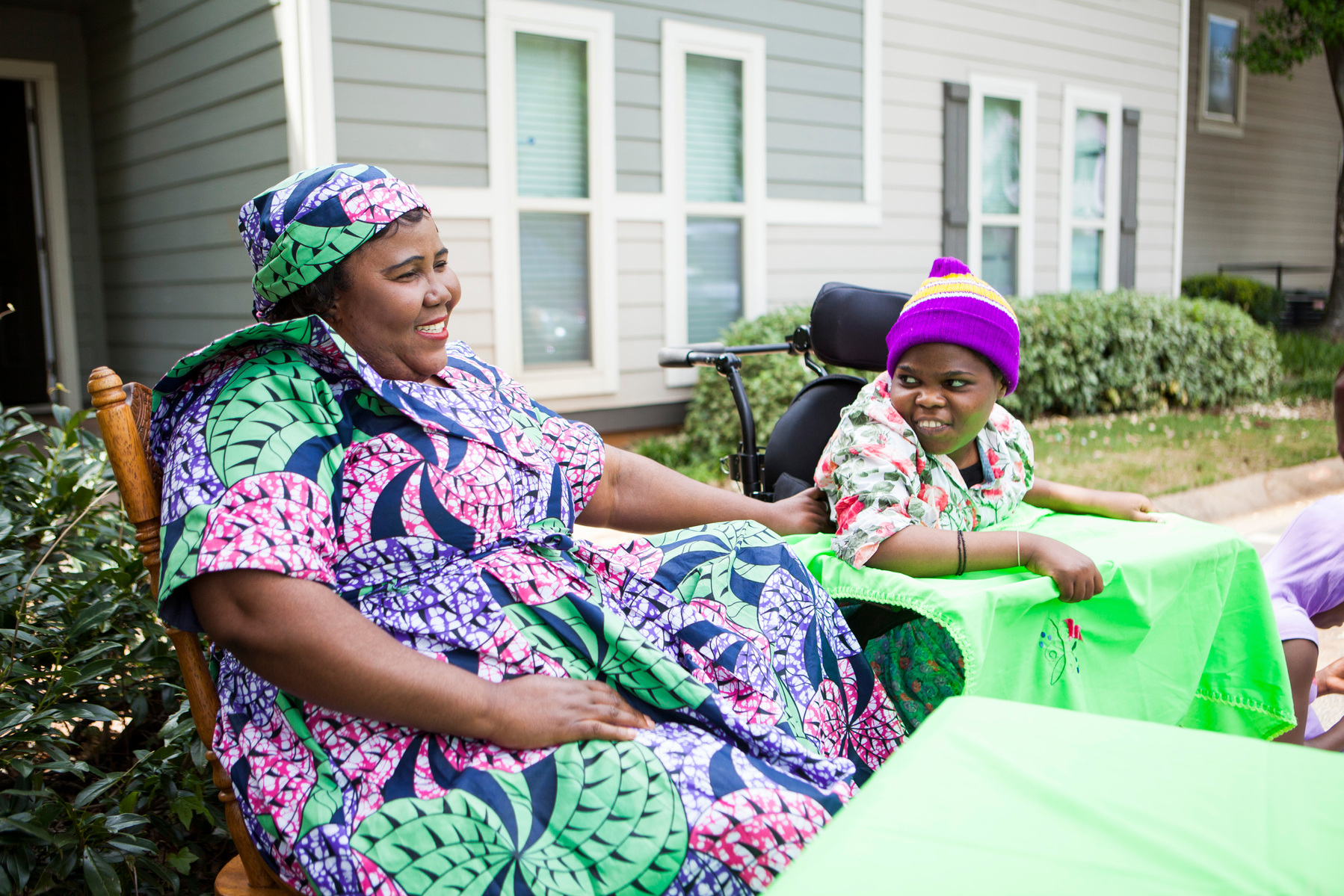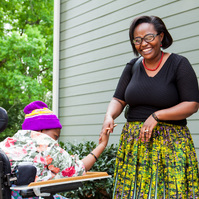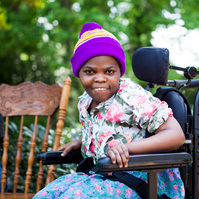 Claudine Musamalilo is a 26-year-old woman with paraplegia and an intellectual/developmental disability (I/DD) from lack of oxygen related to brain trauma. The story of what happened to Claudine is one of the most interesting and powerful you will ever read. One of epic adventures, daring escapes and even... a miracle.
Originally from the Democratic Republic of the Congo (DRC), Claudine's mother, Marie-Chantal, tells the story of Claudine's birth with the help of a translator from New American Pathways: "Claudine was born at home on a Tuesday morning at 9 a.m. She wasn't born like the other children." Marie-Chantal goes on to explain that Claudine's knees were bent up toward her body. "Usually children's legs are straight, but hers were bent. Often when children are born like that," Marie-Chantal explains, "they are stillborn. But she was alive!" Claudine's family worked with her to straighten her legs. "It took a long time, but it worked. She grew up like the other children. She talked like the other children. She started walking at 2 years and 2 months. She was a very smart girl."
When she was about 6-years-old, Claudine's family was forced to flee into the jungle by the war in the DRC. It was the late 1990s into the early 2000s. They slept in the forest at night to avoid the bombing. Marie-Chantal tells the story: "The war happened, and we started sleeping in the forest because we were so afraid they would kill us. They were coming into the houses and killing people. I was very pregnant with my son." She goes on to explain that Claudine contracted malaria, which most often comes from mosquitoes. The disease almost felt inevitable from sleeping in the jungle.
Claudine spiked a terrible fever from malaria. "We tried to buy some pills, but you don't know if they're expired or not. I gave her the medicine. Sometimes she would get better, but sometimes she would get a high fever again. One day, around 1 p.m., Claudine got a high fever. She went into a coma in that moment. I tried to wake her up. It was a Friday. I called people to pray for her. They prayed that Friday and Saturday, and then there was a confusion in her mind. Her body was shaking. She was biting down in her mouth." What Marie-Chantal is describing was most likely a febrile seizure.
They had to sleep in the forest for two months total.
Marie-Chantal says, "At that moment, I decided to go home. I started looking to the people to help me do prayers for her." It was 2001 at the time. They were then resettled in Burundi for safety from the war in the DRC.
Deep in the heat of her illness and fevers, Claudine... died. She was declared dead by the doctor and taken to the morgue. At the moment of her "death," her mother had gone home for a rest and was not present in the hospital. The family sent her uncle to claim Claudine's body from the morgue an hour later. When he walked into the room, Claudine was sitting up and pulling off her death shroud.
Although she came back to life, Claudine was not out of the woods. Marie-Chantal says, "In that moment, I found a lot of people to help me to do prayers." Claudine lapsed back into a coma and remained that way for two more years.
She woke up completely when she was about 8-years-old. Marie-Chantal says, "It was a slow building process of teaching her how to talk and walk. We stretched her legs out. Taught her to sit down. Our first prayers were for her to open her eyes. She started opening her eyes, and then listening, and then starting to speak." One of the greatest miracles (next to just waking up) was that Claudine spontaneously began speaking a different language. "Because we were in a different country," says her mother, "when she started speaking again, she spoke the new language of our new country. In the Congo, they would speak Swahili, but in Burundi, they spoke Kirundi. She woke up speaking Kirundi."
When Claudine started talking, it was early in the morning. Marie-Chantal was not home, but her sister was with her. In the moment they found out, Marie-Chantal says, "We were praising the Lord." She and her sister began to sing to God: "We are praising you, Lord. Your name is special. Your name is strong. It is very good."
Not only did Claudine start talking again; she started singing. Marie-Chantal says, "When we got home, we heard someone singing, and we wondered who was singing? And then we realized it was Claudine who was singing!" As her mom sings this song, remembering the moment, Claudine begins to sing along with her. Does Claudine remember what it felt like back then? "I don't remember it very good."
Even though Claudine was coming back to life, in some ways, things got harder from there. Her mom says that, after Claudine began crawling again, she started physical therapy. They stretched her legs and gave her massages. Marie-Chantal says, "Even though she was 8-years-old, I had to put her on my back like she was a little baby. I was very pregnant with another baby, so it was very hard. I had more children; they were all babies. I was getting very, very tired. I was so tired. There was nobody who could take her to physical therapy. She was the second child, so there was no one else older than her to take her."
Because no one could take Claudine to physical therapy, Claudine wasn't able to work on standing. Then Marie-Chantal had twins. "It was a really hard life to have twins and her. Claudine was like a baby too." Were there any programs in the community in Burundi that helped to take care of Claudine and her physical challenges? "Yes, there were programs in the community, and also our church," says Marie-Chantal. "The pastors were helping us. Many people were praying for her."
An organization helping refugees who had been resettled in Burundi helped to get a wheelchair for Claudine. According to Marie-Chantal, the wheelchair made a huge difference in their lives: "It was so much easier. It helped to keep her off the floor too because after I gave her a shower, she didn't get dirty again."
Claudine's family started the application to bring her to the United States because they felt she needed the kinds of treatments that were available here. They were working with a couple of different doctors on filling out the paperwork. One doctor simply gave up. Another doctor who was supposed to help them said, "The US is not a trash pile for people like you." Marie-Chantal has had to work to forgive him for that. Then, one of Claudine's brothers was badly injured in an accident, causing deep internal injuries to his organs. It was very hard to treat him in Burundi. His accident actually made the case for them to come here. In the end, it had nothing to do with Claudine.
The family was eventually resettled to Clarkston, Georgia, a little more than a year ago. Clarkston has become known as "the most diverse square mile in America" because refugee resettlement programs have brought people from all over the world and helped them start a new life. Even though it's been a little while now, Marie-Chantal says that resettlement continues to be a process. What is something she's still getting used to? "Back home there is a place—the community square—where you can go and see people, just hang out, have a good time. Here, there's nowhere to go to." Marie-Chantal feels stuck at home. "I cannot go anywhere," she says.
The one place Marie-Chantal does go these days is to her job: long, grueling overnight shifts at Home Goods. She works all night lifting boxes, which means she comes home and sleeps during the day. Claudine stays at home as well. She is watched by other family members as they are able. Occasionally, though, when there is no one else available, Marie-Chantal has to sleep downstairs on the couch and trust that Claudine will wake her up if she needs something.
Ultimately, Marie-Chantal says that, even though she's still getting used to it here, she likes that her family is relatively safer. The primary difference is the profound change she feels in the support and community they had before: "At home, the church helped," she says. "People stayed with Claudine all the time. They brought her clothes. Here, we have no friends. She goes to the doctor, but she does not qualify for physical therapy. We can't put it on insurance." Still, she feels grateful for having come to this new place, even if it's so very different. "In this moment, I'm praising the Lord. I'm talking about the things the Lord has done. I have to say that. When Claudine died, in this presence, it's my testimony: What God has done for me! Not everyone has the opportunity to come here."
Church is probably the one thing that remains the biggest disappointment to them here. Although it's only three minutes away, their new church—the only one they have found that works for them so far—is made up entirely of white people who do not speak their language. They are limited to "hi," "hello" and "good morning" in their conversations. It is not the community, spiritual or otherwise, that they had back home.
For herself, Claudine seems to be pretty happy in her new home. Because she and all her family are now citizens, she does have some supports, including Supplemental Security Income (SSI), Medicaid and the Supplemental Nutrition Assistance Program (SNAP). However, they were unaware of the Medicaid waiver program before now. They will look into it now that they know Claudine could possibly have more support to get out into the community on her own or just to support them in the days when everyone in her family needs to be doing other things, such as working or sleeping after work. Claudine likes to eat eggs, bananas, potatoes and cereal. She likes her teddy bears and baby dolls. She prefers baby dolls because she likes to pretend she has her own child to care for. "If I had a baby, I would name her Emeline Belize." Would she like to travel? Yes! In fact, she'd like to go to your house! She'd also like to see New York City.
Over the summer, Claudine became extremely sick again. She couldn't eat or talk for a while. They are unsure what the nature of her illness was. Fortunately, she's made a complete recovery.
"You have a lovely smile," Claudine beams, as she prepares for her photo session. "Do you like getting your picture taken?" the photographer, Kelly asks. Kelly shows Claudine her image on the camera's small digital screen. "That's a nice picture. I like it!" Other children run into the gathering, though, not entirely satisfied to let Claudine have her moment of fame. "What are you doing?" they ask, wanting to be a part of the excitement. "I like your dress!" Claudine says to one little cousin nearby. Then, to everyone, "I love you guys!"
With that, it's almost suppertime. The older kids have set about their chores, cleaning up the kitchen and beginning to prepare the meal. Kelly packs up her photography equipment, goes to say goodbye to Claudine, and thanks her for her time. "Thank you, my friend," Claudine says, with a smile that will bring you back to life.
Writer: Shannon Turner, Photographer: Kelly Blackmon