Inclusion is an Act of Good Faith
Dalia Cheskes
Roswell, Georgia (Senate District 56)
"Hello, Dalia, how are you today? How do you feel today?" Hannah sings to Dalia. She begins dropping out words from the songs and waits. "I feel happy," Dalia types out. There's a certain kind of joy that comes with witnessing someone who is very good at her job while she's in the middle of doing it. Hannah Rhinehart is indeed very good at her job. As a neurologic music therapist, she guides her clients through sessions that involve different modalities of singing and clapping together, playing instruments and dancing on footprints marked on the floor. As the song becomes more call and response, Dalia replaces the words that Hannah is missing. If she waits too long, Hannah points to Dalia's PRC communication device and asks with a smile, "What's the word?"
(Story continues below after slideshow.)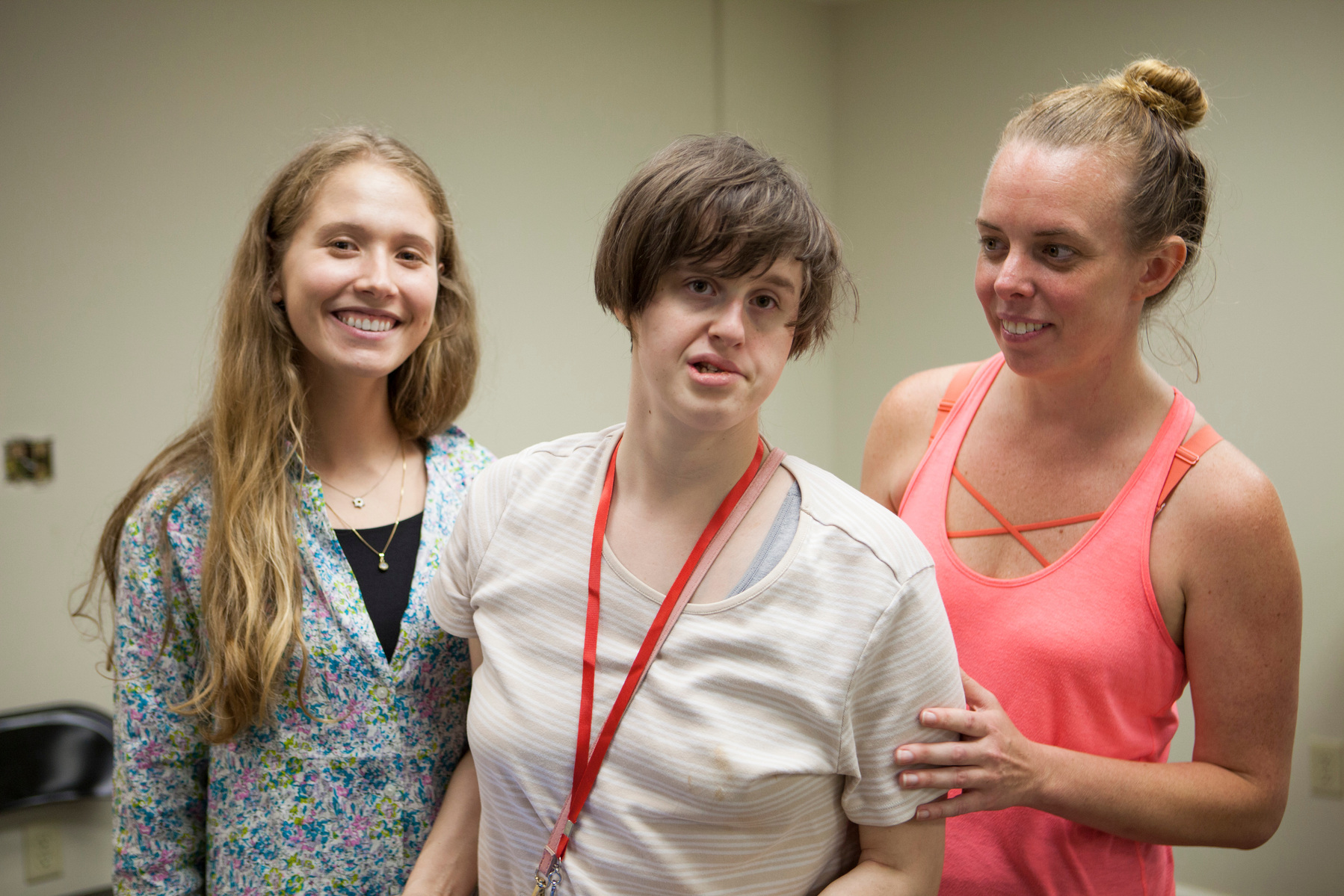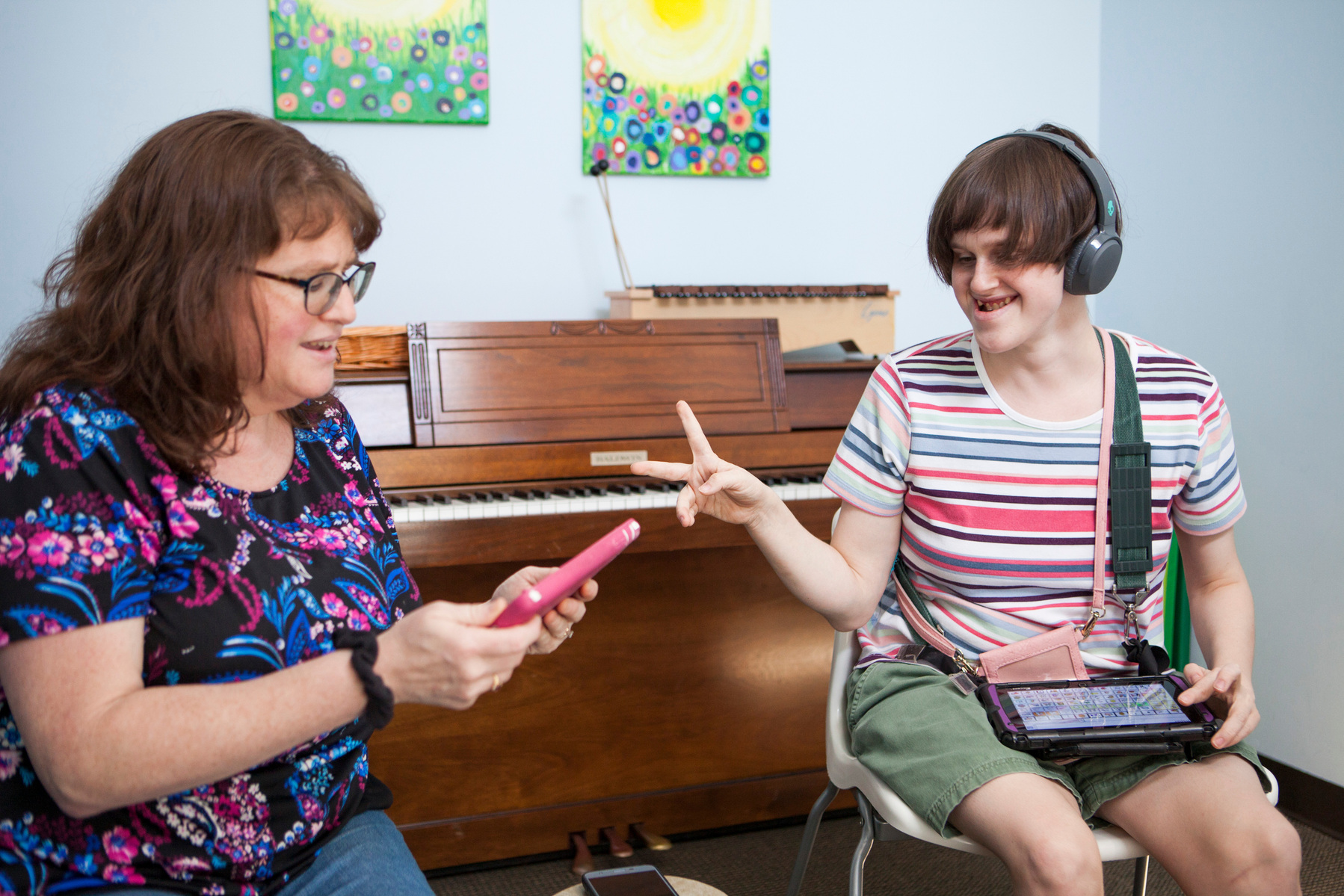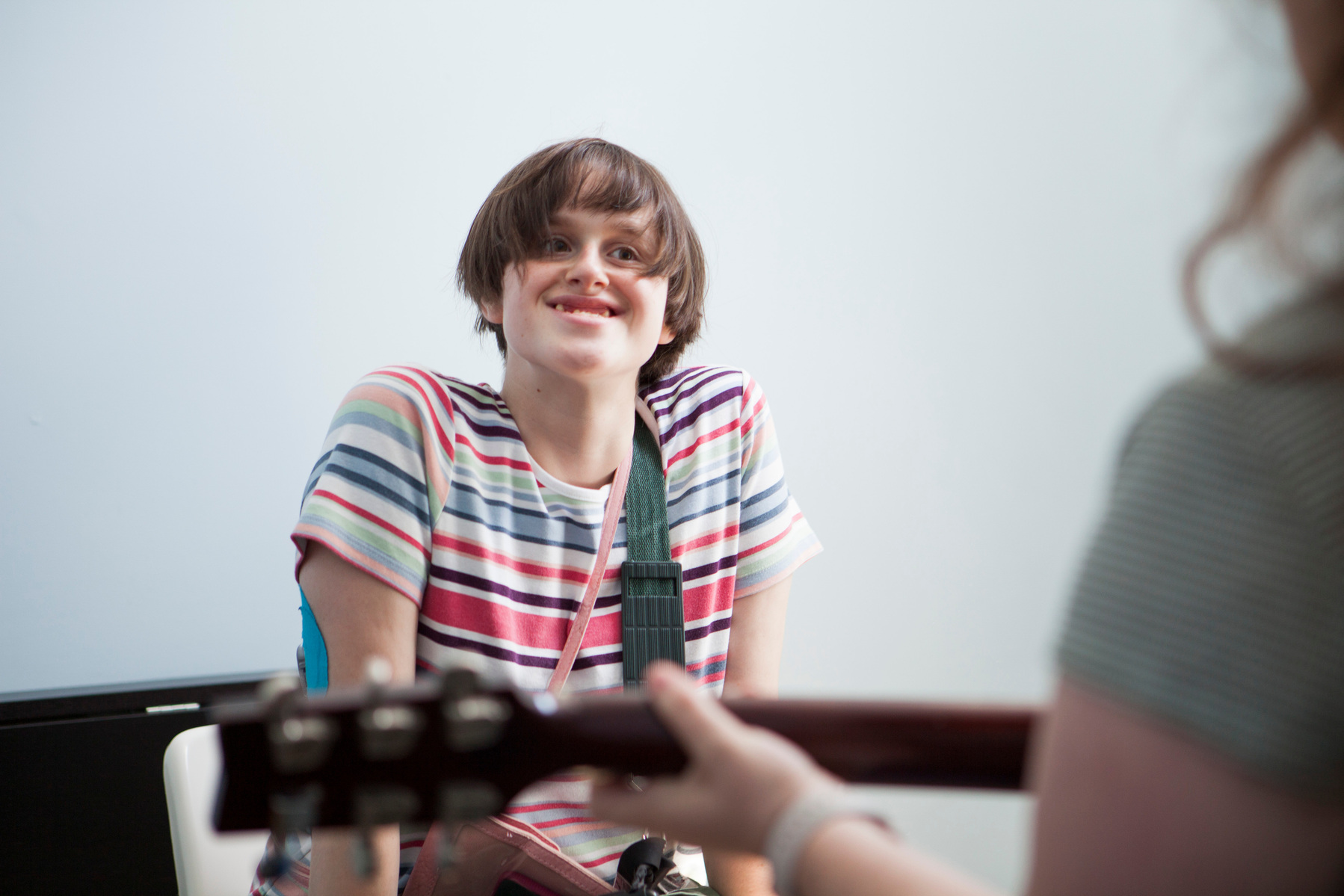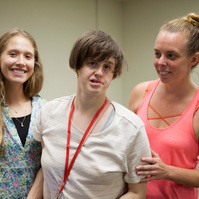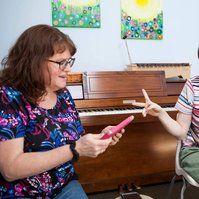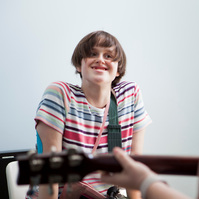 Dalia Cheskes is a 19-year-old young woman living in Roswell, Georgia. She has autism and Type 1 diabetes (T1D). The curriculum Hannah uses with Dalia is a combination of her own original music, songs by the founder of the George Center Foundation, Jamie George, and even popular songs by Meghan Trainor that Hannah has adapted. The two have been working together for three years. As Hannah and Dalia go over to the piano to work on their recital piece, "Call Me Maybe" by Carlie Rae Jepsen, Hannah lightly holds Dalia's left hand over the keys and points to which fingers should play while singing the lyrics.
"What should we do next?" Hannah asks. "Song," Dalia replies. "Not quite," Hannah replies, encouraging Dalia to make a complete sentence with her device. They eventually move to an activity that involves hand drums that Hannah holds in upper and lower quadrants, asking Dalia both to hit with her hands and kick with her legs. "Eyes first, then hands," she coaches, as Dalia struggles a bit to make contact quickly with the drums. Hannah is helping Dalia to link up her cognitive, motor and language skills throughout the session.
With the session over, Hannah and Dalia come out to the lobby to find Dalia's mom, Rebecca. Hannah sits down with Rebecca to report on Dalia's progress and accomplishments. Dalia hovers nearby in the noisy lobby, a little impatiently as many people are talking all at once, and Dalia is not a fan. She sits down with her iPad, so she can distract herself from all the noise. Rebecca wonders together with Hannah about the upcoming recital. In a tale as old as time between teenagers and their parents, Dalia has developed a dislike of her mother's presence when she plays or performs; it hurts her mom's feelings. The two adults discuss whether they should create a visual schedule for Dalia that will ease her tension.
Rebecca Cheskes says that they spotted anomalies early on in Dalia's pre-birth anatomy scans. As a result, Rebecca was on bed rest for the final six or seven weeks of her pregnancy and gave birth four and a half weeks early. Weighing 4 pounds 2 ounces at birth, Dalia was in the hospital for three and a half weeks after she was born. Rebecca immediately contacted the Babies Can't Wait (BWC) program; Dalia was in the early intervention program at 6-weeks-old. Genetic testing later revealed that Dalia's developmental differences are from a chromosomal anomaly, which led to partial agenesis of the corpus callosum. Rebecca describes it as "the superhighway between the two sides of the brain, and hers is mostly not there."
Dalia has been using some form of augmentative communication device since she was 5. The first device was large, cumbersome and heavy. Rebecca says she really didn't see the potential in that first device, and they didn't even keep it on all the time. "It was a long time before Dalia took ownership of the device herself," says Rebecca. "It was hard to get her to use it. She wasn't that great at pointing. I didn't believe in it frankly." Dalia used a lot of sign language, which was more helpful when she was younger. She had upwards of 100 signs at one point. Rebecca says that the sign language gave way to the communication devices because Dalia had to learn how to learn.
One of their hardest and most revelatory moments around communication involved swim lessons. Rebecca and her husband had been out of town, and Dalia had gone to swim lessons with a caregiver. The next time they went to swim, Dalia became very anxious, trying to show her mom that she wanted to leave. Rebecca noticed that Dalia was using the same signs over and over again: "towel" and "car." Rebecca says it was the first time that Dalia was so directly and completely able to communicate what she wanted. She was 7.
Dalia's family uses her Medicaid waiver funds to pay for her participation in music therapy, and she also attends an annual summer camp at a theater. Even though she's only 17, Dalia is on a full New Options Waiver (NOW) and has been for seven and a half years. Rebecca says they were lucky to get one so early, but it was unfortunately because there were dire health issues in the family. Rebecca started calling everyone she knew to see if they could help get the application moved up the list if possible. It was approved six months later. Thank goodness, those health issues were resolved, and now they do not have to worry about getting Dalia on a Medicaid waiver as she approaches graduation.
Dalia's communication device is paid for by Medicaid and the family's private insurance, as were her previous ones. She transitioned to the current model a few years ago at her speech therapist's recommendation because it has a better layout. Rebecca was very impressed to figure out over time that Dalia knows where every single word is on the device: "It's like she has this crazy visual memory that I don't have. She's faster at that than any therapist she has. It's just a matter of getting her to use it to communicate." Rebecca says that sometimes Dalia tends to get stuck in some thought loops and is especially obsessed with tracking the passage of time. "It's Thursday—Miss Hannah!" is a common refrain. Another trend, which is common for many people with autism, is that Dalia has a strong sense of order and where things should go. She has a coin spot in their house and will even grab coins from her mom's pocket and take them to the designated spot if she hears them jingle.
After using a gastrostomy tube (G-tube) until she was 6 to supplement her nutrition and administer medication, Rebecca says she's very relieved that Dalia is now a happy, healthy eater. Unfortunately, Dalia was diagnosed with T1D at age 16. Rebecca thought they were sunk. Dalia's brother was also diagnosed with T1D four and a half years ago. Other routine shots and tests had historically been like a wrestling match with Dalia. Rebecca talks about the careful training process they went through to get Dalia used to regular finger sticks and injections. These days, Dalia has a continuous glucose monitor which lowers the number of overall sticks in a day.
Dalia attends Centennial High School and will likely stay there until she's 22 to receive her general education diploma. She's in a self-contained classroom there. Rebecca says she likes the program and feels Dalia is getting a good education. She especially likes that neurotypical youth have positions as "peer facilitators" that they apply for in order to serve. Around one or two peer facilitators come in per class period. Peer facilitators and students in Dalia's class all go out to eat together once or twice a month. Rebecca appreciates the additional socialization Dalia gets out of those opportunities.
Speaking of getting out and socializing, Dalia gets a lot out of socialization opportunities provided through Atlanta's Jewish community, including programs like Friendship Circle and Birthday Club. Friendship Circle meets on Sunday afternoons monthly. It was brought to Atlanta by Rickelle New, who lived in Australia in her early life and experienced Friendship Circle in the Jewish community there. There are now about a hundred Friendship Circles across the United States. The Atlanta chapter has just moved into a new space, as part of a partnership with a Jewish school in Sandy Springs. The space seems like it's going to work well for them, in that it's a lot of space, but there are several rooms, and a lot of people to manage flowing in and out of activities.
Around 25 people with intellectual/developmental disabilities (I/DD) attend Friendship Circle each time, with 25 young volunteers paired one-on-one with them. The afternoon opens with pair assignments: meeting up, settling into small groups and getting to know each other by playing board games at small tables. The entire group then comes together in a circle where they practice the prayers that are used at worship, as well as the importance of tithing, or giving back to the community. After that, small groups rotate through a series of activities, including Zumba dances, cooking, soccer and arts and crafts.
The fact is, Dalia is having a bad day. We all have bad days, but the challenge as a person with autism is that it can be hard to express what's causing you to not feel good and to walk away when you're in the midst of it. Stephanie, who's been paired with Dalia, has been volunteering with the program a couple of years. It is only the second time she and Dalia have worked together. She likes Dalia but thinks Dalia doesn't like hanging out with her. Dalia is just feeling a bit off, which is a simple reality for a person with autism. It may have started with the fact that her caregiver, Jaclyn, is encouraging Dalia not to rely on her iPad all day. She wants Dalia to try and interact with her peers while they are there at Friendship Circle. Dalia really misses her iPad, though, because it gives her comfort. Another reason she might be feeling off is that Friendship Circle is in the new venue, which is larger, not familiar, more intense and confusing.
After a while, Dalia goes to dance some Zumba with Jaclyn and Stephanie. When it's time to rotate through cooking class, where the group learns how to make a lovely fruit tart in individual tins, Dalia prefers to watch and direct as Stephanie does the activity for her.
Dalia's family are members of the Congregation Beth Shalom. Rebecca had a long time to think about Dalia's bat mitzvah a few years ago because she serves as a tutor for other young people preparing for the ritual. "It was a percolation in my head," she says. "I wanted to be true to her and true to our tradition. I had never had a student like Dalia." Rebecca goes on to talk about how proud she was of her daughter: "If you know Dalia, you know she would not participate if she didn't want to. It wasn't a fight or bribery. She was familiar with everything. She stood in the pulpit with me for 45 minutes straight." A local television network did a wonderful documentary on this moment in their lives.
Rachel Slomovitz is at Friendship Circle with her son, who has autism and is several years younger than Dalia. She is also a friend of Dalia's mom. She talks about how much it's meant to her to watch Dalia grow up and to watch Rebecca's leadership as the mother of a child with functional needs. Rachel says that she was particularly impressed by Dalia's bat mitzvah. Rebecca had taken great lengths to create a ritual that was thoughtful and inclusive of Dalia, one that called her religious community together to witness the rite of passage.
Activities like Friendship Circle, to Rachel, are highly reflective of the values embedded in their shared faith. "In Judaism," she says, "being a part of the community is very important." Rachel talks about the intentionality of activities like Friendship Circle for building community, even though it requires dedicating resources. Similarly, Birthday Club rotates to locations all over metro Atlanta so that youth with I/DD can have joint birthday parties and at least know their own community will attend. Rachel says that Birthday Club was created because of the infamous problem in mainstream schools where kids throw birthday parties and invite everyone in the class. Sometimes, no one will show up to the parties for the kids with I/DD. Now, with Birthday Club, everyone has the chance to celebrate together all year long.
If Rebecca had a chance to speak with a legislator, she would say, "First of all, there are people who are on the waiting list. We need to have a strong plan to get that list eliminated. It just breaks my heart." She goes on to talk about how blessed she feels that Dalia has a waiver, but that we need to continue to fund and expand programs for people like her daughter. Even with what they have, she reflects, "There aren't even speech therapists for adults like Dalia. So, in the next five years, before she turns 22, I'm definitely gonna want her to have a new device. And I'm just wondering what we're going to be looking at—trying to beg someone to do an evaluation, so she can get another new device when she's older." She also talks about how her daughter's diabetes will impact the decisions they make around caregivers and day programs because so few people have the specialized training involved in taking care of T1D.
Everyone fantasizes about their children growing up less fast, but as Rebecca's thoughts turn to Dalia's graduation not that far away, she says, "When you have little children, in some ways, people are more understanding. You know, they're young, they're small. But when you're talking about a 17-, or 20-, or 30-year-old person, it's real stuff—it's not just, 'Oh, they're going to grow out of it.' This is a real situation that families are facing, and as much as I wished she would grow up all her life, now, I'm like, 'I sure wish she was 12 again.'"
Writer: Shannon Turner, Photographer: Kelly Blackmon