Donna Williams
Johns Creek, Georgia (Senate District 48)
It's the Monday afternoon shift change at BrewAble. People are milling around. Some employees say goodbye and get ready to leave, while others put on their aprons and debrief with the manager about events that happened over the weekend. Donna shows her fellow employees how to use the iPad to clock in and to create an order.
(Story continues below after slideshow.)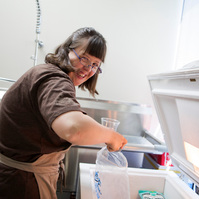 Donna Williams is a 32-year-old woman with Down syndrome who lives in Johns Creek, Georgia. Donna works six hours a week at BrewAble as a "Brewista," taking coffee orders at the cash register and making drinks for customers. Along with coffee and espresso drinks, Donna pours lemonade, and she strongly endorses the homemade scones they sell. Of note, BrewAble has a relationship with Café Intermezzo, the famous Atlanta-based, European-style coffee house. Café Intermezzo donates irregular cakes they are unable to sell to BrewAble so that they can turn them into "cake pops" by crumbling them up with icing and shaping them into spheres like a delicious lollipop. Donna describes the fun process of breaking down the cake into breadcrumbs, then mixing it together with the icing and finally dipping it into the coating that shapes it.
Made up of equal parts people with intellectual/developmental disabilities (I/DD) and neurotypical managers, the team at BrewAble works together fluidly. Donna loves her co-workers. "Bye, Meggy!" she yells at a friend who is leaving from the previous shift. Even though they work together at BrewAble, Donna and Meggy actually met playing bocce ball in a league a few years earlier. Donna says Meggy is "a good friend and a good co-worker."
An economic independence initiative by and for people with I/DD, the BrewAble motto is "Brewing Confidence." It was founded in 2018 as a partnership between Envision Alpharetta and the City of Alpharetta. While they operate in the lobby of the Alpharetta Community Center, they are also mobile, appearing at food truck rallies and festivals all over north metro Atlanta. Over the weekend, they were at just such an event, so on top of typical Monday work, the team needed to put away supplies, as well as process and inventory new donations from a local restaurant.
BrewAble has just undergone a major renovation, installing a permanent counter with espresso machine and branding. They were very excited to find that, while they anticipated about 50 people at the grand reopening on Sept. 6, they had around 200 customers come through. Donna's manager at BrewAble, Isabelle Rudd, says Donna is a total joy to work with, pointing to the store's chalkboard sign, which Donna enjoys changing every time she works.
Another huge part of Donna's life is the greeting card business she and her friend, Jenna, started in 2010. Just for You Card Art is thriving with followers on social media and Etsy. Donna's mother, Rita, was already a big crafter and had a lot of the supplies. Donna and Jenna would often hang out with Rita while she worked. Rita explains, "They would sit across the table and watch and, and they'd say, 'I want to! I want to do it.' ... So, I started off with little gift tags. And they just kept at it. It just kept building and building and building." Eventually, they hit upon the idea that Donna and Jenna should create their own greeting card line. Now, they offer an entire catalogue for all occasions and holidays.
At the moment, Donna is working on a display, including a sign about the story of how their business began, that will be included in a section of the new BrewAble lobby. She's also working on a Christmas card to sell. She starts by embossing it, running it through a special machine that gives the card the appearance of raised snowflakes. Next, she stamps the card with ink and affixes it with a small bow. Rita says that, while they do have a robust inventory, Christmas cards sell best.
When she's not working or crafting, Donna is a huge fan of Disney films and especially enjoys the music from Disney shows. She also loves the Braves, a love she shares with her younger brother, Sam, 28, who is a third-year medical student. He's coming next week to take her to a game. Donna also has an older sister, Elizabeth, who is about to have her second child. Donna's thrilled to become an aunt again.
Donna's family are active members of Saint Brigid Catholic Church in Johns Creek, where Donna enjoys being a member of a special needs youth group on Monday nights. There are about 15-16 people with I/DD in the group, and peer youth volunteer one-on-one as a part of it. Participants don't have to be Catholic to be involved. Donna also enjoys playing bocce and swimming freestyle and backstroke with the Special Olympics. Her team, the Special Ks, won a huge tournament in May.
Rita is the sole nurse practitioner for the City of Roswell's employee clinic. She describes Donna's birth and diagnosis process: "I was 26 when I had her, and I had no idea that she was going to have Down syndrome. I kept kind of telling the doctor that I felt like she wasn't moving a lot. But, you know, they kept telling me everything was fine." Rita says that, after Donna was born, the hospital staff would not bring the baby to her. They could see that Donna had Down syndrome, but they weren't ready to tell her or didn't know how. "They kept telling me that she was having temperature problems. And they were just waiting for the pediatrician to get there to confirm what their suspicions were. Being a nurse myself, when he brought her to me, he laid her in my arms and opened her hand, and he didn't have to tell me anything. I knew what he was going to say."
Many children with Down syndrome are also born with heart problems. Donna had an atrial septal defect but did not need to have it surgically repaired. It closed on its own by the time Donna reached the age of 5. However, another frequent feature of Down syndrome is feeding problems. Rita says Donna wouldn't nurse for quite a while. They had to experiment with a lot of different techniques and equipment to get Donna to feed successfully.
These days, Down syndrome is diagnosed early on in pregnancy through fetal anatomy scans and genetic testing. When Donna was born, the only thing that was available was an alpha-fetoprotein test. Donna's test had come back within normal limits, although on the low end. "Back then, it was just kind of theory," says Rita. "There was no actual factor data to support the Down syndrome diagnosis."
The Williams family lived in Tennessee when Donna was born, near East Tennessee State University. Donna was fortunate to get into an early intervention program there called Project Echo, which provided occupational, physical and speech therapy. Not long after, Donna's father, who worked in pharmaceuticals as a medical science liaison, was transferred to Atlanta. They got connected to Coralwood School in Decatur, Georgia, which also has an early intervention program. The family chose to live in Tucker, so they could be close to the school.
Donna just received a NOW (New Options Waiver) Medicaid waiver after being on the waitlist for 10 years. It's an incredible change and opportunity for her and her family. On days she's not working, Donna attends a day program. She's been at this one for about three years now. Participation in the day program is now being supported by the waiver. It also helps with respite and transportation. Rita says, "We're able to get the day program paid for fairly easily because it's a vendor." However, she says they are struggling to hire an employee. They have opted to have Acumen facilitate their hiring and administrative process. Unfortunately, that's caused some delays. By the time the first employee they tried to hire was through vetting, she had found another job. Now they've found another support professional they'd like to hire, and even though she's been serving other families with Acumen four years, she still has to go through a full background check again.
Although the waiver is helpful, Donna got the minimal amount of funding. An Individualized Service Plan (ISP) meeting is coming up in a few weeks, and Rita can't understand why Donna was not granted services to support integration into the community as an individual with her original funding. Rita is going to bring that conversation to this next meeting in hopes that a Community Access Individual (CAI) will be folded into the plan. "Somebody else is going to have to take her shopping at some point. It isn't just going to be me." Like so many parents of adults with I/DD, Rita strives to help Donna achieve independence so that she doesn't have to live in a semi-infantilized state for the rest of her life.
Similarly, Donna is getting ready to transition to a new day program. At the current placement, Donna is the most high-functioning adult there, meaning she has no peers and winds up sitting and talking with the staff most of the day. Rita says that she's excited for Donna to get into a program where she has more people she can be like, where they can trade off being role models for each other.
Like so many stories, the reason Donna's Medicaid waiver came through after many years of waiting was because of an extraordinary health crisis that happened in her family. The change of circumstance helped bump them up the list. Rita says, "I turned around and called DBHDD [Georgia Department of Behavioral Health and Developmental Disabilities] and told them, this is what happened. I got worried that she was going to be on the waitlist again. So, you know, it took someone just about dying to get that waiver."
If given the opportunity to sit down and speak with a legislator, Rita would say, "When they hear what's going on in families, they don't need to just shake their head yes and say, 'I hear you.'" Rita says she wishes legislators would be honest in their answers and say, "'What can I do to help you? Let's see what road can we walk down together?' And not just, 'Yes, I hear what you're saying' and then turn around and go, 'I'm going to do what I want.' Because I think that's what happens a lot. They just say what they need to say to get the vote and then ignore it after that." She despairs that people don't seem to follow through on any promise they make.
At this age, of course, Donna's parents are beginning to plan for what her future will be when they are gone. Donna is lucky to be blessed with two siblings who are willing to welcome her into their home. "I don't know if they're going to fight over her or what," Rita laughs. She notes that Donna's older sister is actually a special education teacher. One way or another, both of Donna's siblings are committed to keep her out of a group home because they just don't feel like that's an option for their family. One possible scenario is that Jenna, Donna's business partner in the greeting card company, could be her roommate in the future.
What does Rita want people to know about her daughter? "Donna doesn't speak well because she has an expressive language disorder. There's so much more going on in her head. Just take the time; give her a chance." Rita talks about how she can set up the card-making process, walk away, and come back, and they'll all be done. "It's difficult for her to express what she wants to express. Just wait. She'll get it out. I think most individuals with disabilities are that way—just give them a chance." She goes on to talk about how she approached several people about hiring Donna in the past, and no one wanted to because they didn't see her potential.
That's why initiatives like BrewAble are so important. They see the potential and value in people, and they help them get to work. Brewing confidence, one cup at a time. It's also why Donna's Medicaid waiver is crucial, so she can get out into the community and make her own way, run her own business, make her own friendships, and be her own person. One day, one week, one year, one life at a time.
Writer: Shannon Turner, Photographer: Haylee Fucini-Lenkey