East Georgia State College CHOICE Program
Brea Heard, Skyler Adams, Gwenique (Gwen) Rountree, Zoie Harrell, McKay Franks (Students), Theresa Davis (Program Director), Michael Bostic (Job Shadow Internship Developer)
Swainsboro, Georgia (Senate District 4)
When Theresa Davis met Zoie, her minister's daughter, she knew there was something special about the girl. She didn't yet know that Zoie would transform her professional life.
Zoie Harrell is a 23-year-old woman with Down syndrome, as well as a hearing and speech impairment. Zoie is now trying new technology to improve her communication, including hearing aids and a Dynavox assisted communication device. Both are slow in onboarding, however. The hearing aids hurt her ears, so she doesn't like keeping them on all day, and the Dynavox doesn't feel like a natural fit just yet. She has to be encouraged to pull it out and use it, and not everyone around her knows how to use it with her.
Inspired by knowing Zoie in her personal life, Theresa Davis set out to create a Inclusive Post-Secondary Education (IPSE) program at East Georgia State College in Swainsboro, called CHOICE, which stands for Creating Higher Education Opportunities to Increase College Experiences. Because Theresa was friends with Zoie before she started the program, in many ways, she had her in mind when founding CHOICE. She talks a lot about Zoie as the template for all that they do. She speaks articulately about watching how high school special education programs she witnessed were not robust; students who decided to stay in school until their 22nd birthday had to repeat courses simply because there weren't enough classes offered. Theresa wanted to build a better program for students like Zoie. (Story continues below after slideshow.)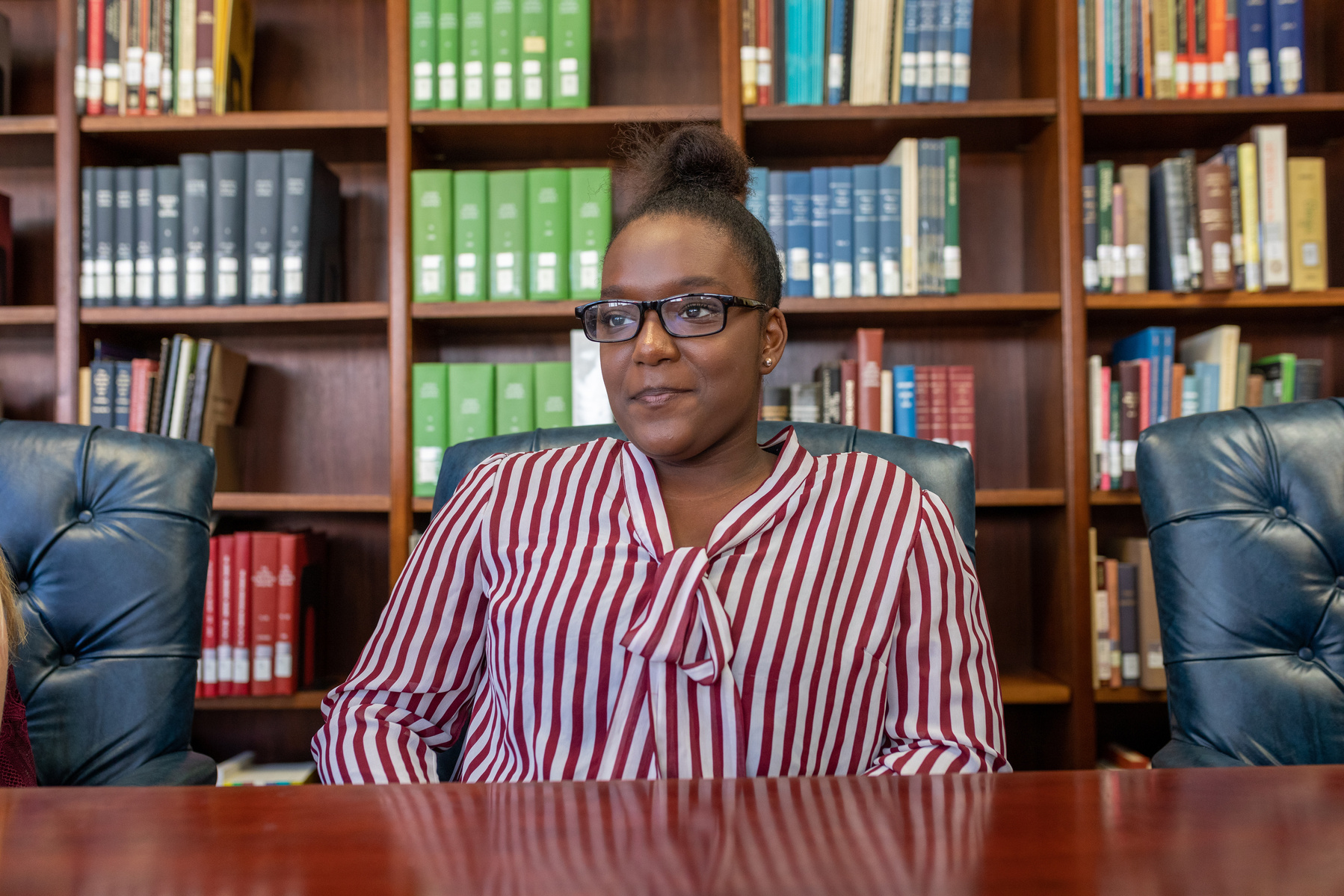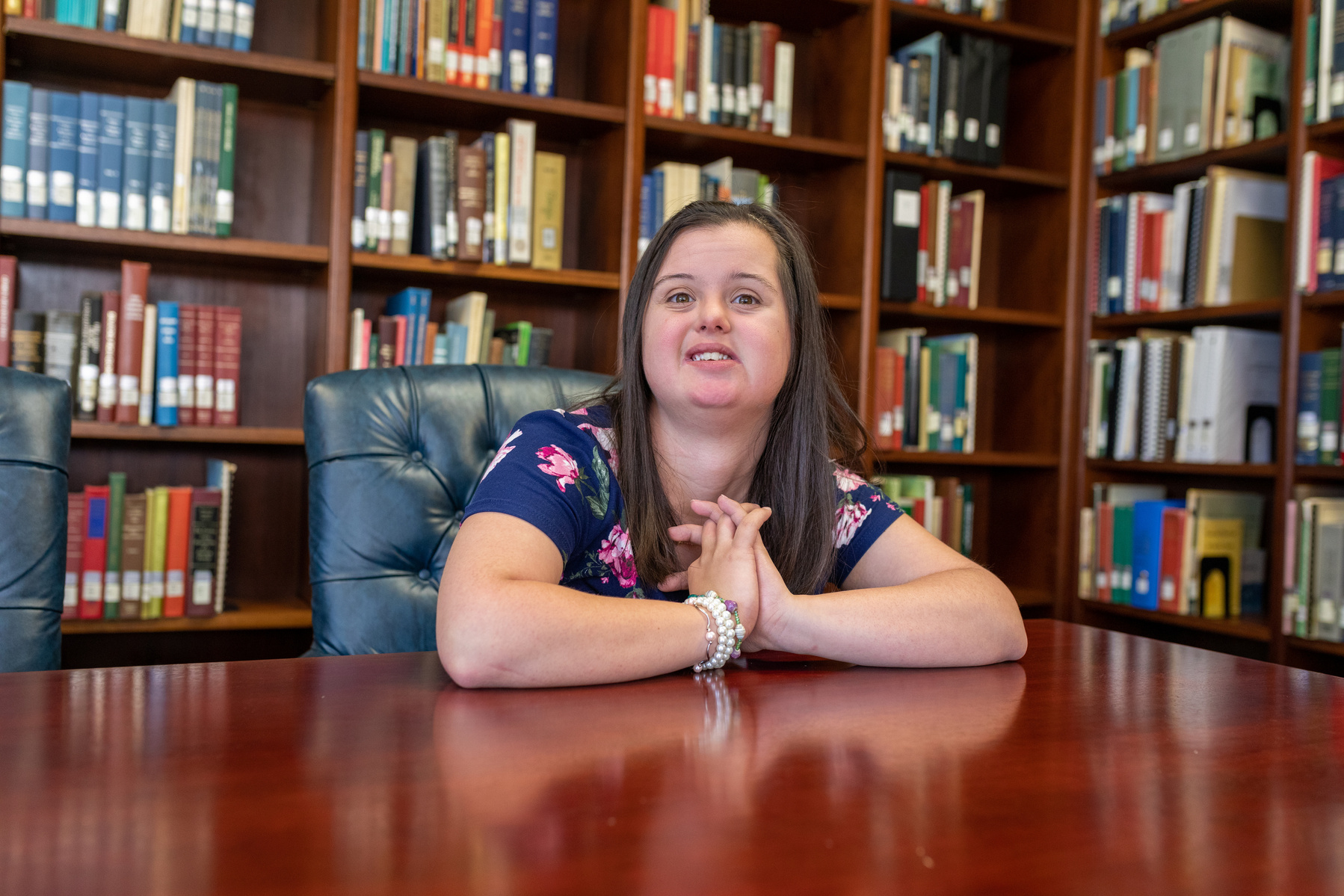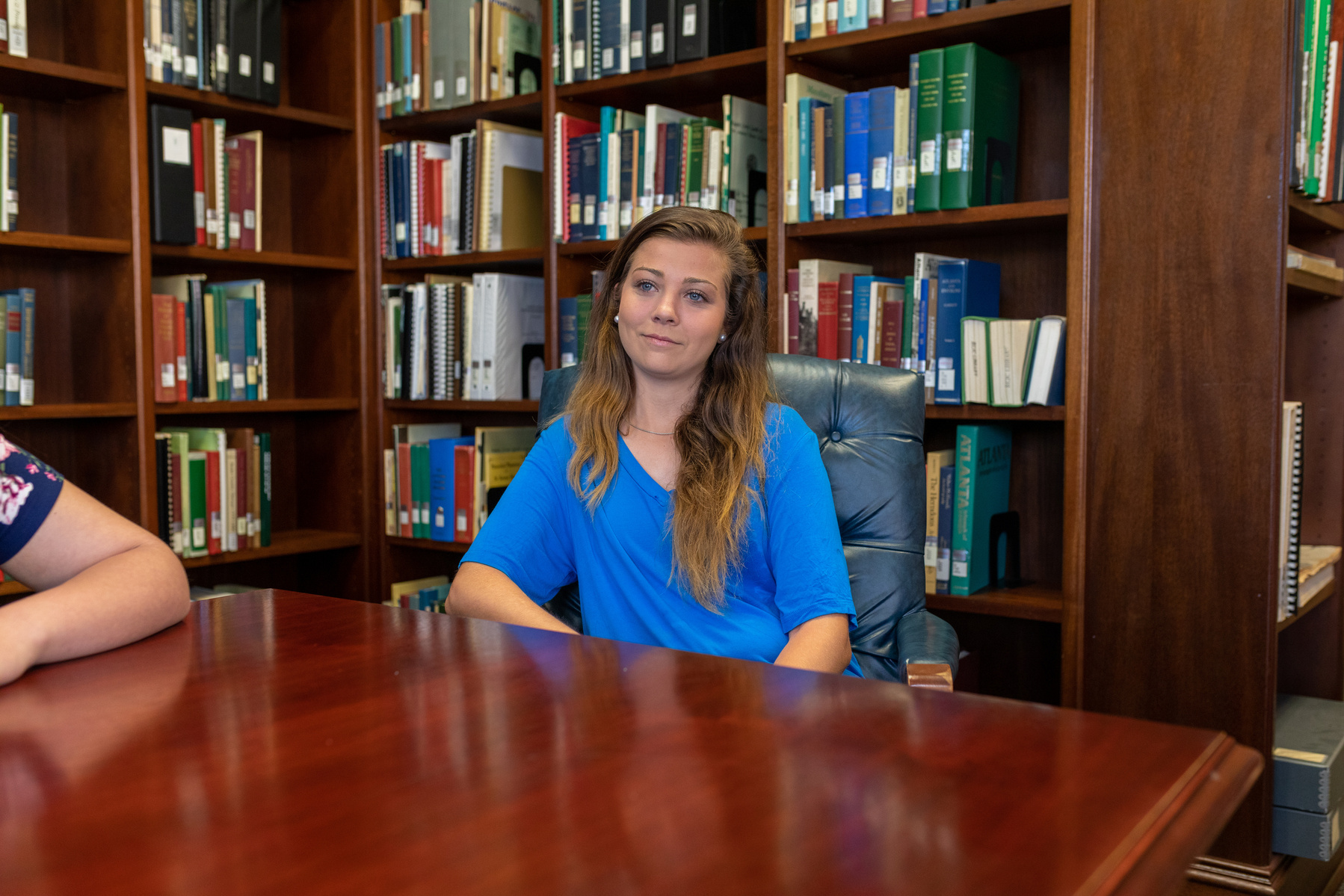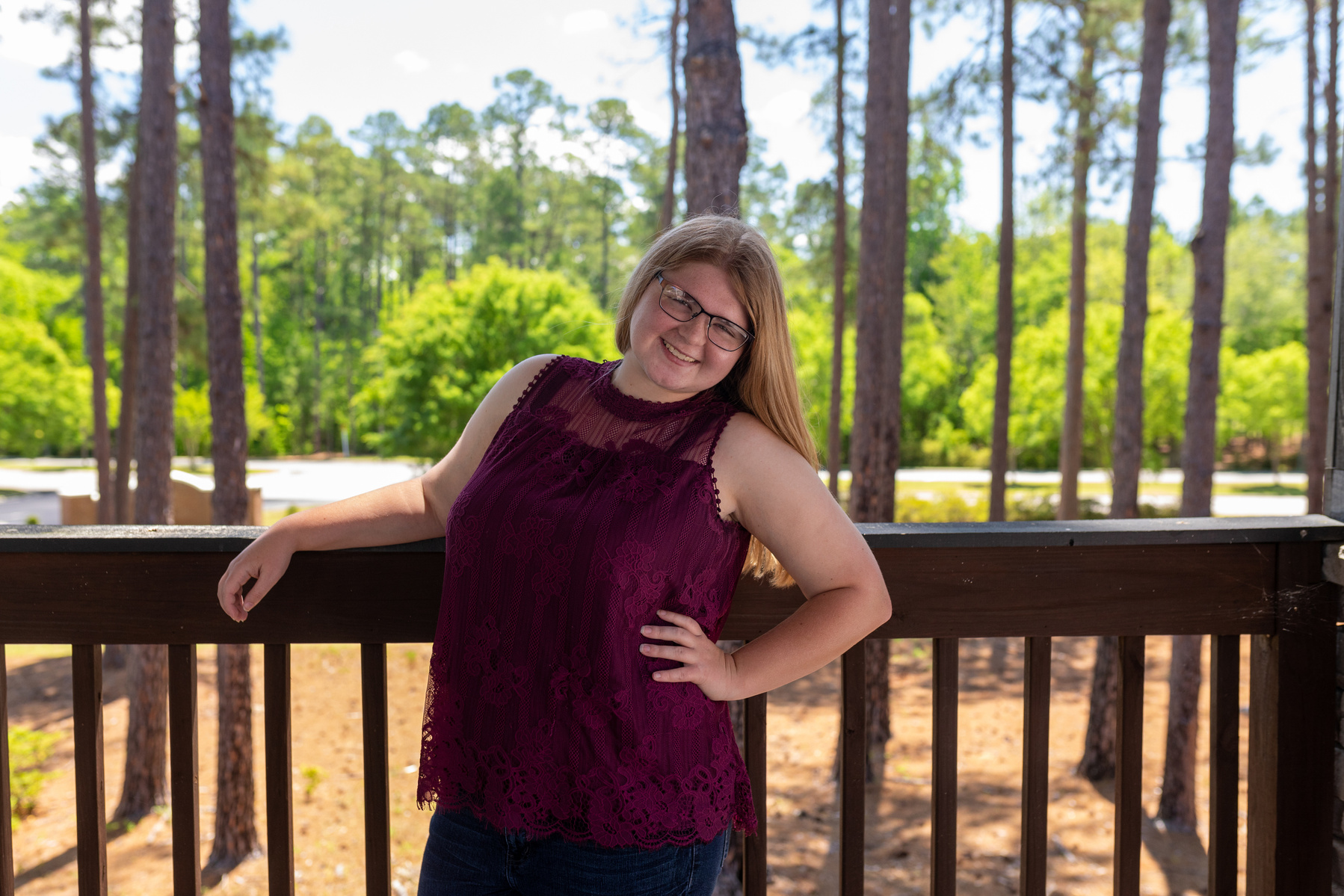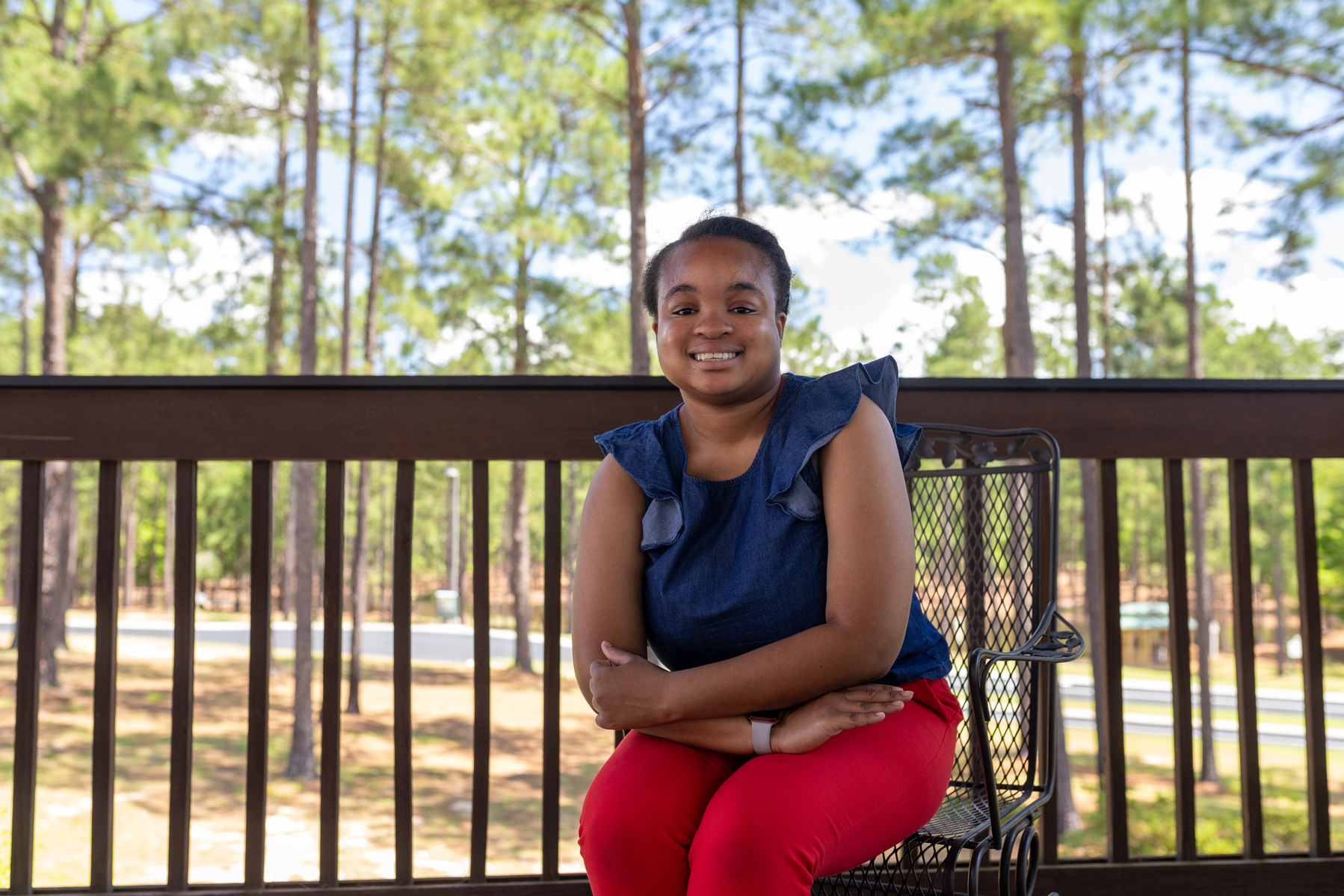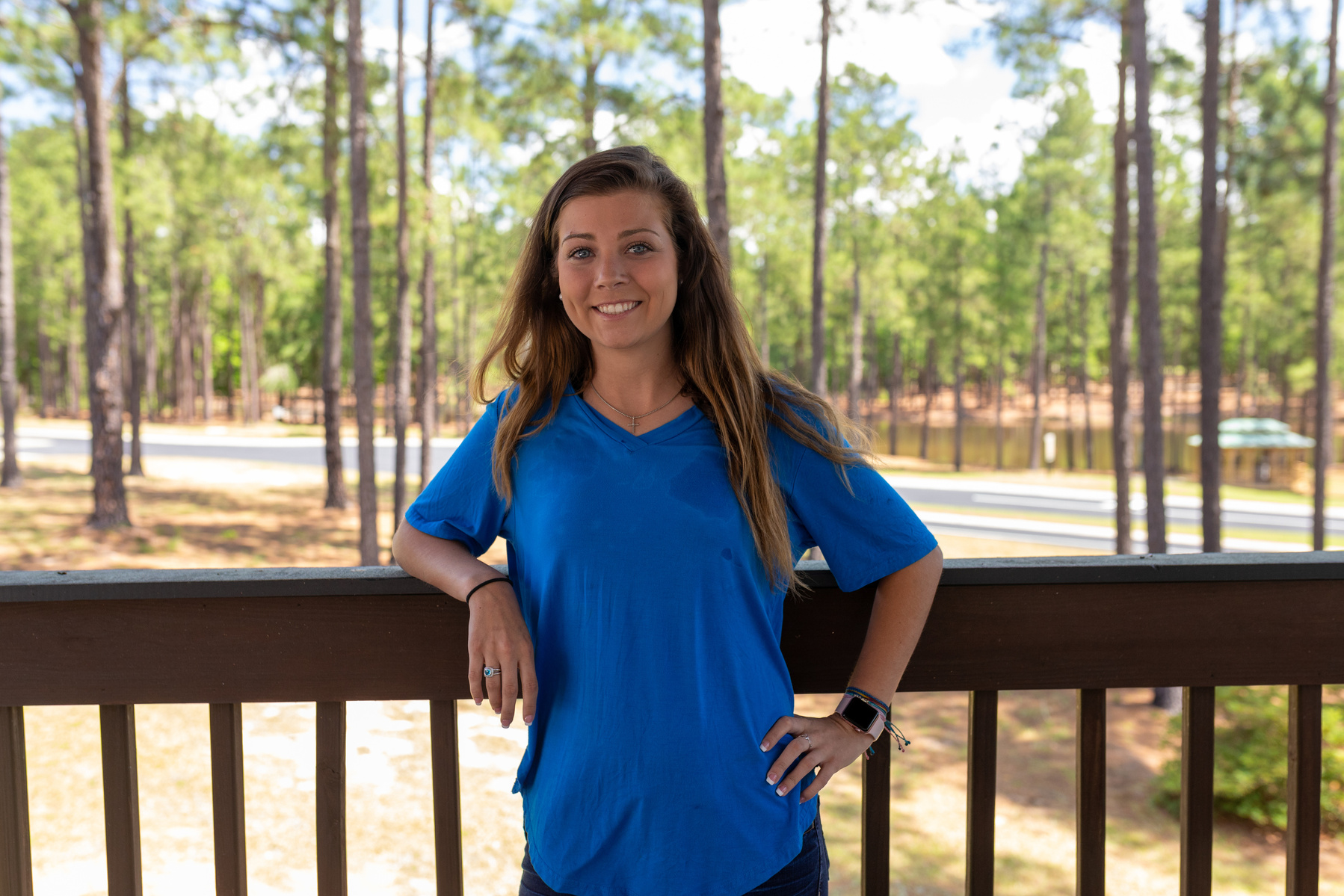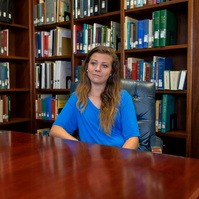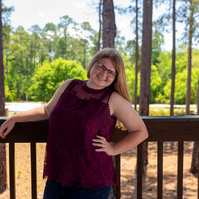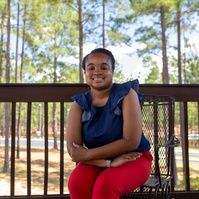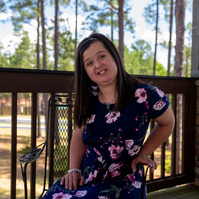 Starting in January 2015 with just three students, CHOICE is now rounding out its fourth year. By May 2019, the program had grown to serving 17 students, with a goal to continue its exponential growth in the next few years. According to Theresa, the dream is to grow to about 30-33 students, with a constant rotation of two cohorts, one in its first year, the other in its second. Theresa feels it won't be a huge leap to get up to 30 students. "We do a huge outreach program in the K-12 schools," she says. "I take the students out with me on a given day to schools in Jefferson County, Statesboro, Toombs County—whoever is available. We go to the special education classes by invitation and speak to the students and staff." Theresa says that she gives a brief introduction of the program, but then she turns it over to her students. She creates breakout groups by interest area that her students then lead. "I like to fade back," she says.
Each of the current students feels committed to the recruitment process because they too were brought in by previous program students sharing their experiences. Skyler Adams remembers how she found out about the CHOICE Program: "Ms. Theresa came to my high school and told us about the CHOICE program, talked about how students with disabilities could go to college. I toured the campus and got to live in the dorms for orientation. This program was my first choice because it was only 30 minutes from home." Likewise, Gwenique Rountree, who goes by Gwen, says that Theresa and other students came to Swainsboro High School where she attended. When Theresa talked to Gwen's class about how people with disabilities can go to college as well, with intention, "That was very touching," says Gwen. Even though she was thinking about going somewhere else, the CHOICE program won out. It was smaller and close to home, and she didn't want to be far away.
Theresa has an easy rapport with all her students and clearly cares about each participant personally. She strives to get them to communicate clearly, encouraging them with a gentle but firm note to articulate who they are, what their goals are and what they are hoping to achieve while in the program.
Like other IPSE programs in the state of Georgia, CHOICE is very clear that students with intellectual/developmental disabilities (I/DD), "attend college for the same reasons other students attend: to further their education, to develop lifelong friendships, to develop career opportunities, to gain independence, to create life enriching experience" (CHOICE website).
As such, there is a core curriculum of classes that students in CHOICE go through together, as well as other classes that pertain to their major area of study. During their first-year experience, students take Critical Thinking Skills (CATS), where they learn how to level up from high school to college: how you have to be on time for class, how to study with someone else or how to participate in study groups. They also take 21st Century Skills and Learning and Technology, where they learn how to use the campus-wide database, website and platform system called D2L. In the second semester, there's Employability Skills, which includes how to apply for jobs, make resumes, etc. They walk through specific scenarios, like when you're running into problems, how to work with your employer and the importance of calling in rather than just not showing up.
Independent Living comes in the second year. Gwen says, "I can tell you something that's bad for me—getting up. Because I was used to my mom knocking on my door." She talks about using her snooze button a lot and how that led to her being late. In the Independent Living class, they talk about consequences for those choices. They also learn how to write checks.
On this day in early May, it's just a few weeks before the end of the semester. McKay Franks, a student from Augusta, arrives later to the conversation because she just got back from Splash Day. McKay has an internship working with children with functional needs at a nearby primary school. She's also very involved with sports (baseball and softball teams) and has her own off-campus apartment. As McKay is getting ready to graduate, she's about to take the Georgia Assessments for the Certification of Educators (GACE), a certification to be able to teach. McKay wants to become a paraprofessional to be able to work with children in the special education system. The CHOICE program is currently running a three-person study group for those who will take the GACE test.
Theresa says that getting to know Zoie and participating in the program is what made McKay change her professional goal to wanting to work as a paraprofessional. It also helped her come out of her shell. When McKay first came to campus, they had to drag her out of her room to participate in things. Since then, McKay spearheaded a National Down Syndrome Week in Zoie's honor, and it became a huge deal on campus. The police department and most everyone on campus got involved. "We had a Crazy Sock Day and everything," says McKay.
A shared component across all IPSE programs is peer mentors, which are paid positions by neurotypical students who are in the same classes with IPSE students. They serve in a variety of capacities, from taking notes to providing emotional support and friendship. Skyler says, "They really help me a lot, help us a lot." There are currently three peer mentors at CHOICE. "We like that the mentors are in the same classes anyway, like sociology, so they have similar interests," says Theresa Davis. "They have the same struggle at the same time. They grow together." She goes on to relate that the mentors she hires are typically very solid academically. They are the ones that can afford to be with her students and spend the time. However, she celebrates that "they also come from diverse backgrounds. They're not all, 'I want to be a special education teacher.' One is learning sociology, one is a writer, one is biology and nursing. The mentors are selected based on academic diversity. These came to the top."
Yet, full inclusion doesn't stop with peer mentors. CHOICE students can build and maintain friendships with students across campus. "They treat us all the same," one CHOICE student says. Another says, "Sometimes they don't even know that we have a disability. My roommate is not in CHOICE. They basically just think we are like them. We are just part of East Georgia."
Courses in the CHOICE program have been approved by the faculty senate. "I have had some other students request to be in our courses because they struggle in the same areas as do our program students," Theresa says. "We may have some students who are less academically solid. Our president, Dr. [Robert] Boehmer has made it a priority to try to educate those populations that are under served. That's why our courses would be sought after." CHOICE students do earn grades, and those grades are reflected on their transcript for institutional credit. However, program students are registered as auditors. Upon graduation, rather than a standard diploma, students emerge with a certificate of work readiness preparedness in a chosen field of interest. Students also can earn continuing education units (CEUs) towards various credentials. Theresa is proud of the addition of helping students work towards layering credentials. One of her other students is interested in IT, so he is looking into certificates in his area. Even a customer service certification helps with some types of employment.
The ultimate goal of CHOICE, and IPSE programs generally, is to help students get out into the community so that they can work and live independently. Michael Bostic, a staff person at CHOICE, works every day to ensure that they can do that successfully. As a job shadow and internship developer, he even spends his time taking tests on local businesses' websites to see what might make it harder or even impossible for a person with I/DD to get to the next step in an application. On this day, he's getting ready to send feedback to Walmart, one of the region's largest employers, about a feature in their website that is likely preventing their students from making a successful application. "That would be a key piece even for Walmart to know that it's not actually being holistically inclusive of every student," he says. "I took a picture of it [the website], just so I can show my boss, Theresa, that this will be a problem with our kids going in." This kind of front-end, relationship- and knowledge-based advocacy on behalf of people with I/DD is invaluable.
* * * * * *
Months after their graduation, on a beautiful fall day in late October, McKay and Skyler return to campus to visit with their friends who are still in school. It's the first time they've all seen each other since graduation. Skyler now has a position cleaning in a nursing facility alongside her mother. After serving as a nanny all summer for children she'd worked with for several years, McKay now has a position leading an all-new special needs ministry at her church, Warren Baptist, in Augusta. She's serving 10 young people regularly, with a lot more on the waiting list. How does it feel to have a job in her area of study so quickly after graduating? "Great! Yesterday, I worked with a little boy who has Down syndrome, and he's also nonverbal. So, that was very hard, but very rewarding also because I get to see him grow in his faith," says McKay.
The other students are very glad to have McKay and Skyler back for the day and are talking about lunch plans. Meanwhile, Zoie has had a rocky semester, health wise. It's set her back in some of her pursuits for independent communication. Not long ago, Zoie had her first seizure. It was troubling and has caused further fallout with her health. Although in May, they were all celebrating that she'd lost 35 pounds over the course of a year due to increased exercise and healthy eating practices thanks to encouragement from her peers, she's since lost even more weight from the seizure medication she's on. However, Zoie embodies a loving and happy heart. She's enjoying her aerobics, art and disc golf classes, as well her CHOICE classes. Hopefully, things will get back on track for her soon.
As it costs approximately $1,900 with fees and books per semester (plus programming fees) to be a commuter student, all the students struggle for funding. Most of them are paying full tuition with just a few scholarships, although many of them qualify for Pell grants. Zoie is the only person in the CHOICE program with a Medicaid waiver. Support from the Georgia Council on Developmental Disabilities (GCDD) has made the difference for five students being here. They still need general funding for the program. Enrollment this fall is down compared to the previous year. However, Theresa is investing in new recruitment materials that will help her bring awareness of the CHOICE program through mass media. She states, "East Georgia State College is the perfect place for any student to grow and learn skills that will prepare them for the world of work, and the only way to grow is to bring awareness of the CHOICE Program on a larger scale."
But don't take our word for it, or even Theresa's. When students were asked about their dreams for the CHOICE program, they all said, "That it'll get bigger."
Writer: Shannon Turner, Photographer: Lynsey Weatherspoon