Eddie Hammond
Baxley, Georgia (Senate District 19)
Walter Edward "Eddie" Hammond is a 32-year-old man with autism in Baxley, Georgia. He's been living in Leshia Price's host home for eight years. They have become like a second family for him. Prior to living the Price family, Eddie lived at Central State Hospital at Milledgeville. When Eddie first came to live with them, things were very different. His communication, behavioral and mobility abilities had not been supported. "When you see where he was and what he is now, he's just a different person," says Leshia.
Eddie's "other mother," his birth mother, lives in Pembroke about an hour away. She was a single parent who cleaned houses for a living, and Eddie was very challenging with lots of outbursts when he was growing up. Unable to take care of him on her own, she eventually sent him to Milledgeville. The most difficult thing about him being there was that it was really hard for Eddie and his mom to be in touch. These days, the two typically on see each other at major holidays, and they FaceTime every week. (Story continues below after slideshow.)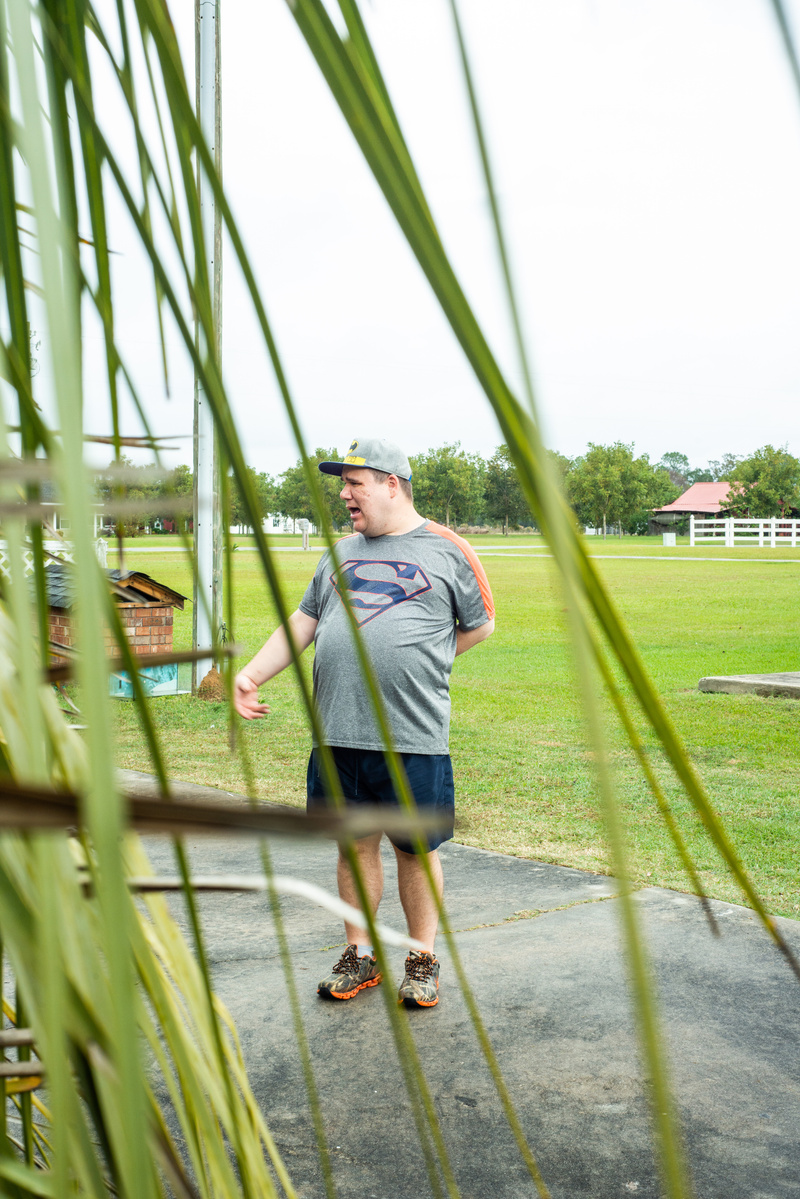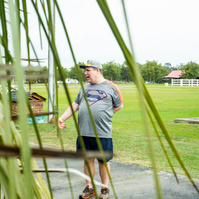 The living partnership between Eddie and Leshia is made possible by the fact that Eddie has the New Options Waiver, a Medicaid waiver which helps support independent living. They really had to fight for Eddie to have the resources and support he needed. When he first came to live at the host home, Eddie had a very set, small amount of support that didn't cover all of his needs. They had to fight for him to get better medications. Eddie has acute gastroesophageal reflux disease (GERD) and needed a specialized medication, Amitiza.
The NOW Waiver pays for eight hours per day of individualized support through Altrus, an independent living service based in Savannah. Eddie was in day centers for a while, but they weren't a good fit for him. Being home has made huge difference in his well being. Leshia credits Mrs. Lesia Moore, Eddie's support coordinator, who is a part of Eddie's team that helped to get the supplies and other services he needed. Leon, the professional who comes through Altrus, has been working with Eddie since 2010 and actually transferred from the day center to working for Altrus so he could keep working with Eddie. Eddie calls Leon "Buddy." During the week, they go on adventures, doing everything from shopping at the Dollar Tree to hanging out at the water park in town to going to visit a horse farm.

If given the chance to speak to her legislators, Leshia says she would tell them first and foremost that Eddie is a person and that his life matters. Sometimes, Thomas would joke, "Where do I need to go and shout it out at?" They would get so frustrated at the ways people with disabilities are so very marginalized and disregarded. Leshia just wants her legislators to know that individuals such as Eddie thrive when they're not in institutions, when they can make choices. "It's not easy, but it's working together to give him a life that he can live and be happy and be safe," Leshia says. She talks about how when Eddie first came to live with them, he was timid. She doesn't want to say he was abused exactly, but you could tell that things had happened to him. She had to spend a lot of time reassuring Eddie that nothing like that would ever happen to him again, that he was safe. "Eddie has come a long way in life," says Leshia. "My husband and I would always tell Eddie how proud we are of him. He wakes up happy and goes to bed happy."

Writer: Shannon Turner, Photographer: Haylee Fucini-Lenkey