Eric Ermutlu
Snellville, Georgia (Senate District 55)
Eric Ermutlu is a 24-year-old man with autism and other co-occurring diagnoses, including ADHD and generalized anxiety. Eric has been on the COMP waiver since he was in high school. His mother describes it as a "seamless transition out of the school system." They went to a transition fair that helped him and his mom, Anna, understand all that he needed to do. They've gone back to the transition fair every year since then because now they help out with it.
Often when we are doing these interviews, we find teammates – parents and their children, youth or young adults with disabilities who work so incredibly well together, at times it's like they speak their own language. There's no greater example of that kind of partnership than Anna and Eric. "What do you think about your mom?" we ask. "My mom is pretty good!" says Eric with a huge grin. As a matter of fact, these two have characters, voices and secret handshakes they use with each other. Hang out with them for five minutes, and you wish you were in their tribe.
Eric's COMP waiver allows him to participate in Creative Enterprises, a nonprofit organization dedicated to assisting adults with disabilities and others with barriers to employment in maximizing their potential. Anna likes that it's functional, developing community skills, and Eric gets to develop his work skills while earning his own paycheck. Anna touts the benefits of his day program and laments the changes it has seen, which are a due to a federal policy shift in focus toward competitive, integrated employment. (Story continues below after slideshow.)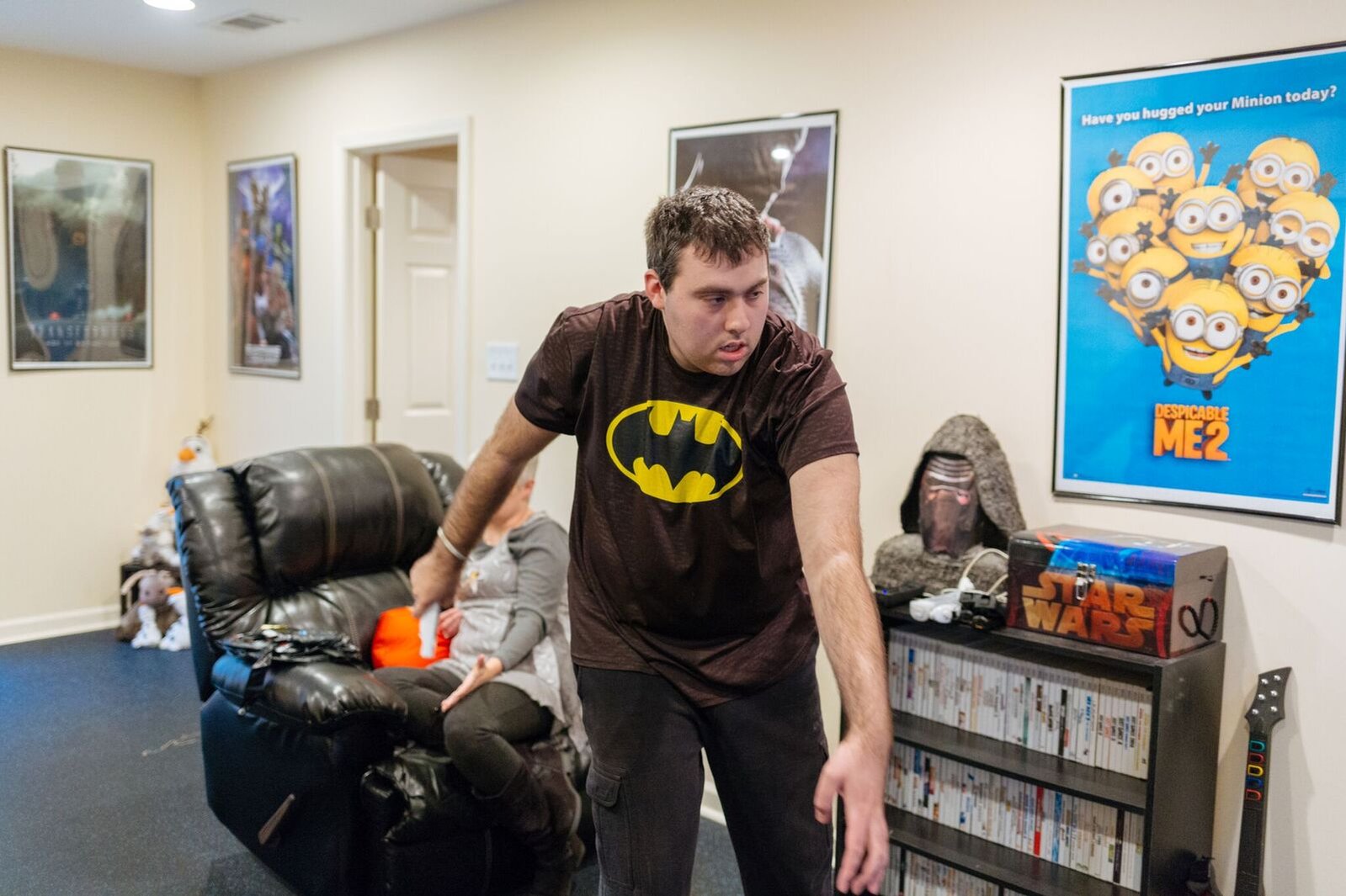 Creative Enterprises is the Community Access Group (CAG) that the COMP waiver provides, but Eric also receives Community Living Support (CLS). Dylan, a CLS staff member taught Eric how to shave. Other workers like Tariq and Zack take Eric out into the community, to the gym, to the movies, etc. These are things he can do independently from his mom. "We also work on developing a lot of 'natural supports,' like [his caregivers] Celia, Piper and Shea," Anna says.
Eric loves going to Camp Big Heart every summer since 2006. He gets dropped off on a Sunday and comes home on a Friday, and his favorite part, it goes without saying, is the dance on Thursday night.
Eric has his own apartment in the basement of his mom and stepdad's house. When we ask Anna what Eric's life would be like if he didn't have a waiver, she says, "Honestly, I think he would probably be hospitalized. Because having the waiver means having continuity of care. He's so active, so busy."
In a rare twist, Anna has both a therapeutic and a legal background. She freely admits that she was uniquely positioned to help and advocate for her son. She's turned that experience around, now advocating for others. Her work is to help other families apply for benefits.
"It's like winning a lottery to get a waiver," Anna says, "but it shouldn't be. It should be an automated process. You shouldn't pit family versus family or need versus need. It should be like registering to vote or enrolling your kid in public schools. I don't have to justify why my child needs an education, I shouldn't have too much trouble to ask for these services."
"This is Eric's happy, feel-good song," Anna explains as we boot up the Wii to play "I Gotta Feeling."
"This is my favorite song, mom! It's a happy song. It's so happy!" he says as it comes on for a second time.
Writer: Shannon Turner, Photographer: Lynsey Weatherspoon