Evan Nodvin: Advocating for Himself and Others
Evan Nodvin
Dunwoody, Georgia (Senate District 12)
On a quiet Monday mid-morning, right after the bustle of Thanksgiving, Evan Nodvin has already been hard at work for several hours at his job at Canterbury Court, a senior living community in the Buckhead neighborhood of Atlanta. Evan is a member of the facility's dining staff, and works under his supervisor, Head Chef Kyle. It is abundantly clear that Evan loves his job; he practically beams when he talks about his role and responsibilities. Kyle doesn't hesitate in describing Evan as having a wonderful demeanor and an incredibly positive work attitude. "I don't think I've ever seen him upset," he remarks.
(Story continues below after slideshow.)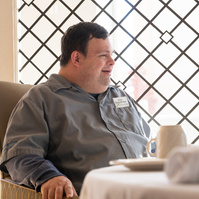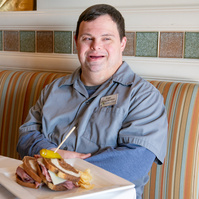 Evan has Down syndrome/Trisomy 21 and is incredibly proud of all he has accomplished in his 43 years. "I'm just like everybody else, and I'm also different," he says. "I get extra support." Evan is right to be proud of all he does! He works full time, lives independently with a roommate, plays sports and participates in a local theater, is an active member of his synagogue serving in the Brotherhood and as an usher, and enjoys being "Uncle Ev" to his four nieces and nephew– just to name a few things. He also advocates for others with disabilities. In short, Evan Nodvin is a tremendously accomplished person who just happens to have a disability.
As the "baby of the family," Evan is the youngest of four children. In the late 1970s, when he was born, there were few community or special education programs in Georgia. The family moved to DeKalb County so that Evan could take part in the only existing early intervention program run by DeKalb County Schools. Advocacy quickly became–and still remains–a huge part of the Nodvin family's life. Evan's mom helped start Parent to Parent of Georgia, became involved in the Down Syndrome Association of Atlanta, the DeKalb County Disabilities Council, and currently serves as the Director of Adult Disability Medical Healthcare, providing healthcare to teens and adults with developmental disabilities. One of Evan's three older sisters, Michelle, is a special education teacher. Another sister, Alison, is a disability advocacy attorney in Washington D.C. and serves as acting Deputy Director of the Administration on Community Living, the division under Health & Human Services delegated to seniors and individuals with disabilities.
But it's not just Evan's family who are the advocates. Evan is his own advocate–for himself and also for other individuals with disabilities. When he reached adulthood, Evan became his own guardian and got SSI and the Comprehensive Supports (COMP) Medicaid Waiver. These Waiver funds provide Evan with needed transportation, a job coach and a personal consultant, Andrew Abrams. Some of the areas Andrew helps Evan with are community living, fitness, money management, and computer skills. Andrew asserts that while Evan doesn't really require assistance with his work relationships–with his boss and coworkers–he provides stability and guidance should there be any job or daily task concerns. Andrew is continually impressed by Evan, explaining: "Evan's motivation and work ethic never cease to amaze me. He is a model employee as well as a kind and caring co-worker."
Evan's been working at Canterbury Court for two years now. He works there every weekday, Monday through Friday, but is quick to mention that he's willing to do what's necessary for his job, such as working on a holiday. "I had to. It was Labor Day," Evan explains. "Because they needed me." When Evan arrives at his job, he puts his stuff in the locker and gets right to work. By 7:30 a.m., he has already mopped the floor, "so older people won't slip and fall." Then, he works in the kitchen and washes dishes. "I'm good at that," Evan says. He also enjoys talking to people, "just like I used to do at the Center." Evan was furloughed from his job as Courtesy Assistant in the Health Club at the Marcus Jewish Community Center of Atlanta (MJCCA) during COVID-19. He had worked there for 20 years and being furloughed was disappointing–as was needing to cancel his theater company's production of Mamma Mia that year. Evan takes part in the JCC's Jerry's Habima Theater, an inclusive theater company featuring actors with disabilities. Evan is excited to audition and begin practicing for the next Habima production, Cinderella, scheduled to be performed in March 2023.
After lunch, Andrew picks Evan up in his truck, and they go to pick up his roommate, Mike, from his job. Mike and Evan have roomed together for a few years and Evan thinks, "he's a good guy. We get along great!" Andrew takes the two of them food shopping. Evan loves to cook–particularly healthy foods like chicken and fish. The air fryer is one of Evan's favorite appliances; he boasts that he has even convinced his mom to get one. "I'm an expert," he says proudly. In addition to cooking for himself, Evan also helps to maintain the apartment he shares with Mike, pays his own bills, and manages his checkbook.
In his leisure time, Evan likes to watch sports–all things Georgia–and play computer games. He also takes yoga classes, is active, and loves to attend synagogue on Friday nights for the Jewish Sabbath. Music also plays a huge part in Evan's life. He plays the drums and guitar and even talks about wanting to form a band one day. He adores the Beach Boys, The Beatles, and country music. Most impressively, Evan played drums in three bands back in high school, including a marching band.
Evan feels lucky he receives the Medicaid Waiver. "I get job coaching and caregiving and it lets me be independent," he explains. Acceptance for Evan's Medicaid waiver took 10 years; he is well aware that in his state of Georgia there are thousands of people with disabilities who are not as fortunate, and who are waiting to be served. Evan wants to speak up on behalf of those who are waiting, and so he decided to become an advocate himself. He attended Partners in Policy Making in Georgia and applied to be a member of the Georgia Council on Developmental Disabilities. "I love being one of seven self-advocates on this important council," says Evan. "My family, including my sisters, have supported me to become an advocate not just for myself but for other people with disabilities." Evan has gone to conferences and delivered speeches, which he clearly enjoys. "I feel proud when I give speeches, proud of America," he says. "I don't get nervous."
Writer: Rachel Wallenstein , Photographer: Haylee Anne Fucini-Lenkey