Francel Kendrick
Metro Atlanta, Georgia (Senate District 39)

When you first see Francel Kendrick, you immediately notice his smile. He stands tall in his French blue hospital scrubs and walks with poise and confidence, casting the rays of his smile on those he passes at Emory Hospital. When he speaks, his voice is soft and polite. But when he speaks about what he wants for himself, he says confidently: "To be more independent."
(Story continues below after slideshow.)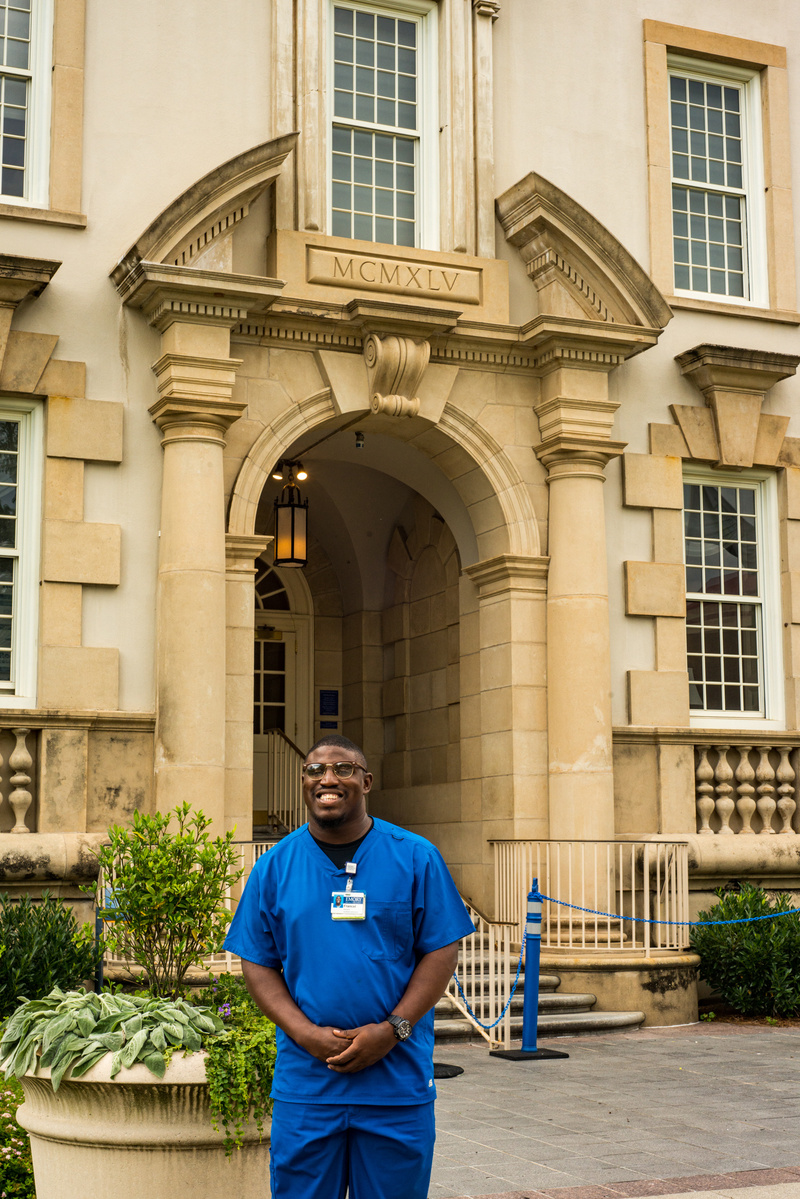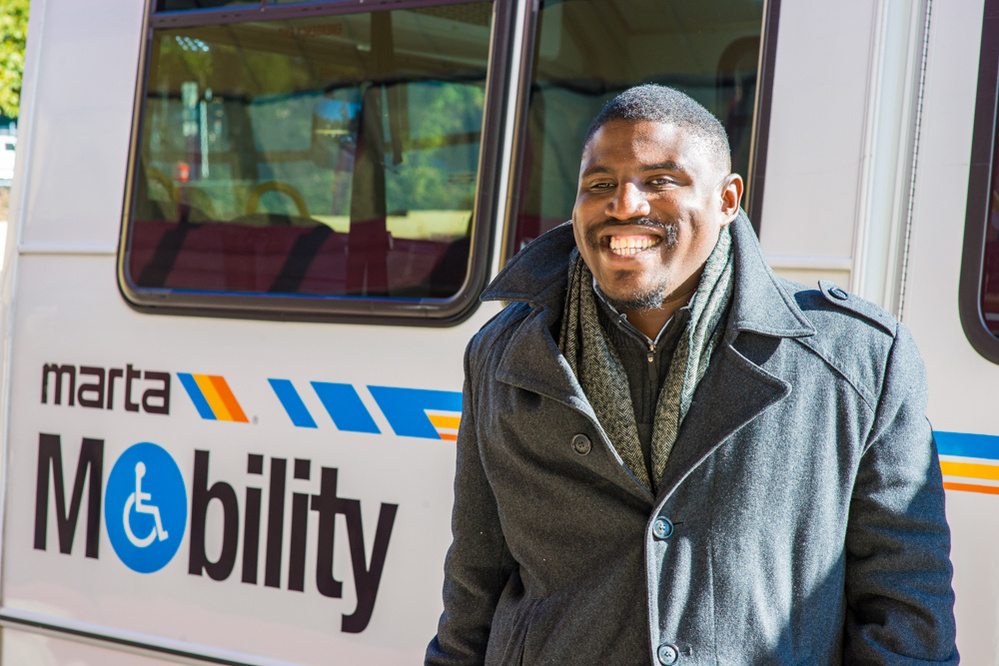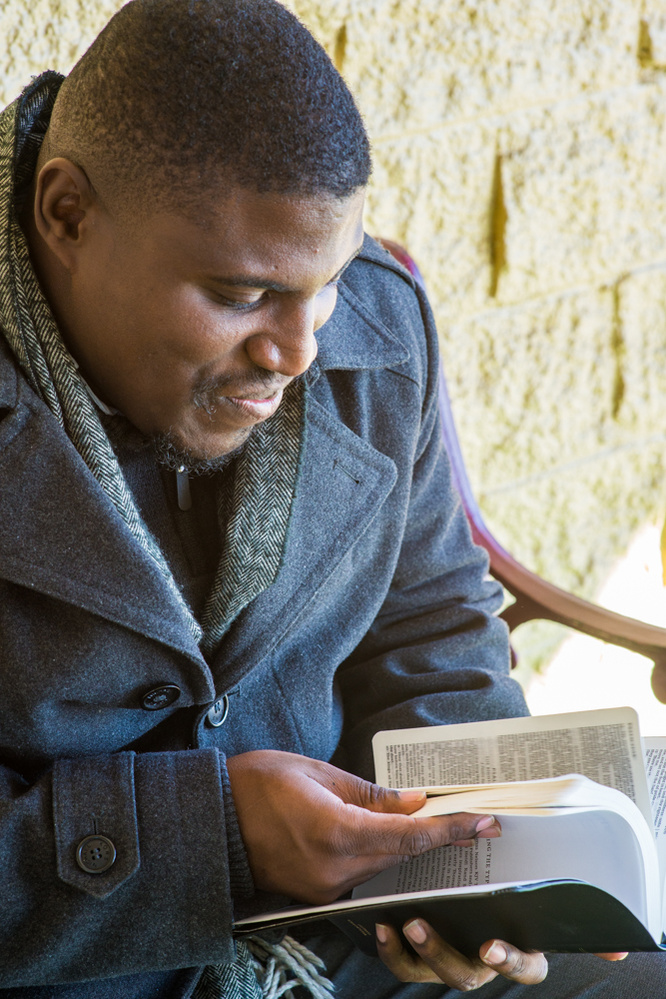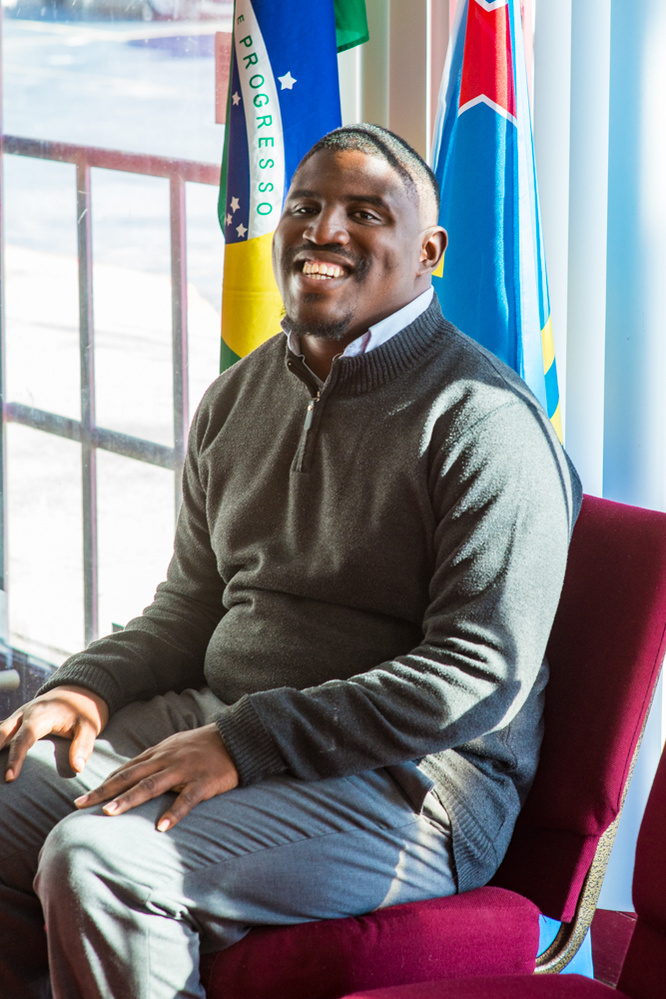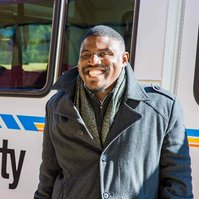 Francel has cerebral palsy (CP), a condition that impacts brain development, often prior to birth. Francel's father was absent from the family. His mother died when he was 10-years-old, and he was raised by his maternal grandmother, Joan. Francel remembers her fondly as loving and a "good cook." She was short in stature, but, Francel says smiling, "She didn't play! She took care of me and my siblings; she took care of all of us." That included his two sisters and his brother. One sister also has CP. Francel counts his godfather, Ernest, as another key positive influence and a father-figure in his life. It was his godfather who took him to church when he was young. They still talk by phone every day or every other day.
When his grandmother died in 2007, the family was hit hard. At first, they thought Francel could live with his aunt and uncle, but then his uncle died. One of his sisters decided to move to Georgia and took Francel with her. He went to school at Langston Hughes High School and was in a special needs class. "It was OK," says Francel. "It was an awkward time for me, a big change, but I got through it." He says that God was his biggest support because "God loves me no matter what I do. Even with all my shortcomings and my mistakes."
He found his job at Emory through Briggs and Associates, a career training and job placement program for people with intellectual/developmental disabilities (I/DD). Briggs and Associates partners with Project SEARCH, a national program that places individuals with I/DD in jobs at hospitals and other companies. Emory has partnered with Project SEARCH and Briggs for over 15 years.
Francel stocks drawers in rooms in the intensive care unit (ICU). His supervisor, Daniel Linehan, says, "We work in a critical-care environment that makes for a high-stress job for everybody, and Francel brings a positive attitude. So, we all enjoy having him up there." His job coach, Morgan Sumner, says, "I personally think he is the perfect person for their ICU because he is so calm."
Francel has just passed his eight-year work anniversary at Emory. He recalls the initial challenges of learning the job when he began: "The job was kind of hard, but then I got used to it. Learning how to stock the drawers." Morgan praises his work ethic: "He's always been so good at his job. He's very organized. He always counts the exact number of supplies needed. He has his routine. So, if anything, we add things because he gets done too quickly." At Emory, it is clear the staff appreciate Francel, to the point of being a little protective of him, making sure that he is happy and wants to stay with the team.
Francel lives in an apartment complex through a housing program called Destiny's Child. He lives with about 10 other people with I/DD who work and have the support of a caseworker. He has his own apartment and a roommate, with separate bedrooms and their own kitchen. Lorraine, who works for Destiny's Child, has become a mother-figure for Francel, and she attends Victory Outreach church with him, where Francel is an usher. Francel likes hospitality and caring for others. "As people walk by, I pray for them." He says he feels closer to God and Jesus in church.
Francel is fortunate to have a Comprehensive Supports (COMP) Medicaid waiver that subsidizes the housing and support staff who take him out for social or daily life outings on weekends. The COMP waiver also supports his participation in the work-training program that has allowed him to flourish at Emory and gain the means to spend a little on things he enjoys—movies or the mall.
When asked about how his disability affects him, Francel says, "I'm just doing normal things." He feels integrated into life through his housing community, his work and his church. This inclusion and integration is possible because of the COMP waiver. Francel would like to see more people have access to the same resources. He defines his main dream for himself: "To continue to take care of myself."
Because of these supports and his success, Francel now feels ready to move into more independence. He is applying for a second job, and would like to work in customer service with Chick-fil-A. "I have a dream to live on my own. I think it would be great, being able to pay my own rent." And like many single 30-year-olds, Francel hopes he will one day find a girlfriend, "someone who is able to take care of me and I can take care of her. She would be a Christian and have a nice smile."
Sometimes it is the intangibles that define who we are at a job. Francel clearly gives far more than his drawer-stocking job description requires. Morgan shares, "I had a lady stop me one day and said, 'He just brightens my day with his smile.'"
Writer: Moira Bucciarelli, Photographer: Haylee Fucini-Lenkey