John Hudson
Villa Rica, Georgia (Senate District 42)
John Hudson is in a contemplative mood. He is trying to figure out his future, and he just got some big news that might alter his course. On a chilly November night, he sits at the desk in his bedroom and ponders where he's been and what might come next.
John is a 36-year-old man from Decatur, Georgia. He has a developmental disability, is legally blind, and has had a kidney transplant. "I describe myself as a pretty nice guy," he says. John's parents, Bill and Gue Hudson, live just up the street from him. He also has two brothers, a sister-in-law, a niece and three nephews. John and his mom just got back from a doctor's appointment where John learned the news he is mulling over now. "The doctor said I need to have surgery on my right eye and I will have to put up my swim goggles," John says with some distress. John swims at the Decatur YMCA and it's an important part of his life, one of his favorite activities. "I don't know what's next or if it will be permanent. We will have to see. But the doctor says I can't be on the swim team anymore." (Story continues below after slideshow.)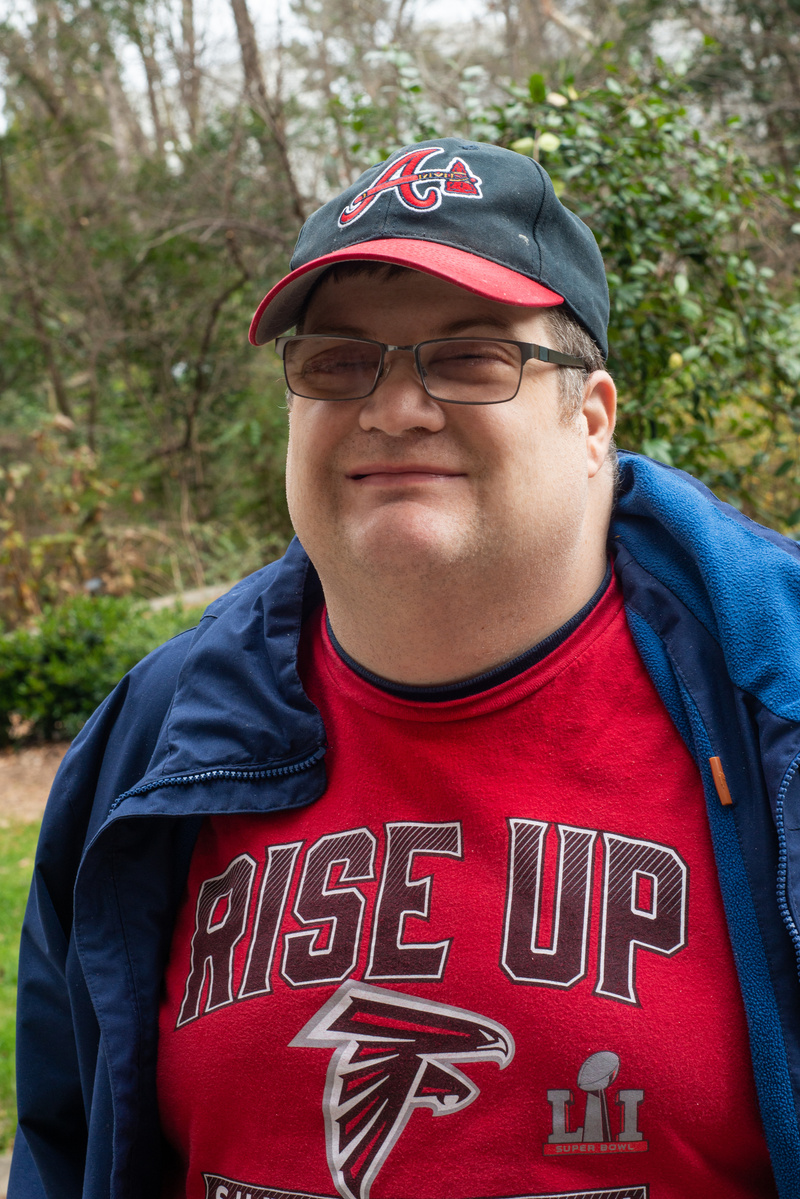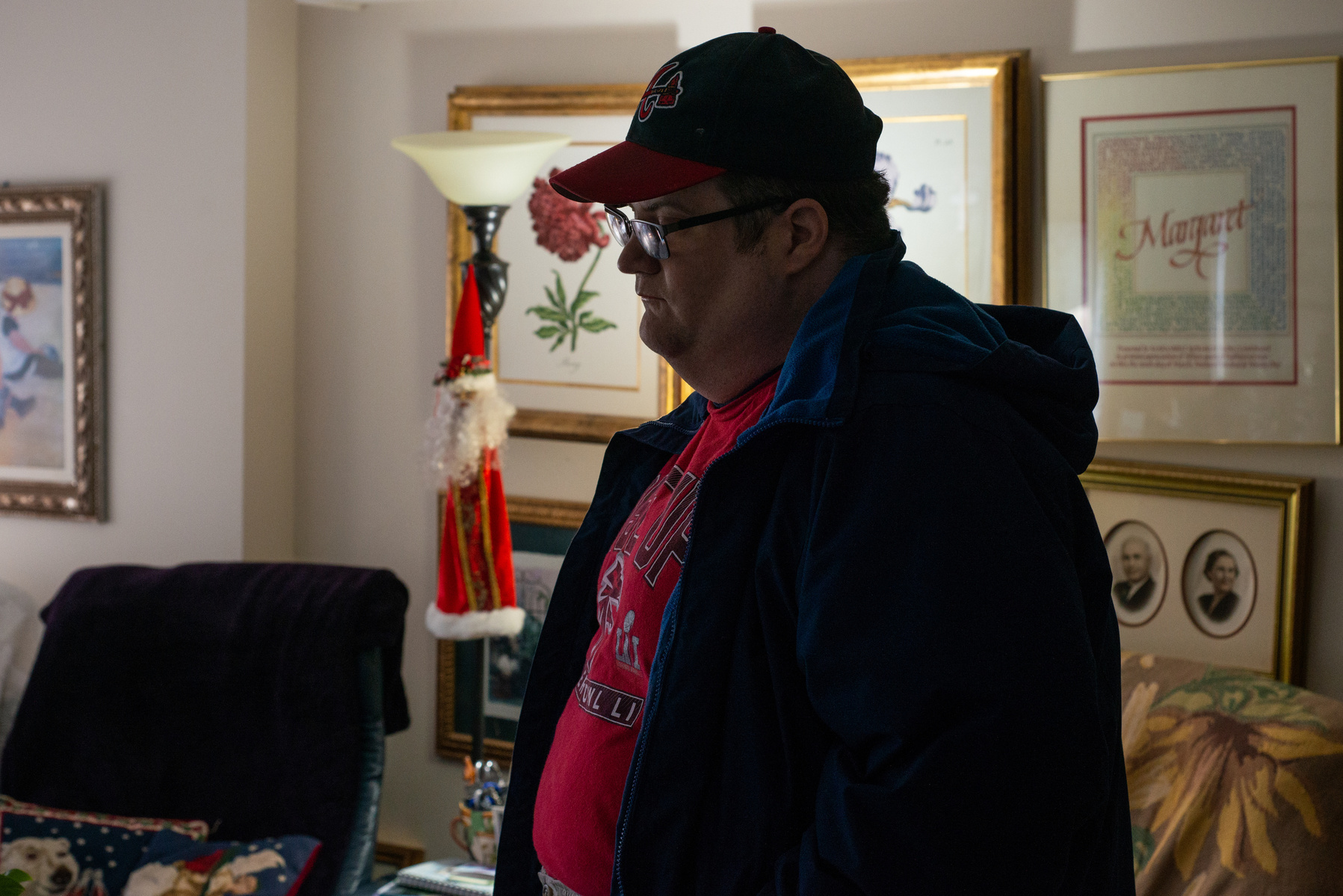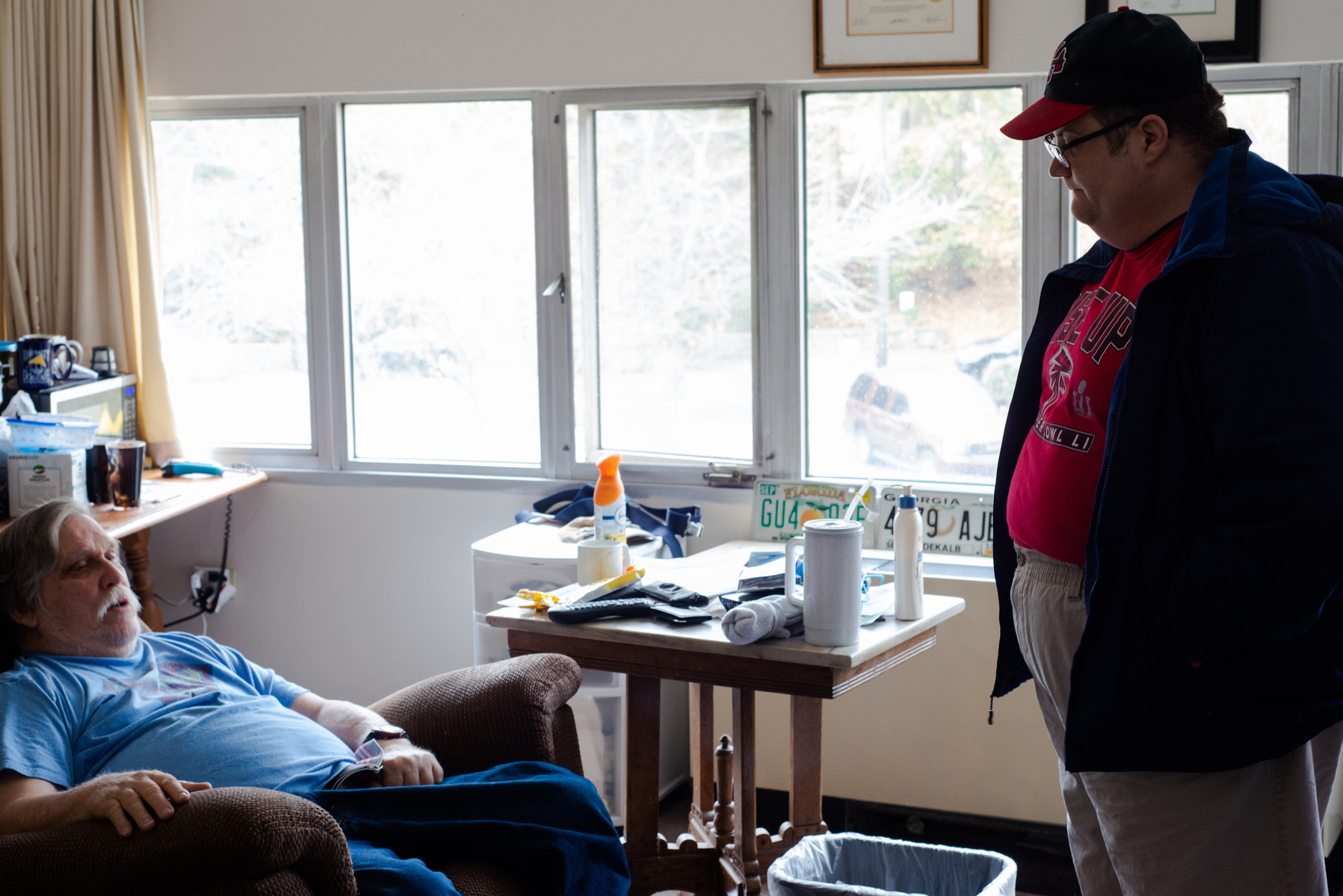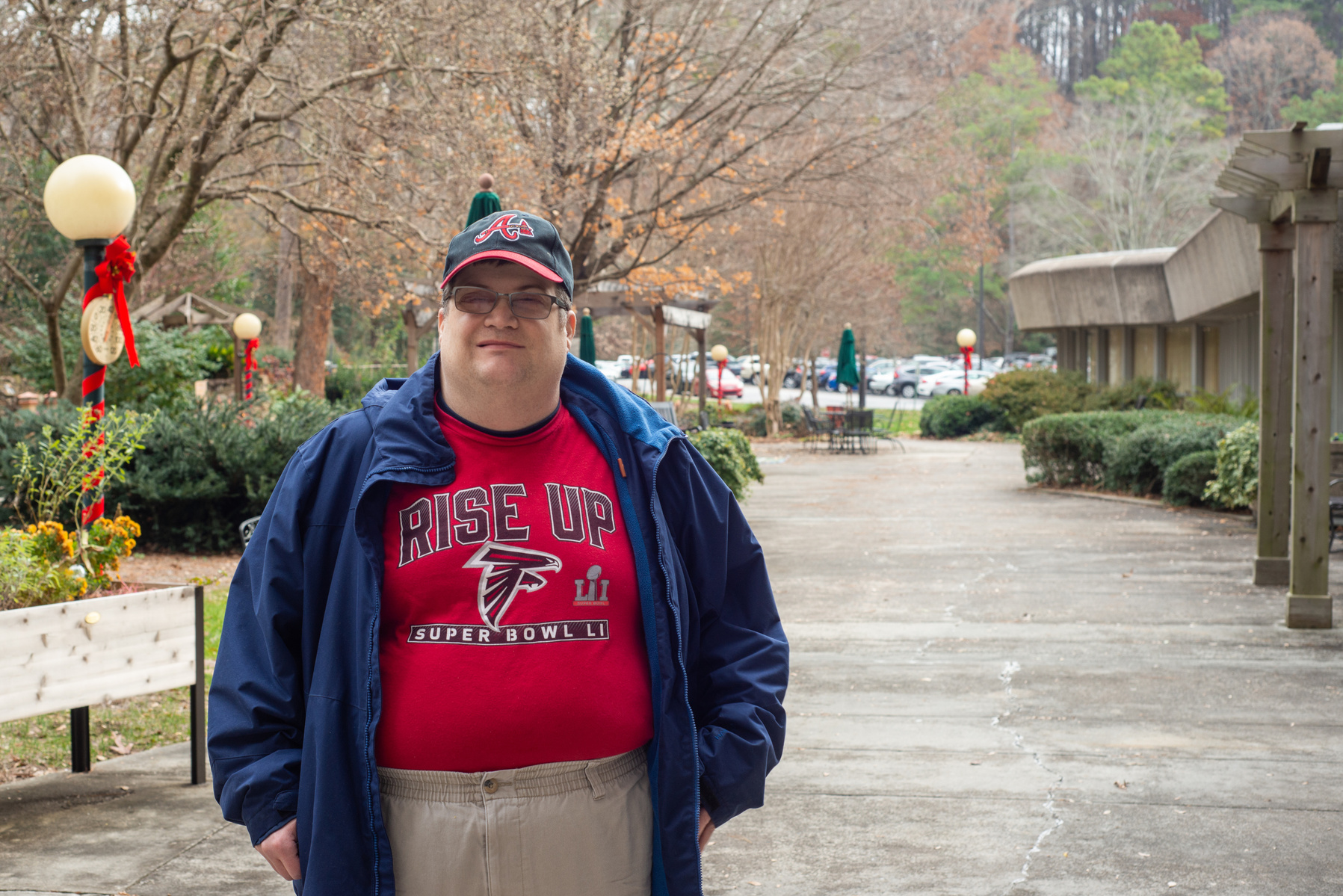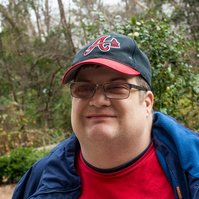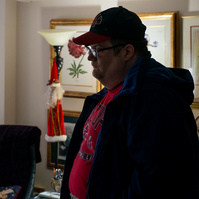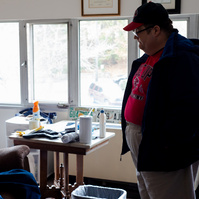 John lives at L'Arche Atlanta's home in Oakhurst, a neighborhood just outside of Decatur, and because of this he gets the support and assistance he needs to work and be active in his community. A nonprofit organization, L'Arche's mission is "to make known the gifts of people with intellectual and developmental disabilities, revealed through mutually transforming relationships; to respond to the changing needs of our Members while being faithful to the core values of our founding story; and to engage in our diverse cultures, working together towards a more human society."

John didn't always live in such a happy, vibrant community. Before he became one of the first Core Members when the home opened in 2012, he lived in Smokerise, Tucker, and Stone Mountain. He lived at a host home in Tucker for nearly six years where he was "not happy," he says firmly. "I got bored and the mom [of the host home] got upset," he explains.
John was able to have some choice in his living situation thanks to his COMP Medicaid waiver. His mom, Gue, says that after years of toil and frustration he final received approval in 2007, when he was 25. Gue says the process was confusing and discouraging. "Because I am tenacious, I tried to figure it out, and I eventually came to the conclusion that there was no way," she recalls. "No matter how may doors you banged on it was just 'wait and see.' Until then, you feel helpless and hopeless. There's no road map." Thanks to luck and a skilled support coordinator at Georgia Community Support and Solutions, John received approval during a year when the legislature put more funding into the waivers. The only other funding John and his family had was from Social Security, which he received when he was about 12 or 13. Gue said she thinks when a child turns 18 they need a dedicated professional to talk to them and the family about the process and steps they need to take. "I'm fairly well educated, worked at a college, and I'm still overwhelmed with the paperwork."
Because he has a COMP Medicaid waiver, John has some choice in where he lives and has funding to pay for services and support. But after living at three different places since he left his parents' home, he just wasn't content until he learned about the L'Arche home. He lives with three other Core Members – Patrick, Corbin and Terry – and three other people who provide live-in support – Grayson, Becca and Kat. John has his own bedroom, which is spacious and tidy. He has some memorabilia and cherished objects, like wrestling belts, pictures of his family and his girlfriend Jenny, and movies. He also has a life-size cutout of John Cena, his favorite wrestler. He loves sports and gets to go to games sometimes with his housemates.
John works as a greeter at Wesley Woods on Tuesdays and Thursdays, then on Wednesdays he works at L'Arche as a development assistant. He's worked all his adult life. "When I graduated high school I went to Hands for Hire, then the Frazer Center," John explains. "I still have a job coach, Damien. For a while I worked at a church doing cleaning and custodial work. Then they let me go and now I work at Wesley Woods."
John still goes to the Frazer Center sometimes for day programs and activities, in addition to his jobs. And, until he got the news today, he also went swimming at the Decatur YMCA a few times a week. Now he needs something to fill that void. "I don't know what I want to get out of life," he says. "I have a PATH meeting at Oakhurst Baptist Church this week to talk about that and make a plan." While he is going through changes now, it seems like John has the support and community he needs to try to figure it out and make it happen. "I'm working on my future. I'm working on it," he says confidently.
Writer: Betty Barnard, Photographer: Haylee Fucini-Lenkey