The Family that Advocates Together, Stays Together
KJ Cammarano Moses
Villa Rica, Georgia (Senate District 30)
When five-year-old KJ Moses was clearly upset in his small group classroom one day, his communications teacher took him over to the iPad-type device he uses to help him speak and opened up the screen. He scrolled through the pages and icons to navigate until he found just what he needed: "My ear hurts." While the ear infection that had set into his little body was upsetting, the extraordinary thing was that KJ was able to communicate what he was feeling.
KJ has Down syndrome, also known as Trisomy 21, a genetic disorder that involves birth defects, intellectual disabilities and characteristic facial features. His parents, Bob and Angela, first learned about KJ's diagnosis at an early anatomy scan during pregnancy. Life in their household is made ever more possible by the fact that KJ started receiving the Katie Beckett waiver recently. Angela says that the Katie Beckett application was daunting and time-consuming. It took eight months to get through the whole process and was actually held up for an additional three months so the application could simply be put into the computer. (Story continues below after slideshow.)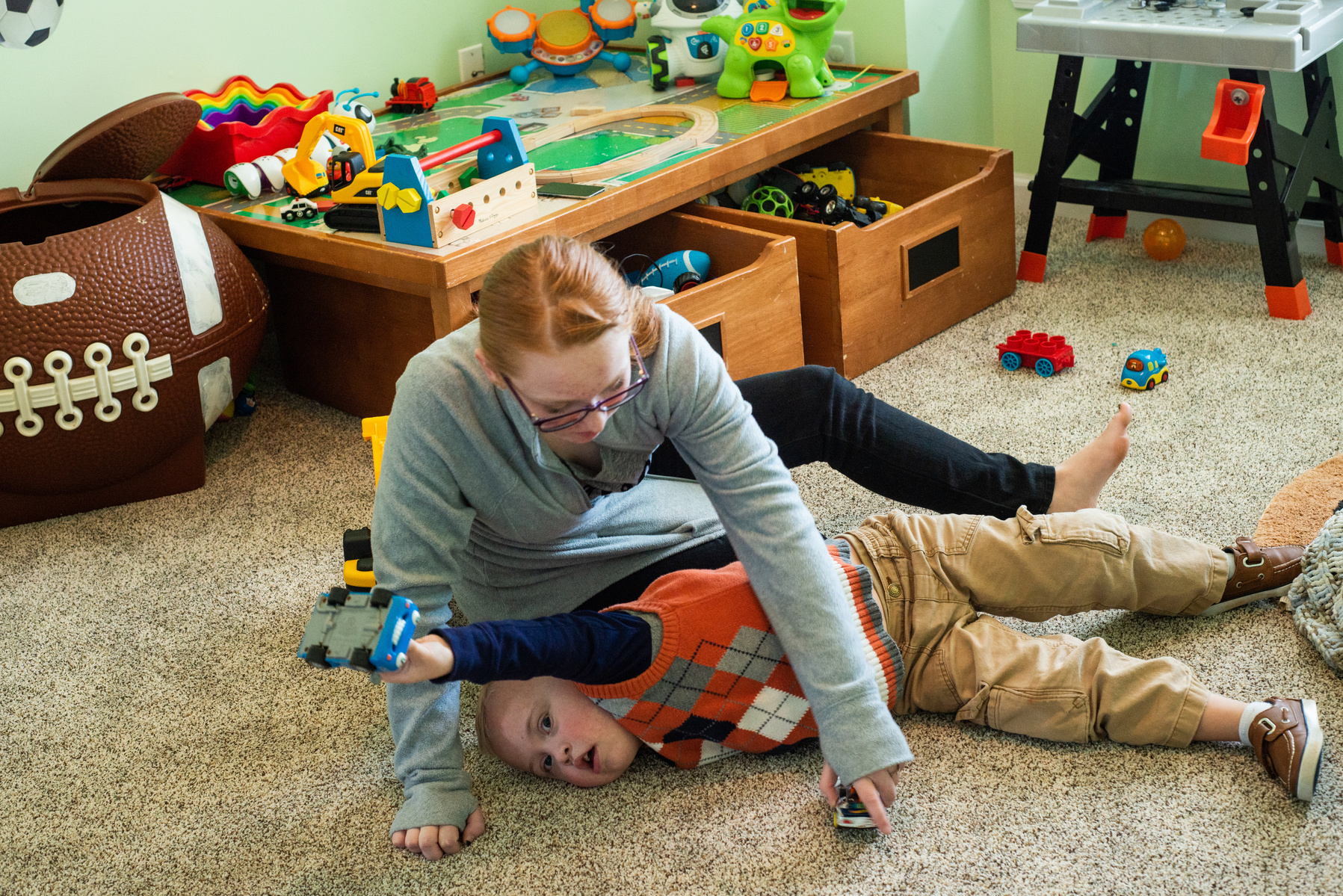 There are only four Katie Beckett caseworkers for the entire state of Georgia. When KJ was going through his qualification process in the school system, they did four of the five areas needed, which qualified him for pre-K. However, they missed a crucial component for Katie Beckett. Angela and Bob had to go back and pay $300 out-of-pocket for an additional psychological evaluation, "on a five-year-old," Angela emphasizes, to complete the application. During the time they did not have any supports, it would have cost $150 per session out-of-pocket for speech therapy. Now that his supports are in place, KJ was able to start back with speech therapy just last week.
If given a chance to speak to their legislators, Bob and Angela would talk about the importance of supports and services for every family of a person with a disability. "There's been a lot of talk about Medicaid cuts," says Angela. "All of these cuts affect services that he receives, from therapies to how much Medicaid will pay for. When you're cutting those things, you're the cutting quality of life. You're cutting therapy that allows him to progress closer to his typical peers."
Bob feels they have a huge advantage with the Katie Beckett waiver, but he thinks about others. "What would a normal parent do when they get their first no? They're going to give up. What do they do then?" Bob speaks passionately about a system that is broken and has to change no matter what county or state you're in. "Something has to be done with the with the health care system." He goes on to talk about how lower and middle class families have been disregarded by the system. "Families can easily go broke, bankrupt with medical bills. It's a fact," says Bob. "I just don't know how families do it."
This family is actually well versed in how to speak to legislators as they've already participated in quite a bit of advocacy, having traveled to Washington DC to speak to their congressional representatives, as well as to New York City to participate in the Buddy Walk. KJ's two older sisters, Kristal, 13, and Annalese, 7, are proud of their little brother and extremely articulate about what he means to their family. They went to meet with US Congressman Tom Graves to advocate for the ABLE to Work Act, which allowed for people with disabilities to save their money beyond the ABLE limits.
These days, KJ is a student at Nebo Elementary School in Dallas, Georgia. He started pre-K at Nebo two years ago and now is in kindergarten. For three 45-minute periods a day, KJ goes to specialized, small-group instruction with Ms. Leggett. They work on things like reading and communication. Angela says that the teacher is excellent at working with KJ. The rest of the day, he is in a general classroom with other kids his age.
Over in KJ's other classroom with Ms. Blankinship as head teacher, children dote on and hug KJ as often as they can. Annalese comes to KJ's class sometimes to read books like It's Okay To Be Different. As the school day comes to an end, all of the students from classrooms on their hallway line up and sit to wait and be called for busses and car pick-ups. KJ walks down the hallway like a celebrity being worshipped by the paparazzi. Each and every one of the children calls out "KJ!" and gives him a fist bump.

KJ is a part of a loving, supportive, happy network. He would be no matter what. However he's clearly happier and healthier, thanks to the Katie Beckett waiver and the community supports he receives.
Writer: Shannon Turner, Photographer: Haylee Fucini-Lenkey