Lucas Erisman

Ellabell, Georgia (Senate District 1)
Lucas Erisman is an eighteen-month-old infant born with spina bifida and clubfoot. He and his family live in Ellabell, Georgia about half an hour outside of Savannah. Because of his diagnosis, and the fact that every ultrasound before he was born indicated he was not moving his legs, his parents were told early on that Luke would likely never walk. While he currently has no movement from his ankles to toes, he's already demonstrating incredible upper body strength. Lucas can crawl across the floor and flip over, and is starting to pull up and attempt standing. His parents are very hopeful that he will be able to walk given the strength and resilience their little guy has displayed all along the way.
When they first got Luke's diagnosis at their 19-week anatomy scan, they were given a few options for how to treat it. After careful consideration, they decided to move forward with fetal surgery. Children's Hospital in Philadelphia was a pioneer in the field and extremely solicitous to have them there. Not only did they get back to his mother, Holly within twelve hours and help her get the qualifications, she was also able to secure a spot in the Ronald McDonald House nearby where she could stay for the rest of her pregnancy because she was advised against traveling immediately after the procedure. She had surgery on February 17 at 23 weeks and delivered on May 9 at 34 weeks of pregnancy. Staying on bed rest in Philadelphia so far away from her family and other children were some of the longest weeks of her life. "I tried and tried and tried to get to come back home, but they were like there's no way. It's too great a risk." Because Luke was premature, he still had to stay in the NICU for another month after he was born. (Story continues below after slideshow.)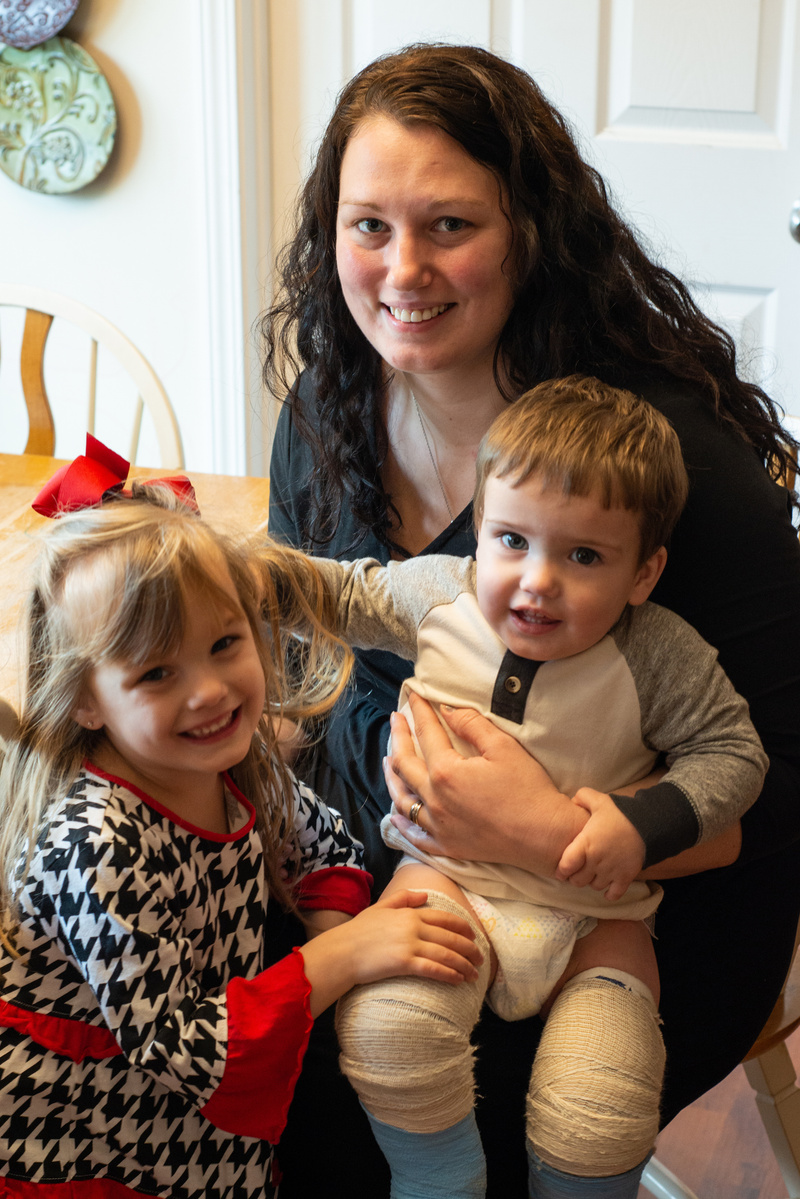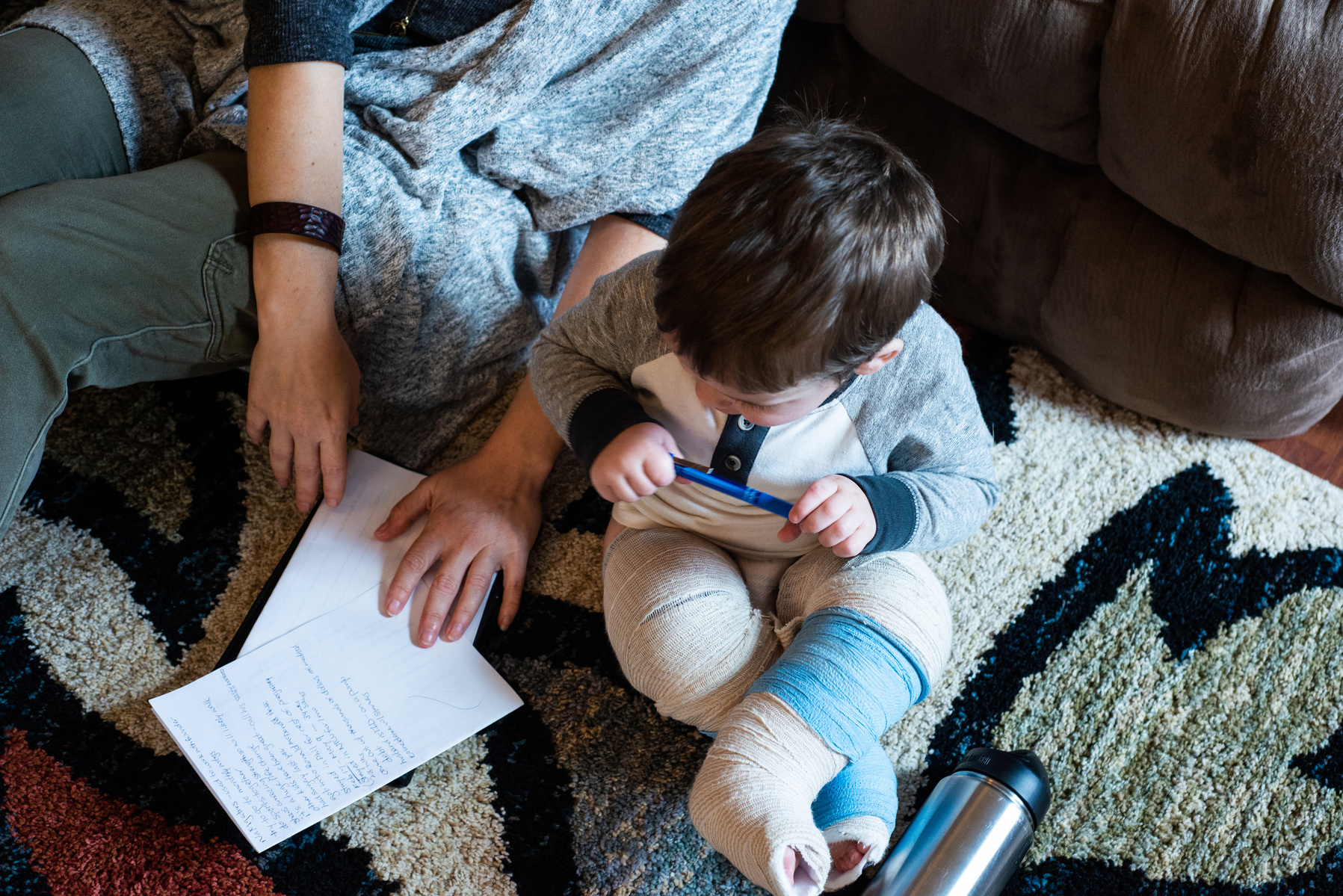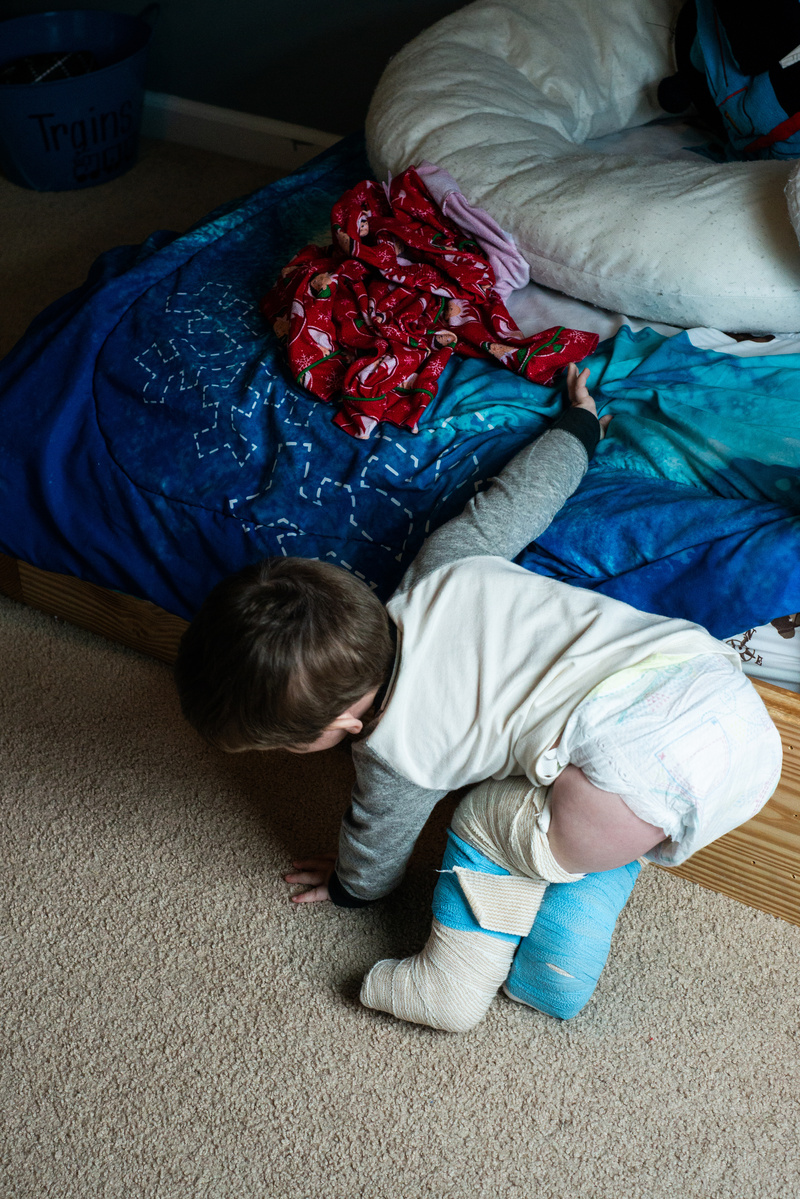 Even after the major fetal surgery, Luke has had a number of surgeries and procedures to continue aiding his development. He had surgery in late October 2018 to help correct the clubbed feet, which put him in full leg casts. He'll be wearing the casts for two more weeks. He has to go to an orthopedic doctor in Savannah, as well as a urologist who helps monitor potential bladder and bowel control issues related to his genetic differences. The post-insurance costs for the time in Philadelphia from fetal surgery through Lucas' birth and NICU stay was $100,000.
Holly says that her employer used the pregnancy, surgery, and recovery as an excuse to push her out of her job. While running a household with three small children, including one with a developmental disability, might otherwise lead Holly to want to focus on their family's life and logistics, their mounting medical debt and everyday expenses have forced her to go back to work part-time in the evenings cleaning offices. It almost goes without saying that Holly has nights where she only sleeps for three hours due to worries about her family's health and financial struggles.

If given the opportunity to speak to her legislators, Holly would talk to them about many things, including how women – mothers in particular – get treated in the workplace. She mentions how hard it was to find out that she was going to have a child with extraordinary medical needs and then to be let go. Actually, it was not a new story. "This is not the first time I've been replaced because I had a baby, and they didn't bring me back. I know that I'm a valuable employee. My record shows it."

Holly would also let her legislators know that they are very grateful to have PeachCare for their son. It's a very important program that has made their lives possible. Even though the application was challenging and full of negotiation about how much money her husband makes, now that they've got it, they're really happy. "So far, they've covered everything at 100%. We've been super lucky with that," says Holly. Eventually, they will apply for the Katie Beckett Waiver to assist with Luke's ongoing needs.

As Holly lifts up the back of Luke's shirt to reveal the scars on his back, two things happen at once. Luke begins to vigorously crawl away as if to say, "Enough attention on that, thanks!" Simultaneously, Holly says, with a little mist in her eyes, "He's all my inspiration, right there." Against all odds, this child and his gentle, loving family are moving forward with their lives.

Writer: Shannon Turner, Photographer: Haylee Fucini-Lenkey