A Model for Leisure and Empowerment
Marty Turcios
Augusta, Georgia (Senate District 22)
When Marty Turcios was ready to move to Georgia a year-and-a-half ago, he called up Nick Prokosa of Wedges and Woods and made a modest proposal. "We do similar work, but on different sides of the country. I think we should bring our work together." Both men were looking to provide golf lessons as a therapeutic option for people with disabilities. Both men have disabilities. It was, as they say in Casablanca, the beginning of a beautiful friendship.
Marty is a 59-year-old man with cerebral palsy who grew up in California in the 60s and 70s. By the time he earned his master's degree in recreation therapy in his forties, Marty says he felt he was teaching his professors. He has developed an eloquent theory about the importance and efficacy of leisure and sports as a therapeutic tool for people with disabilities, whether developmental disabilities or caused by trauma. Marty's theory is that many things in this life distract us from our intuition, whether it's alcohol, drugs, or other people who think they know better on our behalf. Marty sees addiction as both a physiological and cultural disease. You have to learn how to trust your intuition again and believe "This is mine. You can't take it away from me unless I let you." (Story continues below after slideshow.)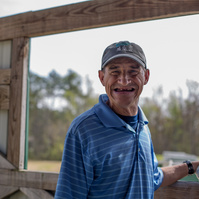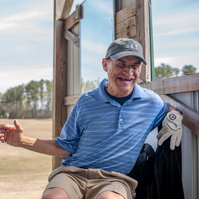 Wedges and Woods is beautiful in March, just one week before The Masters comes back to town. Marty and Nick are working with B.T. Ansley, a young man who twenty months ago nearly died in a car accident in Colorado. "I broke every bone in my body," B.T. says, "and I broke my brain too." He says he has no idea what caused him to drive off the road. B.T. was in the hospital in Colorado for four months, and then his parents brought him back here to live with them. Even the trip home was hard because he could barely sit up in his wheelchair. When B.T. started coming to work with Marty he could barely hit a ball more than a few feet in front of him. Now he's perfecting his wedge shot and hits the ball hard, strong, and a good distance, though it does still tend to veer right a lot of the time.
Marty demonstrates his own sure shots. "I taught myself how to hit a golf ball when I was six years old and then taught my best friend when we were 11. I've been playing for 50 years now and teaching more than 30." He talks about the ways that golf provides strong foundations for balance, center of gravity, power, and agility for people who are in the recovery process or just in need of therapy. More than anything, though, it keeps them moving, focused, and working toward a goal. "Watch," he says, as he demonstrates, "I'm feeling my weight move back and forth. I'm able to find my center of gravity."

Marty and Nick have purchased two special chairs, each of which costs upward of $25,000. Resembling modified wheelchairs, they raise golfers to a standing position while keeping them stable and able to focus on their swing. Funding for the chairs comes from foundations, private donations, Rotary clubs, anywhere they can find it really, but frankly it's not enough. They could use more and are probably ready for a development officer. Nick, a former firefighter who had a back injury, says he knew Marty was a person he wanted to work with early on because he's not driven by the money, he's driven by mission. "Other people just want to talk about how much money you can get out of this foundation or for that program. They keep the money for overhead and nobody gets helped. Neither of us thinks that way."

Marty and Nick join Nick's wife, Jen and their friend Melody, to take a break from the midday warmth and a full morning of coaching. They hang out in the range's pro shop. The comfort of the couch, TV, and various four-legged friends prove that this is a place they enjoy spending time together as a newly formed family.

Writer: Shannon Turner, Photographer: Lynsey Weatherspoon