Mohammed Yousif
Tucker, Georgia (Senate District 41)
Mohammed Yousif is a 50-year-old man with cerebral palsy who lives in Tucker, Georgia, with his mom, dad, sister and brother. Although the family lives here now, they're a long way from where they started.
(Story continues below after slideshow.)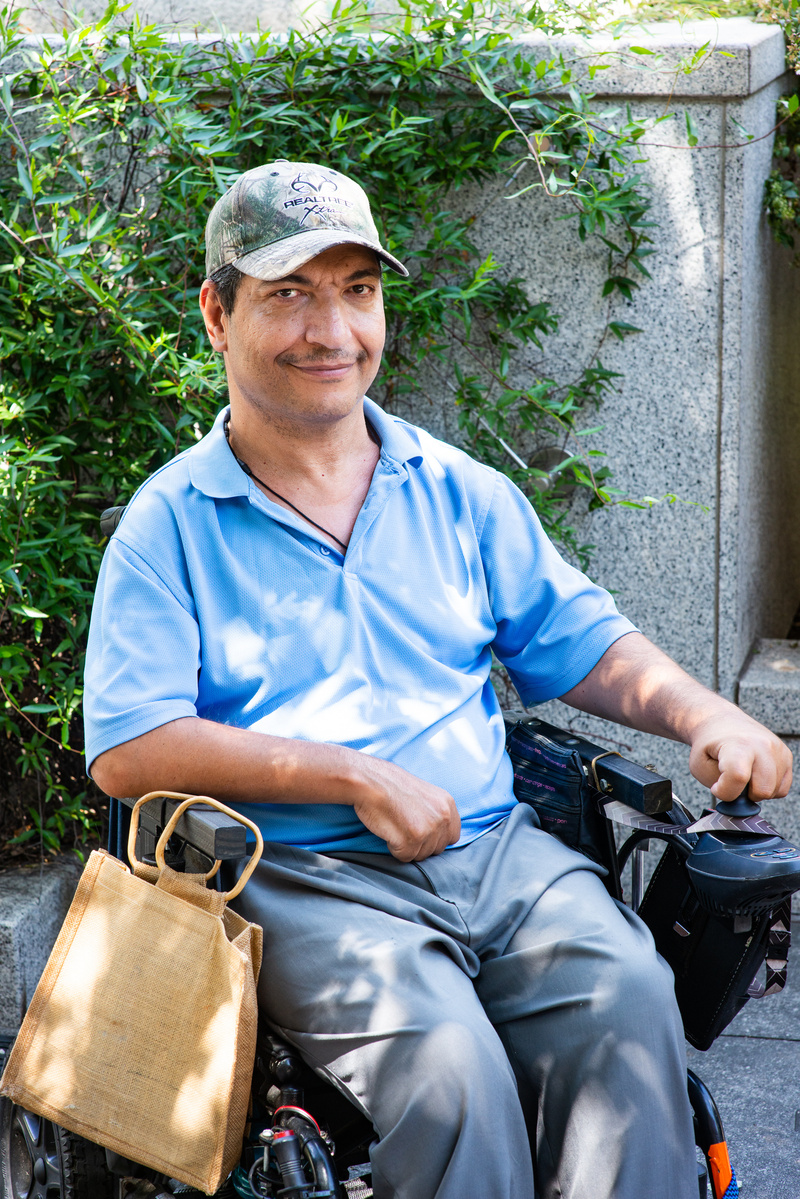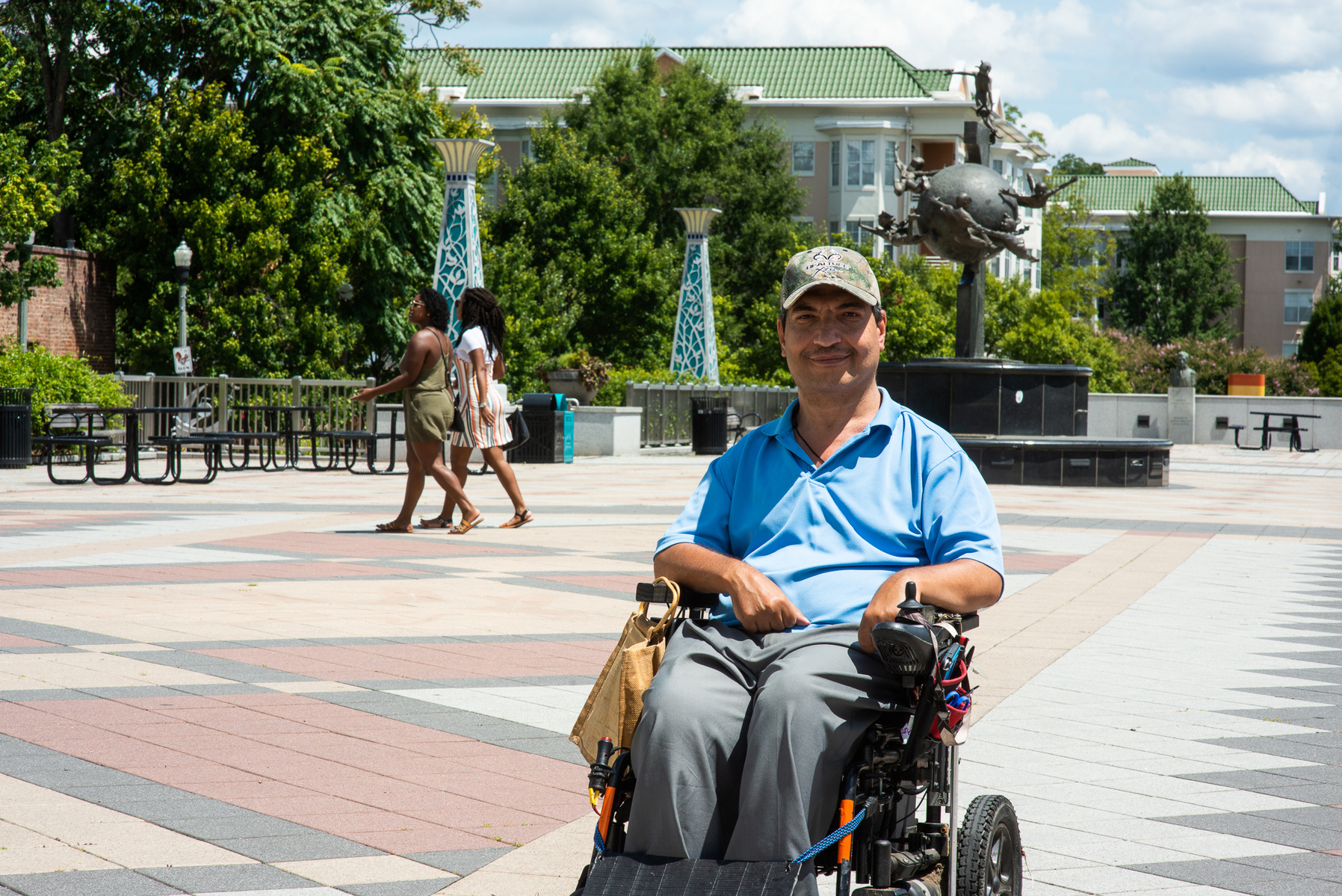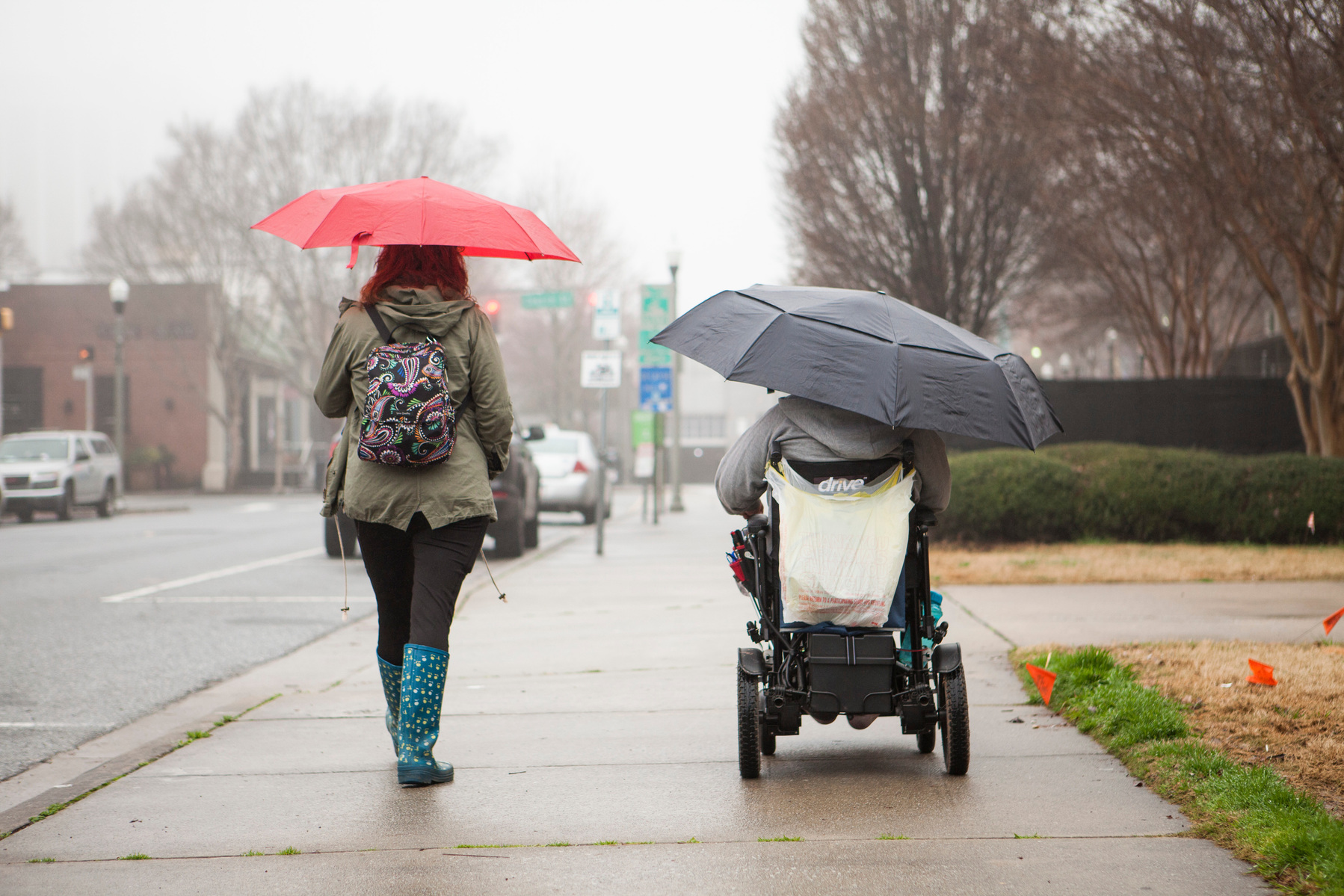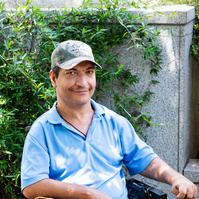 A quiet man, Mohammed grew up in Iraq. "I was living there all my life. I studied there. Started my job there." Mohammed talks about how he got a bachelor's degree in law, which took him four years to achieve. "I'm a lawyer in my country, but not here. The law is different in my country." Although he'd love to be a lawyer today, Mohammed says the language barrier would be tough for him. Translating from his first language is one thing, but translating legal systems is something else entirely. His experience as a lawyer in Iraq was quite different because of the differences between the British empire, which influenced the American system, and the French empire, which influenced how the Iraqi system was established. In the Middle East, most countries are based on the French system, which is organized around judging by the articles of law, not on precedence. Starting over to become a lawyer again, for Mohammed, would be like starting at zero.
Mohammed's cerebral palsy comes from a birth injury, caused by lack of oxygen during his birthing process, especially from being born full-term breach (upside down). It was a very difficult birthing process for both him and his mother. His condition was very precarious as a child. Mohammed traveled to the Czech Republic at 5-years-old for physical therapy and stayed for four years of rigorous treatment. The program helped to develop his muscles and tonality. "It was useful for me," says Mohammed. His parents paid for the process out of pocket. In fact, Mohammed says that practically all his mother's salary as a teacher went to his treatment at that time. His father was a judge, which was where Mohammed inherited his love of the law.
One of the more challenging parts of Mohammed's life is that he has a brother who has schizophrenia. Diagnosed at 16, his brother's mental illness causes him to be unable to work. When they were in their home country, the family were under blockade because of the leadership of Saddam Hussein. They couldn't get his brother's proper medications. He wound up in the hospital more than once.
These days, the medication that is most useful for Mohammed's brother has an adverse effect, especially impairing his white blood cells. He's now undergone three medication changes in just one year. According to Mohammed, his brother now takes 10 medications, seven for schizophrenia and three to treat the headaches caused from those medications. Mohammed despairs for his family's home life because of the uncertainty that living with a person who has an uncontrolled mental illness can bring. "He's always angry, always depressed," says Mohammed. He has spent some time researching whether he might find an apartment for he and his father to go and live in together. It would help in many ways because his father and brother have a harder time together, while his mother is much better at managing his brother's care. It would also help Mohammed, so he could concentrate on his own studies and professional pursuits. The challenge, of course, is finding an apartment that is physically accessible for him and features transportation accessibility nearby.
Mohammed's sister, Asmaa, has a master's degree in information and library sciences and works for Refugee Women's Network. Her job there for the past four years has involved outreach, translation and education, as well as helping clients get insurance and facilitating a schedule of speakers and workshops. Asmaa, who also lives with the family, sets aside some of her salary from the nonprofit to help her parents and two brothers with their living expenses. Asmaa says, "We just support each other. It's my duty." Mohammed also has another sister who has a doctoral degree in law and lives in the United Arab Emirates.
The Yousif family are all now citizens; it took them five and a half years to complete the process last year. Asmaa says she's really glad they have their citizenship because, "Now, with this environment, everyday there's a new decision being made that's so important. Everyone is always worried, not just us." They first came to the United States on July 29, 2011. "We had a big hope to be safe here and to start a new life," says Mohammed. The family lived in Egypt for more than five years before coming to the United States. If you're familiar with recent global politics, then you're aware that, after fleeing Iraq, they wound up living through the revolution in Egypt. Mohammed says that it sort of felt like everywhere they went would be in political upheaval no matter where they landed. Does he follow politics today? "I hate politics," he says. Mohammed goes on to explain that he keeps up with what's going on in the world as much as he feels he has to, but he doesn't care for it and could do just as well without. He'd rather be reading about soccer and food.
Mohammed's parents, long retired, are 86 and 79. To be their age, Mohammed says that his parents are in relatively good health. He's pleased that their lives are so much better than before when living in Iraq. They only receive Supplemental Security Income (SSI) now, as their jobs' retirement benefits stopped years ago.
Mohammed has SSI, and now, thanks to the help of Atlanta Legal Aid (ALA), he also has the Service Options Using Resources in a Community Environment (SOURCE) program. The Medicaid program is "an enhanced primary care case management program that serves frail elderly and disabled beneficiaries. The program works to improve the health outcomes of persons with chronic health conditions, by linking primary medical care with home and community based services through case management agencies" "Service Options Using Resources in a Community Environment (SOURCE) is a state enhanced primary care case management program that serves frail elderly and disabled beneficiaries to improve the health outcomes of persons with chronic health conditions, by linking primary medical care with home and community-based services" (Georgia Medicaid website). Mohammed was initially denied services through SOURCE, which specifically excludes people with a primary diagnosis of intellectual/developmental disability (I/DD). Since Mohammed has no cognitive impairment, only a physical disability, he would not have met the criteria for the I/DD waiver program. Toni Pastore, a paralegal with the Disability Integration Project at ALA, met with Mohammed and advised the ALA staff would need time to review his case and records. She assisted him in requesting a continuance of his case to allow their office time to review his records. According to her, ALA's assistance was actually pretty easy: "I assisted him in drafting the request for continuance and getting it filed." Ms. Pastore says this is often the case when someone asks for a lawyer to help in asking the right questions, but it's still of vital importance to be able to know what questions to ask. "Once they knew we were helping out, they took a second look," she says. "Because of the way the Medicaid waiver documents are written, the programs are all in different silos. They are sort of pointing fingers at each other."
When we first visited with Mohammed in February 2019, he was in the process of looking for a job. He said that any office job would do for him at that point. The Georgia Vocational Rehabilitation Agency (GVRA) was sending him through training in strategic skills such as how to apply for jobs, how to dress for interviews, how to build an attractive resume, etc. He'd been working with them for two weeks at that time. However, a visit later in the year revealed that Mohammed's classes were not completed, and now he is waiting for permission to restart. It's frustrating because he's already done a lot of the training. He's afraid he might have to repeat material. Fingers crossed, he'll hear back in two weeks.
Imagining someone who is a professionally trained lawyer in his original country, one wonders if the job readiness class is too simplistic for him. Mohammed's sister, Asmaa, says, "I'm not saying this because he's my brother, but he's so smart. He can do any job. We depend on him to pay the bills, fix our computers, many things. We depend on him. He's a responsible man." Still, Mohammed has to complete the training in order to get help finding the office job he's now qualified for, and he says he's learned things that were valuable. For instance, he was surprised to find out how much time and money a firm spends in effort to fill a position. It helps him and his classmates appreciate how seriously they should take their side of a search. Getting the all-clear to restart his class will hopefully just be a technicality, but it is just one more example of a delay and the ongoing tax on their time that people with disabilities deal with on a daily basis.
The thing that vastly delayed Mohammed's ability to get around and pursue his professional training is that his wheelchair was broken for more than two months. He needs custom parts for his wheelchair because he does not live in a home that is really handicap accessible. His wheelchair needs to be as narrow as possible in order to fit through bathroom doors and such where he lives, none of which are actually built to ADA (Americans with Disabilities Act) standards.
With the funding through the SOURCE program, Mohammed was able to hire a staff person to come in for a few hours morning and night, to help him get in and out of bed and do his basic hygiene and ablutions. Mohammed and his caregiver have only been working together for a few months now, but they get along well. He's grateful to have this aspect of his life worked out now, especially because his parents are too old to help him care for his body at this point.
If given the chance to speak to a legislator, Mohammed would say, "Put themselves in myself, so they can see my problems." What are they not seeing? "Transportation is not covered all over the place. I now try to buy a house, and I go to the bank to get a loan and because my benefits are not that much, they give me a small amount. I applied for Section 8, and it will take maybe years."
To add to Mohammed's frustration about transportation, the Westbound elevator at the Decatur MARTA station, where he frequently rides, has been broken for months. He, and any other passenger who needs the elevator to get down to the platform, has to ride an additional stop out of the way and then come back in the other direction just to get to the right destination. On a good day, that's about twenty minutes of additional travel time. And the weekend? Forget it. Asmaa agrees, "Sometimes I feel bad for him that transportation is so difficult. He doesn't have a chance to get a special vehicle because it's too expensive. MARTA doesn't go everywhere, and sometimes it takes 2-3 hours just to reach where you want to go. It's a lot of difficulties he faces."
What does the average person in Georgia need to know about Mohammed's life? "Because of my family conditions, I am alone. I feel alone." Mohammed feels like people stay away because "everything is different here, the culture, the language, my brother's health problems." He especially feels that his physical problems, and his brother's psychological problems, all prevent him from being able to live a full life. "I want to do things, but I don't know how. And where should I go?"
At one time, Mohammed had a dream to build a website to sell equipment for people with disabilities, especially providing cheaper versions of equipment than the internet marketplace typically offers, but he reached a technological dead end. Due to a misunderstanding about how being a reseller works, he wound up getting locked out of his own website. Mohammed loves to learn things, especially relating to computers, but it's very frustrating that he keeps getting started and, at some point, can't continue. He realized he couldn't teach himself everything from the internet, which is why classes like the one he's taking from GVRA are helpful. With more supports, he'd even like to get into making in-person and real-time customizations for people with disabilities on equipment and furniture as well. Mohammed knows, from his own experience with a housing situation that wasn't made for him, how badly we need that kind of creativity and innovation. He has an idea to create a unique umbrella, because of his own need of being in a wheelchair and trying to hold one at the same time, but he needs someone to help him build and market it.
Along with work and improving his home life, Mohammed really wishes that he could get back to traveling. "I love to travel, but it's difficult. For me, it's difficult. I tried to go last summer to Las Vegas, but I couldn't. I canceled the trip." He goes on to explain that he thought he would take his brother on the trip as his travel companion, but his brother's condition caused him to cancel the trip.
Mohammed reflects, "I do not see my life as misery. It has passed so fast, perhaps because I have always dreamed of the best, and I still do. I didn't see my disability as a problem for me. I was able to find solutions for my body's dysfunction. The big problem is with the environment around me, and with some people who don't know what disability means." Indeed, the problem is not with Mohammed, but with a world that is not always designed with him in mind. Mohammed and his family have come a long way; there's still so much further they can go. Hopefully, with a job and maybe a new living situation, with the stability of the SOURCE program to support him, Mohammed will be able to dream of starting his own business and traveling again soon.
Writer: Shannon Turner, Photographer: Kelly Blackmon