Shirelle Marshall
Atlanta, Georgia (Senate District 36)
On this unseasonably mild day in February, Shirelle is venturing out for a snack at the Starbucks on the other side of the parking lot from where she works. When she does so, she has to roll into the street because the sidewalk is too narrow. The street part of her journey is dangerous enough, but then there's the Trader Joe's parking lot, where people are too busy playing the parking vultures game to pay attention to her. She ducks and weaves between SUVs and shopping carts like a football player trying to make it safely to the endzone.
(Story continues below after slideshow.)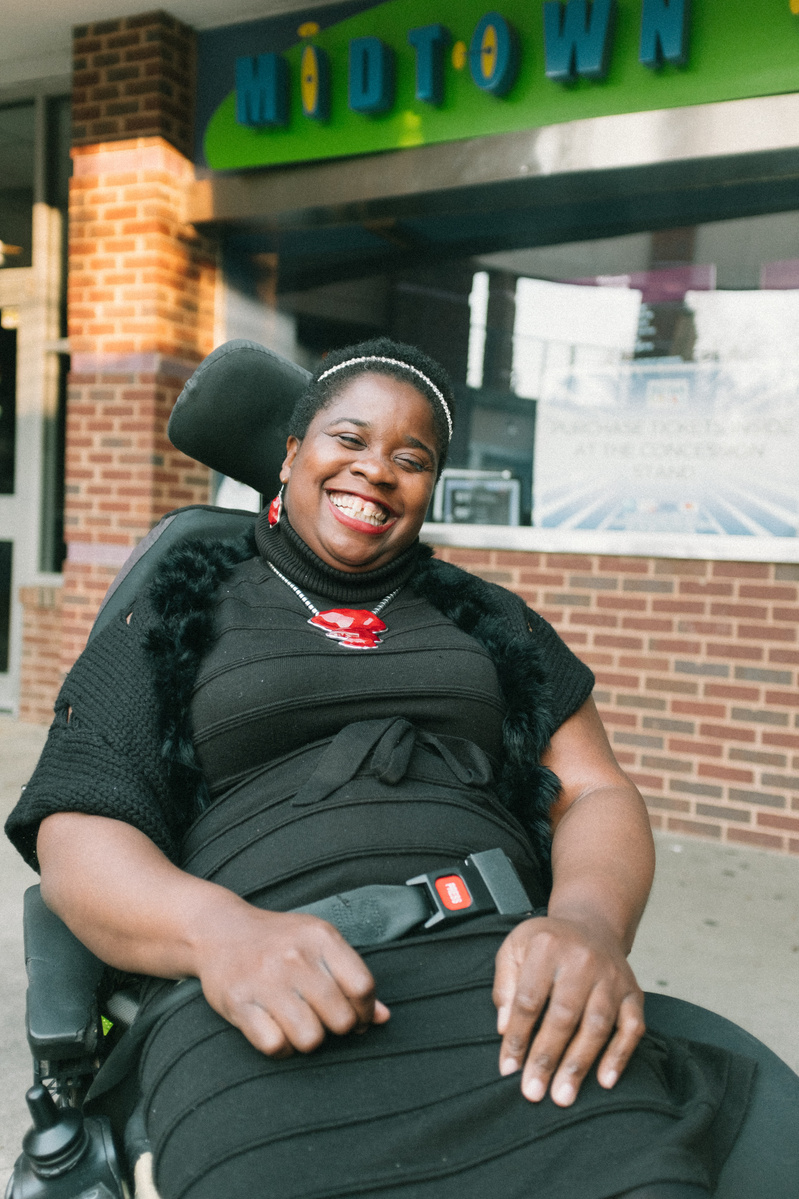 Shirelle Marshall is a 35-year-old woman with cerebral palsy (CP), a mild intellectual/developmental disability (I/DD) and paraplegia. Shirelle's mom was on drugs when she was born, which led to a number of Shirelle's physical challenges. Although her mom got clean after she was born, she passed away in 1995 from HIV/AIDS when Shirelle was 8-years-old. Because of her mother's struggles with addiction and health complications, Shirelle lived with her grandmother, who became her legal guardian. Shirelle did eventually get to see her mom and spend time with her, but she says, "She was sick most of the time." Regarding her mother's untimely death, Shirelle says, "Me being 8 years old, and my sister being 15, we were pretty sad about it."
Working as a greeter and ticket taker at Landmark Theatre's' Midtown Arts Cinema for five years now, Shirelle is a beloved member of the team. Nearly every regular patron at the theatre knows Shirelle because she greets each person with a huge smile and the same words: "Hello, beautiful." Whether you're a stranger or someone who knows Shirelle, it's a moment that can restart your day.
Employees of the theatre say that Shirelle is the heart of the theatre. They look forward to coming to work because of her. She was hired by the previous manager, Kevin Ward, who has now moved on to manage the Landmark theatre in Miami. Kevin had a kind of professional, proactive policy to hire people with disabilities whenever he could. One of Shirelle's favorite fellow employees, Devita, who also had a disability and was hired by Kevin, passed away two years ago. It was a deep loss for Shirelle and the community as a whole. Shirelle says that she and Devita had started working at Midtown Arts Cinema together, and she still misses her today.
Before she worked at the theatre, Shirelle was at the Kroger in Edgewood Plaza where she worked for seven years until Kroger ended its greeter program. Although she was very frustrated to have to look for a new job back then, she had no idea that the closed door would land her in such a place where she would feel even more welcome and useful.
A job coach with Georgia Vocational Rehabilitation Agency (GVRA) has helped Shirelle with job readiness each time she has needed to apply for a job. After she is established in her new position, the coach no longer works with her. Shirelle also worked for Goodwill one summer, where she learned how to prepare for work, interview skills and other important employment skills.
Shirelle started working almost as soon as she graduated from high school. She can't remember any lag time after graduation. "They always had something ready for us," she says. "There was always something to do."
Shirelle currently lives with her older sister, Shana, now 40. Shana used to work for Delta and in the food service industry but has not been able to work for the last couple of years as she has multiple sclerosis (MS). It led to an early retirement. Though Shana used to be able to walk, it has become increasingly difficult. Shirelle says MS Focus: The MS Foundation is helping her with resources.
Regarding resources for Shirelle, her part-time job at the theatre provides some income. She also has Medicaid and Medicare but does not have a Medicaid waiver. In fact, she and her family were unaware of the Medicaid waiver program until they were contacted by the Georgia Council on Developmental Disabilities (GCDD) for this story. They are looking into the possibility of making an application now for the New Options Waiver (NOW).
One of the biggest blessings for Shirelle is that she has access to transportation via MARTA Mobility. It's a huge contribution to her ability to live and work independently. Unfortunately, in fall of 2018, the MARTA Mobility van transporting Shirelle was in a bad accident, shattering the window near her and shifting the vertebrae in her back. She is still under care and a lawyer's advice for that accident.
Shana says that she admires her sister a lot. She remembers their early childhood as a precarious and sometimes frightening time for Shirelle, especially as she wasn't predicted to live past the age of 8. Shana remembers vividly how, after she was born prematurely, Shirelle went back to the hospital when she was just about 2-months-old. Doctors placed a tracheotomy in her throat to help her breathe. She wound up staying in the hospital for two years. Sadly, Shana says that, while Shirelle's disability likely stems from the fact that her mother was addicted to drugs, their mother was also physically abused by her father. "It was really hard," says Shana, "Our mom actually left Shirelle at hospital because she didn't feel like she could take care of a medically fragile baby. But she knew that our grandmother would go get her." In fact, their grandmother went to visit Shirelle in the hospital every single day for those two years.
Shana says, with admiration, that Shirelle blew past everyone's expectations, "She just kept improving! She was very active as a young girl." These days, the two are very close. Shana looks after her sister's affairs. Shana reflects on all Shirelle has survived, "Even now, she's so nice, kind, friendly. She has so many friends!" Shana does not fault her mother for their circumstances: "It was hurtful to Shirelle that our mom left her behind, but she just knew she couldn't take care of her." Their grandmother, who became their guardian, died in 2005.
Shirelle says, "I like that my life has challenges because I feel like I can figure them out and be strong with them." Although she sometimes has dark days: "Like I don't want to do this today. I just have to remind myself that I'm beautiful. That I'm a confident person, and I can face anything. That's what my mom has always taught me, and my grandmother. They always taught me to be confident, and it's ok to let your guard down sometimes." Shirelle believes that all the women in her family gave her invaluable lessons, including, "Don't let no one tell you that you can't do something just because you're different. I have carried that often throughout my whole life." She translates that energy to other people with her trademark greeting of, "Hey, beautiful!" to anyone and everyone.
"That's everything for me because it's how I express my energy and my love. I may not know you personally, and I might not know your day-to-day, but by me saying, 'Hello,' to you or, 'How are you doing?' I know that I might be pulling you off the edge of something. Or make your life less chaotic when you're stepping into my presence. This job has really opened a lot of doors for me. Some people can be downright rude to me, and some can be like, 'I really like coming here just to feed off her energy.'"
"I want to be powerful, and I want to have force. I feel like I've been told, 'No,' my whole entire life. And I've felt like, why should I be told no? When you saw me, you judged me by looking at the chair. I want to tell people not to let others tell you, 'No,' just because you're different. Don't let the chair define the woman or the man that you can actually become."
It goes without saying that there are certainly stories that come with serving the public, and people are not always on their best behavior. "We'll be really busy, like chaotic busy," says Shirelle, "and I'll be trying to explain to them how the kiosk works, and they don't want to take time to listen. And then they stomp off and be mad. But I still do it with a smile on my face because it's the job."
Although she has to endure some of the worst behavior from the public in her job, Shirelle sees another side of people. As she sits and enjoys her snack break and conversation at Starbucks, an older gentleman comes over out of the blue and hands Shirelle a few dollar bills, folded up tightly. This is something that happens regularly to her, so she takes it with grace and care. Does it bother her that people think she needs money? "Not really," she says. "Sometimes it makes me feel weird. Most of the time I think they just want to pass on a blessing." Shirelle thinks that people seem to assume that she has nowhere to go, has no one to take care of her, or she can't take care of herself. In the end, she doesn't feel she needs to get in the way of someone being nice.
In some ways, Shirelle feels like her training for that kind of behavior, and even just the grit it takes to go through life, came very early on: "When I was in elementary school, people would tell me, 'You can't do this or that.' Like pick up things they thought were too heavy or do things out of the ordinary." She did not appreciate being told what she couldn't do and often proved people wrong. When she was around 5- or 6- years-old, Shirelle had a surgery where they broke and reset her legs. She was in casts and braces for a long time and had intense, long physical therapy. Unfortunately, her grandmother didn't have transportation back then, so Shirelle couldn't get to appointments like she can now. It's likely she did not develop some of the leg strength and flexibility she otherwise would have in her youth.
These days, Shirelle has a chiropractor and a knee doctor, both of whom she sees when she can. Her hamstrings are so tight from lack of physical therapy, she's afraid she might need more surgery at this point. As often happens with CP, her lungs need exercising as well. Bad weather and pollen can lead to bad days.
As she talks, Shirelle has to reposition and sit up periodically. Her side hurts, especially when she sits in her chair too long. On this day, she worked for too many hours over the weekend and describes the pain as unbearable. She hopes that, when we come back in the fall, she will have gone to physical therapy and feel better without the therapy itself having been painful.
If Shirelle were to have a chance to sit down and speak with her legislators, she would say, "There should be more ADA [Americans with Disabilities Act] compliance. The streets and sidewalks, restaurants and businesses need to be more efficient for someone like me. We shouldn't have to fight this hard to get the things we need." Ultimately, she wants people to know that her life is not easy, but she's grateful that she works for a place that believes in the ADA. Shirelle speaks about particularly difficult times she had attending events at other theatres and stadiums where the accessible seating was far back, segregated and in tight spaces. She also talks about how ridiculous and onerous the process is for getting a new wheelchair. "I think it's crazy we have to wait five years to get a new chair. It used to be four." She keeps her old chair as back-up because, if her current chair breaks down, she has to get it serviced, which can take weeks.
As she's in the position to watch a lot of films, Shirelle thinks thrillers and horror are the tops. "A Quiet Place" was a very good one that came out lately; she also loved "Black Panther." Frankly, Shirelle never gets sick of movies, but she does get sick of eating popcorn. If she got to make her own movie theatre, there would be reclining chairs, on ramps (no steps) and everything would be purple.
Shirelle has two nieces, Markayla (17) & Majesty (19). Shirelle says, "They are the joys of my life." She also has a dear friend, Beulah, who has a disability from a fall and lives nearby in the apartment complex where Shirelle lives. The two of them hang out all the time, go to the movies and watch movies at home. Beulah cooks meals, while Shirelle feels less confident in the kitchen. She likes to help though. She's especially fond of her friend's spaghetti with meat sauce and garlic bread.
* * * * * *
It's a Tuesday afternoon in mid-December, a bustling day in the plaza where the Midtown Arts Cinema resides. The theatre itself is always very busy this time of year, between holiday blockbusters, people taking a break from shopping and private parties or rentals. Ten months after our first conversation with Shirelle, after making yet another treacherous journey through the parking lot, perhaps made more so by holiday traffic, Shirelle is on a day off from the theatre, but has opted to return to Starbucks. "Santa Baby" and "It's the Most Wonderful Time of the Year" pipe in over the conversation, and she's dressed up for the occasion.
Some things have shifted in Shirelle's life over the course of the year, though much has remained blessedly stable.
Of note, her sister had been ill and had to live in a nursing home for a while. "By the grace of God, she's back home now," says Shirelle. The two of them are able to share the same home health aide, which works nicely for them both.
Despite her sister's health challenges, this year has mostly been steady going for Shirelle. "Harriet" was definitely Shirelle's favorite film of the year because she says the story was so compelling, and the heroine was very courageous. It didn't hurt that the film was made nearby and featured some Atlanta actors.
Shirelle dreams of travel. She'd love to go to Las Vegas one day, so she can see the Bellagio hotel and shop around. She'd also love to go on a cruise to the Bahamas. Back in high school, Shirelle loved to play wheelchair sports, including soccer (her favorite), hockey, track and field and basketball. It led her to be able to go to San Diego, which is how she caught the idea to travel much more one day.
Her biggest dream is to become a motivational speaker. Her message? "Don't give up on yourself!" She feels like people need to hear how important it is to persevere, even if they feel like their life is hard or they are different. With inspirations like her mom, grandmother, sister and now the people she works with, her message is clear and easy to stick to. "I think my job is what shaped me into the woman I am. They treat me like every other employee. I can always talk to them."
In fact, even though it's her day off, Shirelle makes yet another journey across the parking lot from Starbucks back to the theatre, just so she can say hi to her friends at work. Her colleagues report that they recently drew names for "Secret Santa," and everyone was trying to steal Shirelle's name from each other because each of them wanted that opportunity. Do the other employees think that companies like theirs should work harder to hire people with disabilities? They feel like it was maybe easier for the theatre because it is already a physically accessible space, but there's obviously a culture of inclusion that goes way beyond physical accommodation. "Shirelle is the energy of this place," one young man says, as he wipes the counter.
Writer: Lynsey Weatherspoon & Kelly Blackmon, Photographer: Lynsey Weatherspoon