The Happy Places of William "Frankie" Smith
William "Frankie" Smith
Albany, Georgia (Senate District 12)
William "Frankie"Smith is out on the softball field, catching fly balls as easy as you please.It's a breezy evening in early October, with just enough of a nip in the air totell you a southern autumn is on its way. In short, it's a perfect practicenight for the Albany Recreational Parks Department Hotshots.
(Story continues below after slideshow.)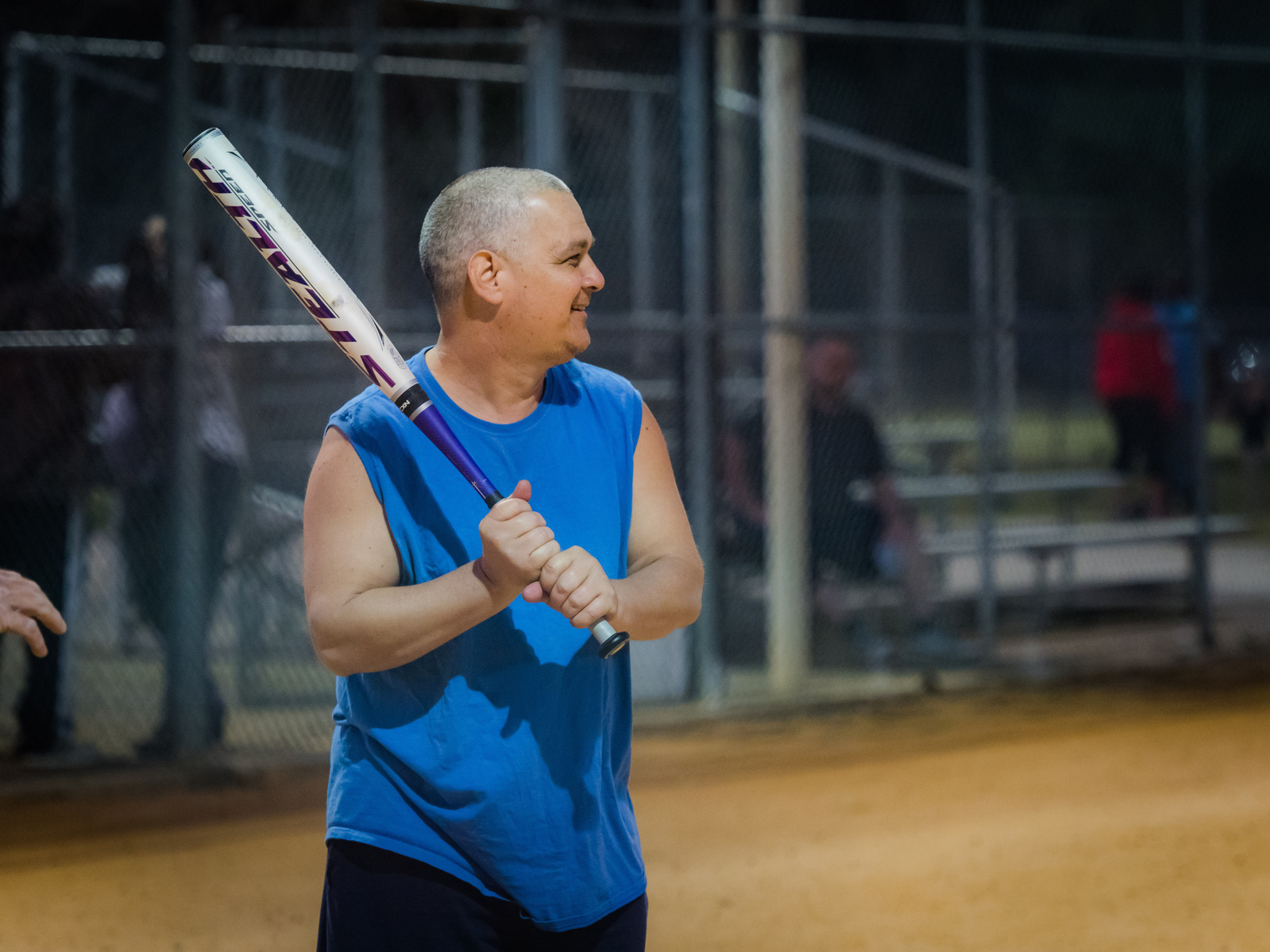 "Andthey are!" says Marie Stamps. Hotshots, that is. She's been coaching thisSpecial Olympics team and others in and around Albany, Georgia for years,pairing players who have developmental disabilities with partners who do not.And in 45-year-old Frankie's case, the "hotshot" label seems about right,except for his sense of ease. It's there as he slips into his place in the outfield,strolls up to bat, or jokes around with his friends and teammates. This fieldis his happy place.
"I like just being active, involved with sports and just have, like, fun, and do my thing!" he says with a smile. He's been participating in Special Olympics activities for five years now, including bowling and playing bocce ball, volleyball, and basketball, but says, "This is my first ear playing softball."
You wouldn't know it. He catches three pop-up flyballs in the space of ten minutes and hits throw after throw in batting practice.
One of Frankie's other happy places is the gym. He's there two hours a day, everyday, lifting weights with his buddies and swimming. "Just to get fit," he says."Muscles tone up, get muscle, be strong."
Asa child, he enjoyed going to the roller-skating rink on weekends, but otherwise, he says, he didn't play sports at all until a few years ago. He describes his childhood as a montage of "going to school, and then go home, do my homework, and then get up the next morning and go back." He says it wasn't the greatest time.
But all that changed a few years ago when he learned about Special Olympics. "When I first got into it, I really loved it, starting out."
Why?
"Itjust came natural to me. Because it lowers your blood pressure down, it keepsyour mind focused, and it keeps your mind off of stuff that's going on outsideof the thing, and it's relaxing, and it's good for the heart and the muscles."
Well put. And of course, he's right. Exercise helps improve physical, mental, and emotional health—however, it's often the forgotten piece of the puzzle in the lives of people living with disabilities. And perhaps because of this, people living with physical, intellectual, and developmental disabilities are at a much higher risk of obesity.
Children and adults with intellectual and developmental disabilities are at greater risk of conditions like obesity and other conditions related to a lack of activity. In addition, according to the Centers for Disease Control and Prevention (CDC),"Adults with disabilities are three times more likely to have heart disease, stroke, diabetes, or cancer than adults without disabilities." The recommendation is obvious: more physical activity. According to the same CDC report, adults with disabilities are 82% more likely to start exercising when their physicians recommend it—however, only 44% who visited a doctor in the year preceding the report actually received such a recommendation. Mean while, annual healthcare costs related to obesity in people with disabilities are about $44 billion (https://www.cdc.gov/ncbddd/disabilityandhealth).
For most of us with healthy, sustained habits ranging from walking our dogs to racing our wheelchairs, of course, we're not thinking about all the health benefits we're getting from our chosen activity. Instead, it's mostly about the enjoyment, or the competitive thrill, and that's the way it is for Frankie, who's become a fixture at his gym and the ballfield. And then there's the sense of responsibility: his showing up means something to the people around him.
"Yeah, see, I have to keep my mind focused, and keep my mind on what's going on. I got young kids looking up to me now; I got young teens looking up to me, too," he says.
This is true in settings like the Special Olympics, but it's also true in church, where Frankie is very active. He attends two different congregations each Sunday morning, and volunteers with one of them, feeding people who are unhoused on Sunday afternoons. He also takes active part in weekly Bible studies, including occasionally hosting at his apartment, where he lives independently with the occasional assistance of a caseworker.
One of his favorite stories about gaining his independence as someone living with an intellectual disability has to do with driving. Rewind back some years to when Frankie was 15 and eager for the freedom that a driver's license meant. He studied for the driving test—the one that quizzes you on the rules of the road—but he failed. He tried again and failed again. All in all, he failed the driving test ten times. He says he was ready to give up completely, and that's when his aunt came to visit. "And she pushed me. Kept on pushing me. And she pushed me so hard that I really got down to studying."
And?
"And, I passed the test, and I finally got my learner's permit. And then, the driving test?" The portion where you're out on the road with someone sitting in the passenger's seat beside you marking a clipboard? "That came natural. When I got into the car, I passed that one with flying colors."
After the softball field, the gym, and church, his car might just be Frankie's fourth happy place. "It just gives me more freedom. I get to see people, and I get to go see my mom. I get to go places, and just a lot of things that I like to do. "Including cruising on over to the ballfield on an evening like this one, where he swings and connects with ball after ball with his teammates.
Research by the Special Olympics shows that physical exercise leads to an increase in participants' confidence. Increased confidence, as we all know, leads to better performance in sports and in life, which, ideally, leads to even greater confidence—and strengthens related traits, like the kind of grit that would push someone to give that tenth driving test a try. It's a cycle that begins with simple independence—a trust that people like Frankie Smith can live with some degree of agency in the world, and the belief that this will result not just in a better life for that individual, but for those around them and for the world in general. In exemplifying this, Frankie Smith is not alone. But he is a great example.
Writer: Kate Sweeney , Photographer: Jessica Whitley