Willow Clark
Thomasville, Georgia (Senate District 11)
Willynisha Clark lost her Medicaid funding two years ago when she turned 20, but she might have lost a lot more. At the time, "Willow" was living in a group home for women with developmental disabilities run by Jamilah and Jamie Taylor. Fortunately, this compassionate couple decided to take Willow into their own home in Thomasville.
"She's family," Jamie says. Jamilah agrees, "This is home for her. This is her norm. We didn't want anything to happen to her. Just because of a piece of paper or waiver or some money or something, she would have to go and be in conditions that would be unknown to her. We didn't feel like that was going to be the right move for her life." When we ask Willow, now 22 years old, how she feels about it, she smiles and says, "It's very good. I could be somewhere worse. I don't want to be living under no bridge." (Story continues below after slideshow.)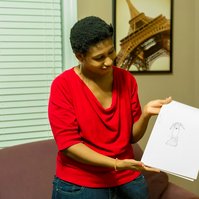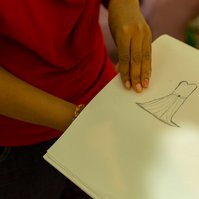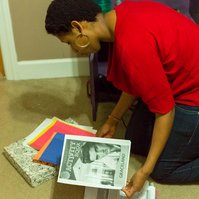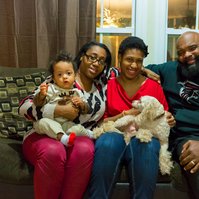 Willow was denied a Medicaid waiver because she was in a "gray area" of being just a few IQ points too high for qualification. However, she is also not able to work in most jobs because of anxiety, difficulty with problem solving, and cognitive impairment. A lot of her family is either deceased or no longer living in the area. "My bio-family doesn't do a good job of keeping in touch with me. I saw some of them on my nineteenth birthday, and it wasn't until then that I found out that I had two nieces," she tells us with some distress. "I wasn't very happy when I found out that. Who would be when you found out that? When you found out you had two nieces and you were missing their lives."
Willow has a passion for fashion and has participated in beauty pageants through the Easter Seals program. Jamilah shows us all the pictures in her cell phone of Willow in her pageant dress with her big hair and tiara.

Willow takes us on a tour of her home and shows us her drawings of dresses and fox heads, as well as other coloring books. She shows us her perfumes and clothes. When we asked, Willow spontaneously puts together an outfit of a sweater and jeans or a dress with polka dots with polka dot sandals and explains what situations and seasons the outfits would be best for. Finally, at the back of her closet, Willow pulls out her Halloween costume, which was "Zombie prom queen," the perfect marriage of Halloween ghoulishness and fashion.

Willow was lucky. When she lost her Medicaid waiver, she may have been homeless and jobless. Very few people in similar situations have generous people like the Taylors who can take them in.

We asked Jamie if they are going to help Willow re-apply for a Medicaid waiver, and he said they had already tried three times with two different psychiatrists. They've given up. Jamilah furthers, "It's really a shame because she needs the supports. She will walk to the door with a cup in her hand and need to open the door. She sometimes has trouble thinking through that she needs to switch the cup to her other hand. She would have a hard time working because of her anxiety, but a job coach like she would get with a Medicaid waiver could be really helpful." For now, Willow helps around the house with chores and caring for the Taylor's one-year-old son. The Taylors are content to just let her live with them. They call it her "forever home."

Writer: Shannon Turner, Photographer: Lynsey Weatherspoon